Farmington River Brewing Company
Simsbury, Contract Brewed at Ipswich Brewing, Ipswich, MA
Beer List:
Farmington River Blonde Ale, D+
…………………………………………………..
I really wish you were here with me right now. Yes. You. YOU!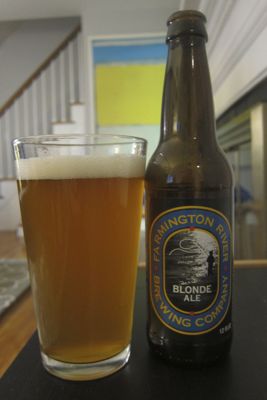 I need you to hit me. Stop me from spending energy on this page. Why? Well, first and foremost the story of Farmington River includes a rather awful tragedy. And second, I'm not sure this label still exists. I may have to add an RIP at the top of this post, which is always a bit sad.
But in this case, it's awful, because of the tragic story associated with Farmington River Brewing. And it would be weird to have "RIP" on this post. About a label no one cares about or drinks… which is also sad.
Ugh.
As of September 2015, Ipswich Brewing no longer brews this contract. I don't know if someone else is doing it though. Can't say I'm going to go crazy trying to find out either.
But Farmington River is actually a bit of a groundbreaker. Like Hartford Better Beer Company, they started out in the heady 90's with a physical brick and mortar brewery. HBBC was on Pratt Street in Hartford, and FRBC was out in Bloomfield… about a mile from where Back East now operates.
They got some exciting press in 1997.
Things fell apart and the owner/brewer continued the brand under a contract. A few beers were consistently made and I always saw them at higher end supermarkets like Whole Foods and Fresh Market. Weird niche, but I guess it worked.
For a while.
In 2012, the owner/brewer divorced his wife and early partner.
Then, in November 2014, the ex-wife was viciously murdered while jogging along Iron Horse Boulevard in Simsbury. Yes, the grisly scene was within mere feet of the Farmington River. (The husband has never been a suspect.)
As of today, the murder remains unsolved. I'm purposely not using their names here, because I have some weird idea that the surviving brewer husband will be less likely to find this page. Which I know makes no sense.
Anyway, some (probably) hack "news" website has some interesting thoughts on why she was murdered. As a high-ranking VP at Mass Mutual, she knew some stuff about BOLI. Too much stuff.
This is completely absurd though. Tons of people know the ins and outs of COLI and BOLI policies. I work with several. And while COLI and BOLI policies are indeed icky, they aren't illegal or "unknown." Certainly not worth murder.
I don't feel like explaining COLI or BOLI right now, but basically, your employer and banks hold life insurance policies on you whether you know it – or like it – or not. You die, your employer gets a settlement. If you are an executive, your employer gets an appreciable amount of money. So do the banks. Now you know.
IF Farmington River is all done, I think the owner guy can say he has far more important things to deal with these days. And really, running a middling contract label in this day and age has to be nearly impossible anyway.
And brewer/owner widower, if you read this, please accept my condolences.
Back to CTMQ's Connecticut Beer Page