Fat Ten-er # 12 (Smoked Porter)
Procured by my man Jay, 6.8% ABV
So I"m sitting here trying to remember if I put Olaf here in this picture for a reason. I'm sure I didn't, and he was just sitting on the floor when I took the picture, but I did just poke around the Internet for "Olaf" and "12" in various combinations.
The most interesting thing I learned was all about Olaf Tryggvason. He was the King of Norway at the turn of the century – that would be the 1st century AD – and was an integral part in bringing the Jesus stuff to Norway to replace to far, far cooler Odin and Thor stuff.
What was he thinking? Who doesn't want a world in which humanity was created by Frost Ogres rather than the Abrahamic alternative? Stupid Olaf.
Another stupid thing is – and yes, I've carped about this before – using untappd as a source of information. I go there to get the stuff like the ABV and once in a while someone has taken the time to put the description of the beer there.
It's not like NEBCO ever offers us too much:
NEBCO Says:
Porter brewed with 15% smoked malt.
So in the spirit of stupid Olaf Tryggvason and doofy Olaf from "Frozen," I will review NEBCO's Fat Ten-Er # 12 Smoked Porter using Untappd.
How does it look, Chris Z?

Cool. I like my porters to be on the darker end of the spectrum.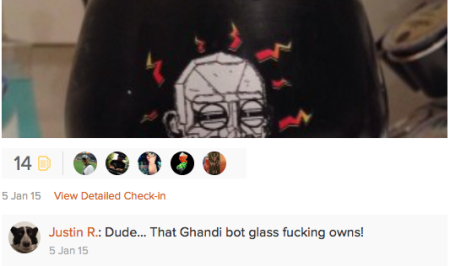 Just wanted to point out that despite our best efforts, everyone still spells Gandhi's name wrong. I hope when NEBCO releases the new name of Gandhi-Bot soon, they choose a word or name everyone misspells. Gotta keep the tradition alive.
Anyway, what did you think, Dennis C?

I hear you brother! I love me my southern desserts and blueberry yum yum is straight up delicious.
What's that? You're not Sean Lawson and you're not talking about the delicious layered dessert?

More here. This isn't helping at all. Let's try to get to how the beer actually tastes.
Jeff P? What up, my dog?

Okay, Okay, I'll stop. I know Untappd is not even meant to be a "review" site at all. And who am I to talk, right? My "review" pages are mostly nonsense themselves. Though at least every beer reviewed on CTMQ isn't the same grade every time like on Untappd. Seriously, even the worst beers from the worst breweries are all like 3.25 stars.
One more, because I like what this guy has to say:

And that's pretty much what the 12 was. It was a very good porter, perhaps the same malt base as Ghost Pigeon, a bunch of smoked malts, and voila. Not that making a good rauchbier is remotely easy. I've hated far more than I've been able to drink. But this one had definite chocolate and coffee notes to temper the smokiness.
(My brother-in-law, who drank most of this growlette, kept telling me how much it tasted like coffee. And I was just like, "yeah, I'm glad you like it bro-in-law!" and he just kept saying "coffee, coffee, coffee." Then I remembered, the few times he's made coffee for family gatherings, it is so ridiculously strong and burnt tasting, that yeah, okay, it all made sense.
Much more than what you just read.
Overall Rating: B+
Rating vs. Similar style: A+
New England Brewing Company
NEBCO's facebook page
Back to CTMQ's Reviews of NEBCO beers
Back to CTMQ's Connecticut Beer Page
Back to CT Breweries page