Fat Ten-er # 14 (Hoppy Red Ale)
Procured by my man Jay, 6.5% ABV
New England Brewing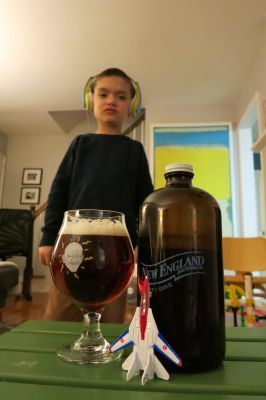 My word, the guys at NEBCO are going crazy with the Fat Ten-Er series. Every time I turn around, there's a new one released. And even better, they are re-releasing some of the greatest Fat Ten-Er hits.
(Which, in reality, is pretty much all of them.)
Unfortunately, in 2014, "red ales" are anathema to many beer fans. A "malty" beer is akin to "fecal" beer for some crazy reason. To me, a good malty beer is as good as any other beer. But NEBCO, who certainly knows how to make a delicious malt bomb, has sort kowtowed to consumer wishes and came up with a "hoppy red."
That's not to say it wasn't delicious, for it was, but with so many hoppy ales coming out of NEBCO (and a million other places), it almost seems wasteful to release a "hoppy red."
NEBCO Says:
75% citra hops & 25% Simcoe
Oh. Wait. Did they say Citra and Simcoe? With a clean and tasteful malt bill? Okay… nothing wasteful about this beer. I'm stupid for every suggesting such a thing.
I'm also probably stupid for assuming that jet in the picture with Damian (with his jet engine ear protectors on) is an F-14 (Fat Ten-Er 14, get it now?). But let's pretend I'm right if only to give you some fascinating F-14 Tomcat trivia.
These planes are no longer in service in the US, having been replaced in the mid-80's with better killing machines. F-14's are still in military service in exactly ONE country on earth. Can you name it?
I'll give you a second.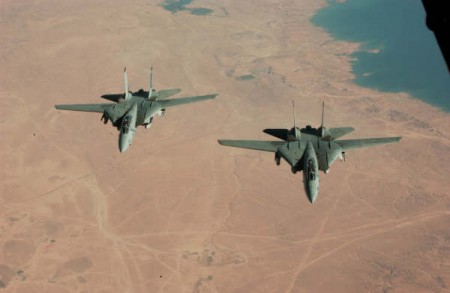 Wrong – now think of the last, or next-to-last place…
That's right, Iran. It's yet another one of those fun little "They were our besties at one time and then they weren't" stories.
Ol' Richard Nixon was cool with the Shah of Iran in the early 70's, and sold him 80 of these jets, to protect them from Russia. The US delivered a bunch, and then the Islamic Revolution happened in 1979 and they were used to kill a ton of Iraqis in the Iran-Iraq War. Then Reagan and Cheney and Rumsfeld became besties with some guy named Saddam Hussein and sold him a bunch of stuff too. I'll let you take it from there.
My favorite part of the OMG, Iran still flies US-made F-14 Tomcats in 2015" story is that they were buying parts for the planes up until 2007. Think about that. But the BEST part is that in 2010, Iran asked the US for delivery on the 80th Tomcat that they never received.
That's balls.
Read the whole craziness here.
Fortunately, NEBCO doesn't make catastrophic global mistakes. Unless you consider the whole Gandhi-Bot fiasco equivalent to selling Iran 80 high-tech fighter jets.
This beer was excellent and I hope to see its return someday.
Overall Rating: A+
Rating vs. Similar style: A+
New England Brewing Company
NEBCO's facebook page
Back to CTMQ's Reviews of NEBCO beers
Back to CTMQ's Connecticut Beer Page
Back to CT Breweries page