Fat Ten-er # 15 (Columbus Hopped APA)
Procured by my man Jay, 5.2% ABV
New England Brewing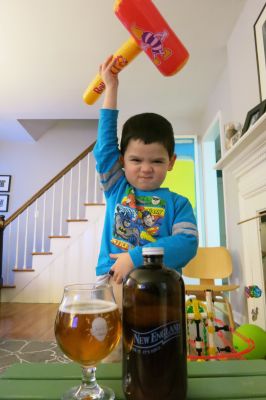 Okay look, this is pretty much just another random excellent small-batch ale from NEBCO that they most likely won't ever brew again. So we agree, "reviewing" this beer at this point, many months after its existence, is fairly pointless.
But I'm me and you're you, which means we're in this together. So let's do this.
See this kid here? That's my son Calvin. And you know what he's doing? He's taking Thor's Hammer to the current "craft beer scene."
We can't take it anymore. For the purposes of this review (yes, this was an all-Columbus American pale ale and it was as delicious and as well-made as you'd expect it to be), Calvin and I will focus on Connecticut's best brewery, New England Brewing Company in Woodbridge.
In honor of this being Fat Ten-er 15, here are 15 reasons why everything is stupid.
15. The death of Elm City Pilsner: Hopefully, it isn't actually dead and will be resurrected in 2016 with the increased brewery capacity. Matt from NEBCO has gone on record saying this is his favorite beer that he brews, yet it hasn't been brewed for a year. One thought is that the current market conditions and demand for IPA's and ONLY IPA's (which NEBCO makes as well as anyone on the planet) killed it. Another rumor involves one of NEBCO's distributors "owning" Elm City in perpetuity (this happens), so to speak, and that distributor sucks balls, so NEBCO doesn't want to deal with their crap anymore and therefore isn't brewing it. Regardless of how true either "reason" is, consumers passing on Elm City in 2014-15 are stupid. Everything is stupid.
14. Letting 668 sit on the shelf because OMG THE LATESTCOOLESTNEWEST IPA IS RUMORED TO BE HERE BUT OH DAMN IT'S NOT SO I'LL JUST LEAVE THE STORE WITH NOTHING. Everything is stupid.
13. The jingoistic yahoos who got all upset about the Gandhi-Bot thing, like they had some life-long personal relationship with a purposely absurd beer name. Some Indians and Indian-Americans said they were offended by the beer's name. Who cares that 99.9% of them lived outside of our state and can never hope to enjoy the deliciousness of the beer; just change the name and move on. I wonder how many of those "I'm never drinking that beer again when the name changes" bros are keeping their oath? Everything is stupid.
12. And I wonder why NO ONE CAN EVER FREAKING SPELL THE MAN'S NAME CORRECTLY? I truly believe Gandhi is misspelled as Ghandi on beer forums more often than not. If I were an Indian, I would be far more pissed about this spelling injustice than the stupid beer's name. I could go poking around for 3 minutes and find a million examples, but the best was when WFSB Channel 3 committed the crime. After being shamed on Twitter by pedantic pricks like me, they fixed it in the article. Too bad they didn't bother with the headline though. Everything is stupid.
Haha, upon re-reading I noticed that this is from early 2015. They did the same dumb thing in late 2015 when the new name was released. Everything is still stupid.
11. Yo, wait in line all you want, but don't do this (as seen on Reddit): "The only issue I've ever had is seeing a guy waiting in line for over an hour at NEBCO in the Winter with 2 young children. It was freezing that day, and the kids kept complaining they they were cold. The dad kept saying "We're almost there." So, I wasn't upset at the fact that they were there, I was upset that the dad made them freeze their asses off just so he could get beer." It's just beer, don't be a terrible parent. Everything is stupid.
10. Complaining that NEBCO is responsible for price-gouging. Don't do this. They are not responsible for this. Once cans leave their brewery, they have absolutely no control over pricing. None. Zero. Zip. That's your boy at your package store, dude. He's the dick, no matter what he tells you. He's also the dick that splits up 4-packs and hides cans in the back and lies to you about it. Again, NEBCO cannot control this stuff and believe me, they'd love to. NEBCO's prices are RIDICULOUSLY cheap. Logs of their "sought-after" IPA's are priced CHEAPER than other local brewery logs that no one gives a crap about. Your head would explode if you saw the price list of NEBCO IPA's vs. other Connecticut brewery IPA's. Everything is stupid.
9. Being from Massachusetts or Vermont and pretending Connecticut isn't part of New England. If I see one more beer blogger front on our state, and leave off our best breweries on their "Best of New England" lists, … I'm not going to do anything, but it's still stupid. And don't tell me it's because they don't distribute up there, for it's not like Tree House or Trillium distribute anywhere, y'know? Get off your asses and get some NEBCO (and Kent Falls and OEC while you're at it) and stop being stupid. Everything is stupid.
8. Fronting on Sea Hag. Admittedly, this is a rare stupid thing, but it happens often enough. Perhaps not explicitly, but it does. Bros hunting for whatever the IPA-Flavor-of-the-Month is and, upon not finding it, complaining about it. Meanwhile, there sits a fresh 6-pack of Sea Hag for ten freaking bucks. Why in the world would you pass up the beer that is, hands down, the absolute best beer for your buck in our state and leave empty-handed? My god, people. Everything is stupid.
7. Whinging about impossibly imperceptible changes to your favorite NEBCO beer. Stop it. It's cool to have an active imagination, but it's stupid to apply it to January's batch of Coriolis vs. October's batch of Coriolis vs. June's batch of Coriolis. Yes, Sea Hag went through a sea change (get it?) a few years ago, but of all the NEBCO beers, that's pretty much the end of it. The "this batch of Supernaut is a little grassier than the last one, it's just not as good…" crap is just stupid. Everything is stupid.
6. Bars and restaurants: Promoting G-Bot and/or Ducks on tap as an "event." It's not an event. It's a thing, sure, but not an event. Posting countdowns on social media and alerting the masses to this (totally not rare) thing is just stupid. Everything is stupid.
5. Writing lists of 15 things that annoy you about certain NEBCO drinkers. It's TL;DR. Don't do this. It's stupid. Everything is stupid.
4. Fuzzy Baby Ducks Part A: Waiting in line for FBD is stupid. Seriously. It's a Citra IPA and it's very good, but don't you have better things to do with your day? Aren't there other Citra IPA's, PA's, DIPA's out there that are just as good? (Yes, there are.) Have you examined exactly WHY you are waiting in line for two hours for this one beer? Seriously, think about it. You are in line because FBD is rated 100 on stupid ass BA. That's it. You want to say that you have FBD more than you want to drink FBD. If you just wanted to drink the damn beer, you'd go to one of the 50 bars and restaurants that have it on tap when it comes around. If you're willing, I would be happy to chat with one of you that stands in line for growlers of FBD. I want to know what makes you tick – just promise not to punch me for suggesting your reasons are stupid. Everything is stupid.
This literally happened as I was writing this:
3. Fuzzy Baby Ducks Part B: Stop with the F'ing Fuzzy Baby Ducks already. Christ, in 2015, a year in which NEBCO effectively SHUT DOWN for two months, they released around 30 freaking awesome beers. But noooooooo, it's all about the FBD for you. Again, FBD gets kegged and pops up on Beermenus all over the freaking place. Ghost Pigeon, Gold Stock, Hoppy Pils, Locust Reign, Sea Hag, Scrumtrulescent, Coriolis, Galaxy, Supernaut, Fat Ten-Ers 2, 6, 8, 10, 11, 13, 14, 15, 16, 17, 18, 19, 20, 21, 22, 23, 20-f'ing-4… were all great, all released in the last 18 months or so. Garghhh. Everything is stupid.
2. "Should be more like Tree House." Shut up, shut up, shut up. Seriously, STFU. I see this all the time. It's like these people are incapable of rational thought. Tree House is an anomaly. It exists in it's own world and to try to replicate it would be folly. To try to replicate it, on a busy road in a shared business space with a Jaguar dealership would be the stupidest thing ever. Tree House has constant problems with crowd control, speeding, trespassing, etc. And you think this would work at NEBCO?! Where would the line go? Where would people park? Why would NEBCO change their entire business model, which is almost too successful, at this point? Half the people in the lines in Monson are traders and resellers. I know for a fact that Matt at NEBCO hates traders, tickers, and resellers. (Okay, he probaby only hates resellers to be fair.) NEBCO focuses on kegging and distribution. Thousands and thousands of people get to drink NEBCO beer all over Connecticut. NEBCO likes this. There is no real NEBCO black market. There is a large Tree House black market. Tree house does not distribute or keg their beer (save the exceedingly rare times they do.) Tree House are millionaires and their model is successful for them – and pretty much only them and Hill Farmstead and Trillium to a degree. This model would fail miserably for 99.9% of the breweries in the world. With no distribution, Tree House can effectively do what they do. You want NEBCO to be like Tree House? And no longer be on tap ANYFUCKINGWHERE or in ANYFUCKINGSTORES, EVER? What is wrong with you? Do you just enjoy standing in 3 hour lines every other day for BEER? Jesus Gandhi Christ. Everything is stupid.
1. The ultimate. Unfortunately, the thread was deleted but oh boy was it amazing. As you know if you're actually reading this 2000-word rant, NEBCO has grown enormously over the last few years. From their old brewery space to the new one, and then expanded the new one late in 2015. They are ramped up now and brewing and distributing a crap-ton more beer than ever before. Rejoice! Everyone is happy, right? Apparenatly not. This really happened…
On a Facebook group, someone asked what was on at NEBCO last week. The reply came back: Sea Hag, 668, G'Bot, Coriolis, Fat 10-er #8, Fat 10-er #8+, Ghost Pigeon Porter. "Goddamn," you're thinking, "that's a dope list of some incredible beers!" Well, apparently this list was a problem for the people who suffer from 13 of the aforementioned 14 ailments. For you see, this was the same tap list as the previous week. The horror.
Bros goddamnMOTHERF'ING COMPLAINED about this. Publicly. They stated that this situation was lame. I WANTED to believe this was all tongue-in-cheek, but it really wasn't. I swear. So the dudes who complained that NEBCO wasn't making enough beer are now complaining they make too much great beer. No, really, it happened. Here's a barely legible snippet saved for posterity from someone who hates the crap as much as me.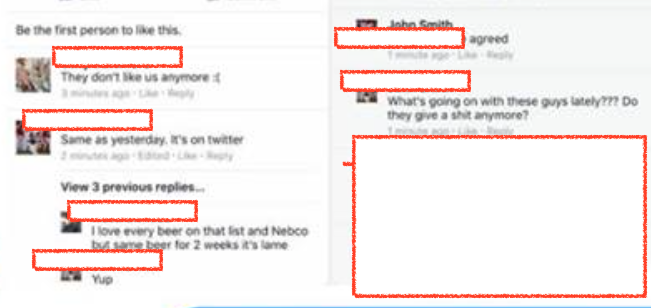 I've protected their identities because I still want to think one or two of them were kidding. This represents everything that is stupid. Everything. The new craft beer scenesters literally ONLY want whats new and hard to get. For whatever vapid insecurity-based reasons, this is how it is for this small subset of "the scene." Dudes who think their insane myopic view of the burgeoning beer universe is THE ONLY WAY. That normal people will stand in line in Monson for five hours without even knowing what they are standing in line for. That hunting whalez, bro, driving from store to store is a perfectly valid use of one's time. That old heads who enjoy a High Life, the freaking Champagne of Beers for Christ's sake, are worthless humps. That taking pictures of fridges with hundreds of dollars worth of short shelf-life late-hopped IPA's is cool. All of that is stupid.
Everything is stupid, NEBCO is great.
Amen.
Overall Rating: A
Rating vs. Similar style: A+
New England Brewing Company
NEBCO's facebook page
CTMQ's Reviews of NEBCO beers
CTMQ's Connecticut Beer Page
CTMQ's CT Breweries page