Kent Falls Field Beer Saison (with Rye)
500mL bottle, 5.2% ABV, $6.99
Purchased at Maximum Beverage, West Hartford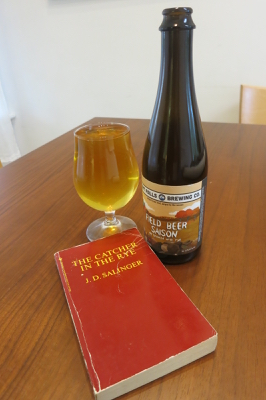 "All morons hate it when you call them a moron."
It's true, y'know. Take this whole craft beer world thing. Just you look. You look at the facebook pages with them and the untapped reviews. It's enough to make me sick. Buncha phonies.
I've seen them called "new money" but I just call them morons and phonies. They just want whatever is new and cool. They don't think about business strategies or bigger pictures.
"People never think anything is anything really. I'm getting goddam sick of it."
Some brewery in Ohio I think it is sells beer that looks like Stradlater and Ackely's bong-water at Pencey and mixed with the OJ me and Phoebe have with our Corn Pops every morning.
"If you sat around there long enough and heard all the phonies applauding and all, you got to hate everybody in the world, I swear you did."
They live in their bubble and say things like how "grand" the beer is. "Grand. There's a word I really hate. It's a phony. I could puke every time I hear it." They'll say they love a beer just because they're supposed to say that. Because everyone loves that brewery. Well, I don't do that.
Of course I love some breweries. I really do. Kent Falls is one that I love. The kid who runs that place is named Barry and he's a real swell and real funny guy. One of the few real swell guys in this world, I'll tell you that. We used to run ball together over at our school called Elkton Hills in Brooklyn until a guy named Jared came out of the Subway there and diddled some of the kids we knew. I never went back over there. But that's not the only reason I left that place.
"One of the biggest reasons I left Elkton Hills was because I was surrounded by phonies. That's all. They were coming in the goddam window. For instance, they had this headmaster, Mr. Haas, that was the phoniest bastard I ever met in my life. Ten times worse than old Thurmer. On Sundays, for instance, old Haas went around shaking hands with everybody's parents when they drove up to school. He'd be charming as hell and all. Except if some boy had little old funny-looking parents. You should've seen the way he did with my roommate's parents. I mean if a boy's mother was sort of fat or corny-looking or something, and if somebody's father was one of those guys that wear those suits with very big shoulders and corny black-and-white shoes, then old Haas would just shake hands with them and give them a phony smile and then he'd go talk, for maybe a half an hour, with somebody else's parents. I can't stand that stuff. It drives me crazy. It makes me so depressed I go crazy. I hated that goddam Elkton Hills."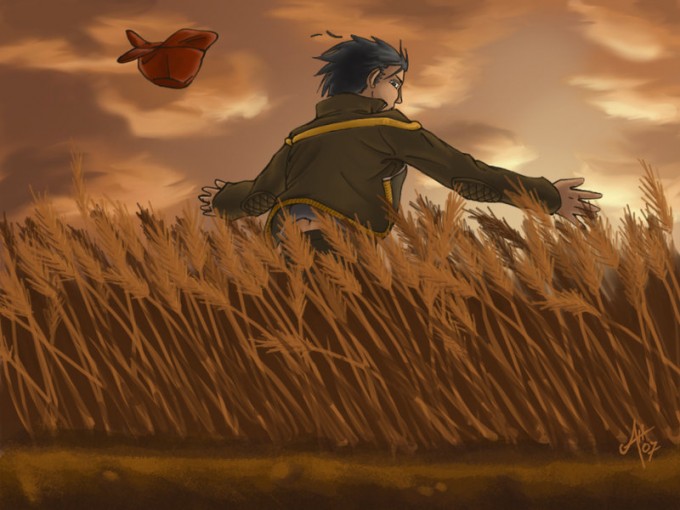 Anyway, just because I like Barry and he's a great guy and I like Kent Falls and everything's real swell and all, it doesn't mean I think every beer his brewery makes is so great. I didn't like this Field Beer with Rye. I really like the various saisons Kent Falls brews but I just didn't like the way the rye sort of didn't go with the saison yeast in this one.
Barry told me that the first batch of this beer may have been screwed up a little bit or something but only a few got out into stores. Something about CO2 and kettle souring and the rye being funkier than they wanted it. I don't know. But Barry knows and he stands by his beers and made sure I knew that all the kegs of it were really swell. I believe him because Barry is a real swell guy.
But that's why I'm saying I didn't like my bottle. Even though "I'm the most terrific liar you ever saw in your life," I ain't lying right now. Okay, maybe everything I'm saying is all true. "It's partly true, too, but it isn't all true. People always think something's all true." Some stand-up guys I know said they loved their bottles of this beer. I know they are shooting straight with me and I know that they got a different bottling run and I know Kent Falls doesn't release crap. But what can I say?
Barry also said about this beer:
Farmhouse ale brewed with rye. 100% CT grown malted barley and heirloom rye from the Hudson Valley
I saw Barry last night in fact and we talked about rye and how it's hard to get local grains for his beers. These tobacco farmers out here where I live now use rye grass as a cover crop between tobacco plantings. You should see these Central American guys working them fields in the summer, you really should. They are so hard-working and all they do is work. But these fat-cats who own the fields don't want to harvest the rye to sell to guys like Barry. They're all morons.
"Anyway, I keep picturing all these little kids playing some game in this big field of rye and all. Thousands of little kids, and nobody's around – nobody big, I mean – except me. And I'm standing on the edge of some crazy cliff. What I have to do, I have to catch everybody if they start to go over the cliff – I mean if they're running and they don't look where they're going I have to come out from somewhere and catch them. That's all I do all day. I'd just be the catcher in the rye and all. I know it's crazy, but that's the only thing I'd really like to be."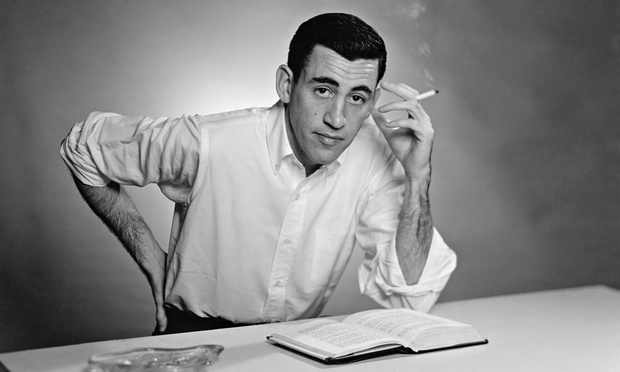 But I'm just a researcher and a writer, sitting here at my desk in my phony white oxford collared shirt smoking a Camel, looking out my window at those fields of rye thinking about this stuff. Sleep, Wake, Eat, Sleep. Pack a suitcase for a trip. That kind of stuff. Growing up is a goddamn thing. Other beer-bloggers do the same, but a lot of them are a bunch of phonies.
"You think if they're intelligent and all, the other person, and have a good sense of humor, that they don't give a damn whose suitcases are better, but they do. They really do"
I don't want to be like that. All grown up, writing what I'm "supposed" to write instead of what I want to write. Phoebe understands me.
"Sleep tight, ya morons!"
Overall Rating: D+
Rating vs. Similar style: n/a
Kent Falls Brewing
Back to CTMQ's Reviews of Kent Falls beers
Back to CTMQ's Connecticut Beer Page
Back to CT Breweries page