Kent Falls Field Beer Saison Batch 2 (with Oats)
500 ml, $7.50, % ABV
Purchased at Craft Beer Cellar, West Hartford
April 2015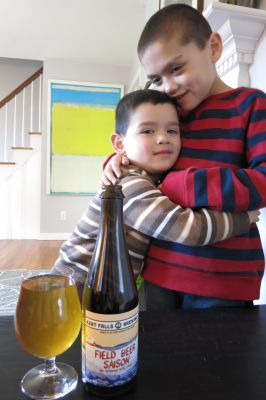 My first foray into the new world of true Connecticut farmhouse beer! In talking with friends from Maryland, Virginia, and New York, it seems like these types of breweries are becoming sort of a "thing." Which is silly, I know, since they've been a "thing" in western Europe for centuries.
But to make this a "thing" in Kent, Connecticut took quite a bit of effort on the part of the boys from Kent Falls. So before we even discuss their beer, they deserve all the props in the world for convincing Kent, of all places, to allow them to brew their beer on a farm.
And that whole aesthetic gives me the fields and gives my sons here the feels.
A real, honest-to-goodness farm. With an orchard (used for nearby Neversink Spirits Company) and chickens and horses and cows and amber waves of grain that they use in their own beers. There are even some majestic purple mountains out there as well, as Kent and the towns around it are some of our state's most beautiful.
Being so relatively remote, as Kent Falls Brewing is, it allows – or compels – them to do things a little bit differently. They are determined to be as authentic a farm brewery as they can be. This means locally sourcing as many of their ingredients as possible. Malt from Massachusetts, rye and spelt and oats from… Connecticut? Ultimately, anyway. And that's pretty cool.
We can grow all the grains here, but the hops? I don't know, I happen to be a big fan of hops from New Zealand and Oregon and Germany. From Connecticut? I'll have to wait and see how that goes.
Anyway, Kent Falls is doing something else a little different. Waving a middle finger at Untappd and the like, they seem to be releasing their "Field Beer Saison" at different points throughout the year with different ingredients and/or preparations, to match the seasonal style.
To be honest, I haven't quite yet figured it out (nor have I bothered asking the source)… but the very first beer they released was this, the Field Beer Saison with Oats. It was winter and I never had the first generation of it. Then they released the Field Beer Saison with Oats in April and, as I understand it, it was completely different from the Field Beer Saison with Oats released a few months prior.
Soooooooo Farmhouse!
This played havoc on the beer review sites, as people were checking in to the same (but different!) beer. I imagine the "ticker" guys were up in arms about all of this.
Totally Farmhouse!
Kent Falls says:
Field Beer is our tribute to the eclectic farmhouse ales who had to utilize only those ingredients available to them. Each season, a different unmalted grain is added to complement Connecticut grown malt, American hops and wild yeast cultured from our own farm create layers of unique, deeply local flavors.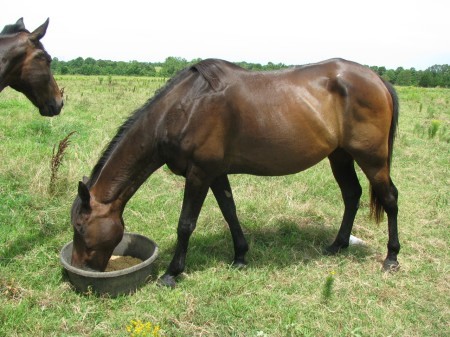 Okay, so now I kind of get the overall picture. Like, their first batch was with oats and later, the second (delicious) iteration was with spelt… but that doesn't explain the two different versions with oats.
And there absolutely WAS two distinct oat versions. I had the second one, which was decidedly more tart than the first – according to the Internet. And no, the second oat version was not "infected" or "old," or anything, as it was very good and more or less what I expected. It just had a more sour quality to it.
This is a "true" saison, rife with those yeasty qualities we'd expect from a beer billed as a "field beer" or a saison. No, there's no "horseblanket" qualities, but anytime I can use that descriptor, even when it's not apt, I go for it. Because it's just so stupid. Cat piss? Now that's a good one.
Ah, beer people.
The Field Beer Saison with Oats version 2 (late winter) was very good. I asked a few months ago if Kent Falls would just be a more "organic" Relic West brewery, and this first release from them told me that yes, yes they may be…
BUT – spoiler alert – subsequent releases told me otherwise. Kent Falls has a very clear vision of what they want to do, and yes, it has a lot to do with Brettanomyces, but there is a lot of things you can do with that yeast strain… and I'm on board early with Kent Falls to see where they take me.
Overall Rating: B+
Rating vs. Similar style: A-
Kent Falls Brewing
Back to CTMQ's Reviews of Kent Falls beers
Back to CTMQ's Connecticut Beer Page
Back to CT Breweries page