Firefly Hollow Brewing Beers
Bristol
Beer List:
Bombers & Cans:
Cone Flakes DIPA, A
Dire Chinchilla Imperial Ale, B
Emily's Choconut Porter, C-
Photon Imperial Crimson, D/B
Luciferin DIPA, C/A
Ye Olde Twinkler Barleywine, B
Draught/Brewery:
Lizard Breath IPA, B-
Methuselah Old Ale, B
Moonrise Amber, A+
Neutrino IPA, B
Nymph IPA, B+
Prototye IPA, B
Ramshackle Golden Mild, B-
Secret Ingredient Stout, B
Smokey Moor Scottish Ale, A-
Train's Best Bitter, B-
Toadstool Oat Stout, A-
Valence Wheat, B
White Brick Saison, C
Wisp Single Hop APA, C-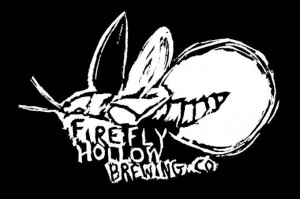 Don't look now (in 2014), but Bristol is sort of becoming an epicenter of local breweries. With a huge demographically suited workforce relatively nearby at ESPN, it just makes sense. The three existing breweries (as of 2014) form a nice tic-tac-toe of an afternoon: Firefly, Shebeen (Wolcott/Waterbury line) and Relic in Plainville. There is a brewery in planning in Prospect and then there's my boy Ed with Lasting Brass in Waterbury – though he's "just" a home brewer for now.
Throw in nearby J. Timothy's and you're all set for dinner and a last beer or two. (Full disclosure: I'm personal friends with some folks at J. Timothy's. We follow each other on Twitter and send emails to each other. Regardless, if you're at Relic, why wouldn't you go to J. Tim's, you lunatic?)
Firefly has a definite vibe and a lot of thought went into the space. Sort of a steampunk meets Appalachia at a craft beer bar. But discussions of decor and ambiance are for my page about the brewery itself. For this page is just about their beer. So let's get to it.
…………………………………………………..
Firefly Brewing Company
CTMQ Drinks every CT Beer
CTMQ's page on CT Breweries and Brewpubs