Relic Four
1 bottle, $?, 10.5% ABV
Joe & Brittany Hooked Me Up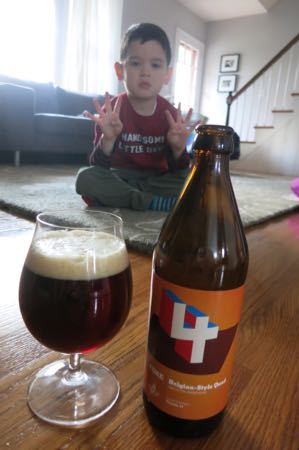 Aw, man, Calvin… why so glum? Because your dopey father asked you to sit and do some dumb pose with another Connecticut beer?
Yeah. Good point, kiddo.
But before you were four, you used to just pose because you didn't know what these pictures were for.
So I kept at it! Asking you to pose for more and more.
And more!
Hmmm… I guess I owe you one. So I wrote this for you.
Glum
Dumb
Rum
Plum
Plum in rum.
Yum, yum, yum?
Rum plums in beer, dear.
Queer beer near and dear.
Odd quad pour.
Odd quad more.
Odd quad pour more and more.
Pour four pours of Four for four.
Mine and yours and yours and yours.
Wait! It's "Fore" not "Four?"
For 4 is "four"!
Not "fore" or "for" or "phor!"
Odd quad poured for four on floor
It's "Four" not "Fore!" as I said before.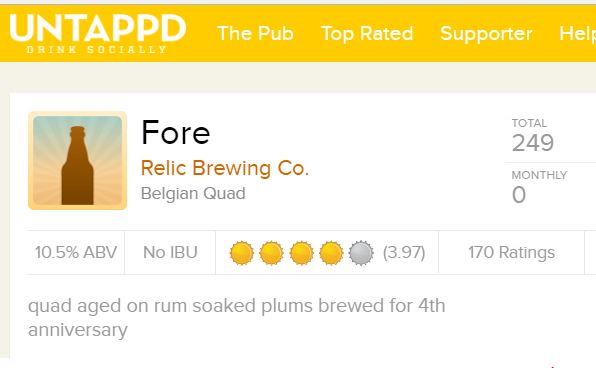 Glasses clink.
Drink and think.
Odd quad, brown and pink.
Drink and think.
Odd quad, brown and pink.
Rum and plum, you think and drink.
Dumb plum and rum, I think.
Glum crumb bum can't have some.
Why for? He's four you bore.
What's more, it's clear I do not like this beer.
Odd quad, rum and plum, I think is quite dumb.
Plum and rum, I think and drink,
Is not good, even if brown and pink.
Acidic is ick.
Oxygenated, perhaps ill-fated.
Odd quad, rum and plum.
Relic is four, not fore, as I said before.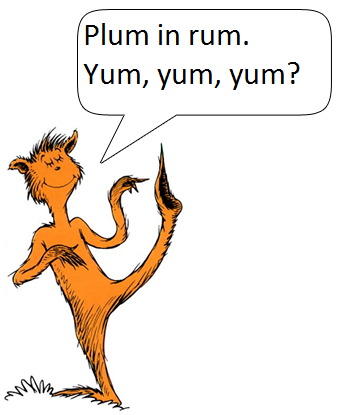 Relic says:
Belgian quadruple aged on rum soaked plums brewed for 4th anniversary
The very large percentage of those who drank and rated this beer enjoyed it. I'm the outlier. For one, I don't really like rum beers. Another, I'm pretty sure I don't like plum beers. And beers with rum-soaked plums will probably never work for me. But something was a bit too tart here, especially for a quad. It was acidic and sharp; not acedic or vinegary like if my bottle was compromised by oxygen though. I don't know… Just not a favorite from Relic; released at a time when Relic was sort of changing their whole thing and pumping out some really excellent beers.
And why this beer is called "Fore" on untappd is beyond me. Shebeen has a beer called "Fore!" and I liked it a lot more than Relic's "Fore" or "Four" or "4" or whatever.
RIP Dr. Seuss.
Overall Rating: C-
Rating vs. Similar style: D
Relic Brewing
CTMQ's Reviews of Relic Beers
CTMQ's Connecticut Beer Page
CTMQ's CT Breweries page