Kent Falls Brewing The Gardener's Tale 1
500mL bottle, 5.2% ABV, $9.50
Purchased at CBC, West Hartford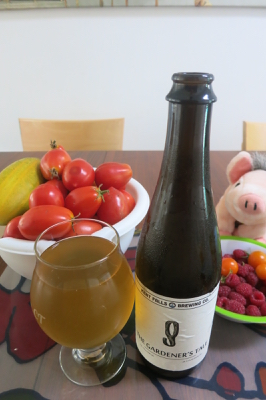 Clutch your pearls, y'all. Protect your children and secure your pets.
Are you ready?
Sitting down?
Good. Because I didn't love this beer.
Now breeeeeathe. It's okay. As you probably know, I love Kent Falls Brewing. I think what they did in their first year was nothing short of revolutionary – in a time when being revolutionary in craft beer is either a) nearly impossible, or b) requires one to make totally stupid beers.
Kent Falls was my "2015 Brewery of the Year." But that doesn't mean every one of their incredible number of 2015 releases were perfect to me.
Enter: The Gardener's Tale 1.
This beer was released right at the end of the "Kent Falls Only Does Farmhouse" era and at the beginning of the "OMG Kent Falls is Making Some Mindblowing IPA's Too" Era. At that time, I had pretty much loved everything I'd had from the brewery, but they hadn't yet vaulted into my heralded Top Three.
(It was also drunk on a day when I was able to collect that bounty from my own gardens in the picture.)
So when I heard about this "mint saison," I must admit, I was jaded going in. That just didn't sound good to me – and I love mint. I grow mint myself and I use it in dishes/drinks that don't usually call for mint. I know enough about mint to know that when you're poking around a field or a garden, a bunch of the herbs and plants we like in our food are all in the same family as mint; stuff like basil, rosemary, lavender, marjoram, thyme, sage, horehound and bee balm.
Here's how you can know too: if the plant has a square stem, it's most like in the same family. If it has opposite leaves and smells good, you can pretty much know it is. (This is good to know because, I think, the whole family is safe to consume.)
That's all well and good, but mint? In my saison? I was hesitant.
Kent Falls Says:
This is a sessionable farmhouse ale with local herbs.
Hm. That's not good enough for me. I want the story, Barry! Where did these herbs come from? How did you settle on the chocolate and orange mint varieties, specifically? Did you test some tinctures of various combinations of herbs in your soured saison base beer? I must know!
This first batch of Gardeners Tale is a modest adaptation of the Mint Saison… Way back when we were first starting to brew six months ago we sat down with Megan and talked about some different ideas for herbs to incorporate into our brewing. Among them, mint became one of the most fascinating. One of the largest plant families around, the options seemed endless. So we picked a few fancy varieties and Megan … A few months later we spent an afternoon in her greenhouse making tinctures by blending different varieties of mint and other herbs into our tart saison base beer. Among the crowd, the chocolate and orange mint stood out as the clear cut winners. So we made our plan to grow and harvest enough to make a few small batches of our beer.
Oh. Snap. Thanks, man. Tinctures and everything.
Here's my take on GT1 – I didn't get much of the mint at all, but the saison had this rather odd, very earthy taste to it. I thought, "well, perhaps I'm glad I'm not getting a bunch of mint in my beer, because I'm not sure I can handle that." But I also wasn't getting that delicious, bright signature Kent Falls saison tartness I had grown accustomed to.
I talked to Barry about this, and he noted that one of the reasons he and Derrick dug this beer was because of the earthiness brought on by those particular mint varieties. I can see that… this beer really brought the farm to this farmhouse beer. To me, the herbaceousness muddled the saison qualities a bit too much.
The weirdest thing about GT1 is that it left me wondering what the beer would have been like if it really had a minty undertone.
Such is the genius of Kent Falls – They released a beer that didn't quite live up to the description of it that made me hesitant in the first place, and in doing so, created a desire within me to have a beer that tasted more like that very description that made me initially hesitant.
Let's call GT1 the prequel to the later release of the GT2.
Well done, boys, well done. You got me.
Overall Rating: C+
Rating vs. Similar style: C
Kent Falls Brewing
Back to CTMQ's Reviews of Kent Falls beers
Back to CTMQ's Connecticut Beer Page
Back to CT Breweries page