Kent Falls Get More Likes Imperial Stout
Collaboration with Kinsmen Brewing (Southington)
16.9oz, $10, 8.2% ABV
UPDATE TO THE UPDATE! THE CONTEST HAS BEEN WON! EXPLANATION AT THE BOTTOM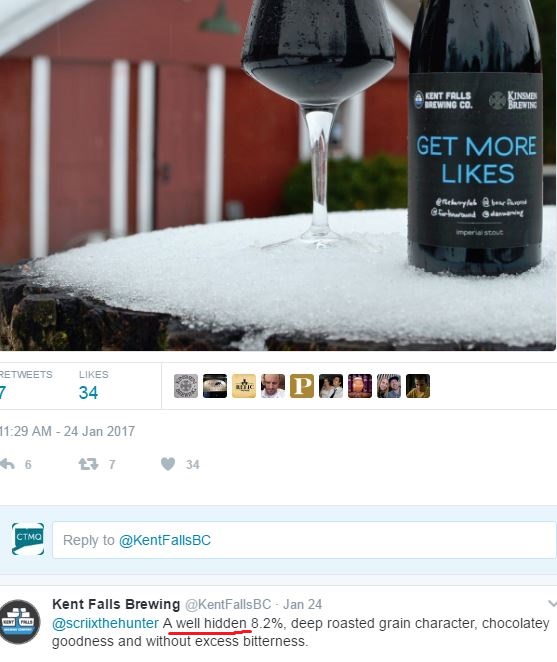 Think about what Kent Falls wrote here while you read this page… There's a contest involved that you may like.
The cheeky nerds (I say with love) are at it again with their naming conventions. "Get More Likes" is, as per usual, fun to order at a bar.
"What can I do for you?"
"Get More Likes."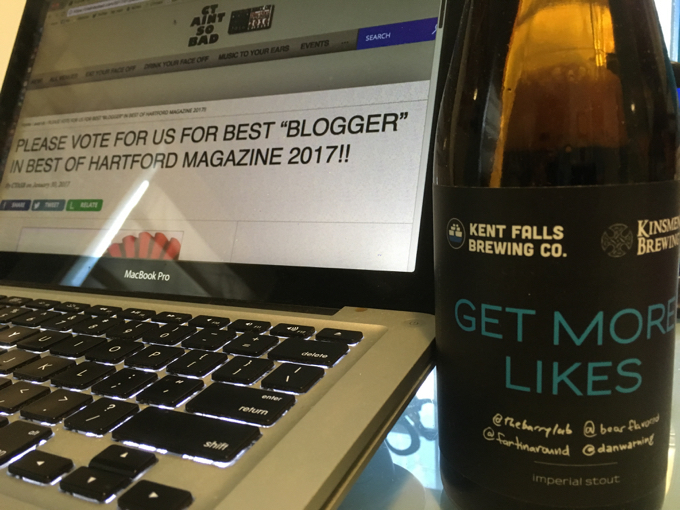 Not sure it rises to the level of "Napkins" or "Some Zep on the Jukebox," but approached another way, this one is a bit deeper. Like the beer – a toasty, roasty, perfect imperial stout.
In today's insane world, "getting more likes" on social media is currency; for individuals and for small, independent businesses alike. It matters. Or, people think it matters anyway. Since I'm old, I hold on to this curmudgeonly view of such things and never "play to the crowd" on my preferred social media.
And that's probably dumb.
Going even deeper, Kent Falls is big on collaborations. I can't remember them all, but they've brewed some fantastic beers with Steady Habit.v.1, Burial, Grimm, Peekskill, and more. This beer was brewed with Kinsman Brewing, a brewery about to come online in Southington, CT. Furthermore, the gang at Kent Falls has an affinity for local farms and restaurants, and have done beers with many of them.
In other words, people like Kent Falls and Kent Falls likes people. Get More Likes.
By the way: Follow @TheBarryLab, @fartinaround, @ctmqig, @danwarning, and @dellingerderek
To me, getting more likes on social media can be done any number of ways. I like to think people like my presence there simply for being me. That people read CTMQ – whether it's you beer people or the equally excellent hiking community or the museums folks or whomever. I like that. I'm proud of that.
Then there are the blogs and sites that go about their "growth" and "fandom" in wholly different ways. I won't name names, and the pictures on this page are purely coincidental… I swear… but some blogs are big into tagging… like really into it. They beg for "Best of" votes even though they don't actually write anything original. They even beg for "best Tweeter" votes even though – and this is true – they don't actually ever tweet original tweets. Their feed is just Instagram fodder.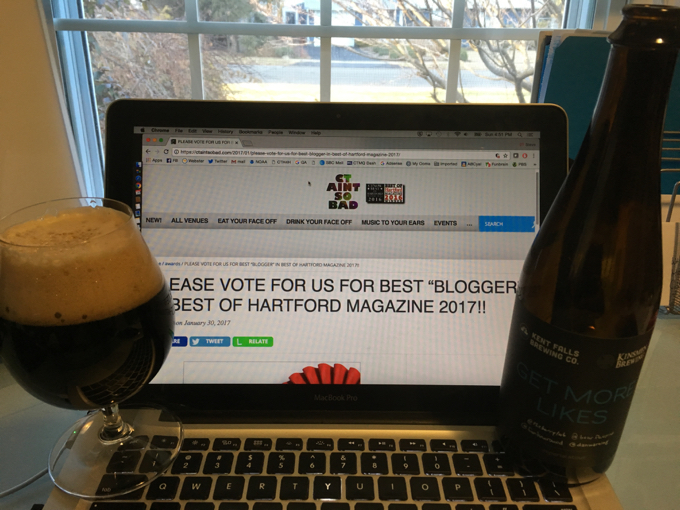 That's mind boggling to me. But it doesn't really bother me. (I'd be embarrassed to win any such awards.)
What bothers me are the content farms; the aggregator sites that exist SOLELY to "Get More Likes." Only In Your State is one of the worst offenders. Just awful. The writer for the Connecticut "Only in Your State" lives in Iowa. She makes laughable mistakes and I "get more likes" on Twitter by making fun of them.
Like telling us to take a hike up Mt. Tom in Litchfield and then posting pictures of Mt. Tom in Massachusetts. I love that.
She seems to have an unhealthy affinity for Kent Falls – the waterfall, not the brewery. I'm the one with the (probably literally) unhealthy affinity for the brewery. It's her go to. Holy crap, I just checked and she's mentioned Kent Falls 19 times as of today in her short career as a content stealer!
Wow. I knew it was a lot, but wow.
I particularly don't like Only in Your State because they have finely tuned content stealing to an art. They only steal from common sources like Yelp and Flickr. They steal ideas from people like me and do that 7th grade essay thing where they change a few words to make it "theirs."
It's legal. And it's gets a TON of likes. 10's of thousands of them. I'll admit, it makes me mad.
Get More Likes is a perfect imperial stout. It's delicious, well balanced, and roasty. The Kinsmen brewery came from Banded Horn in Maine and I have fairly high expectations for them based solely on that – and on this beer. If Derek and Barry at Kent Falls like him enough to brew with him, then that's good enough for me.
If you see this beer, buy it. Untap it and you will… Get more likes. Trust me, you'll be a better person for it.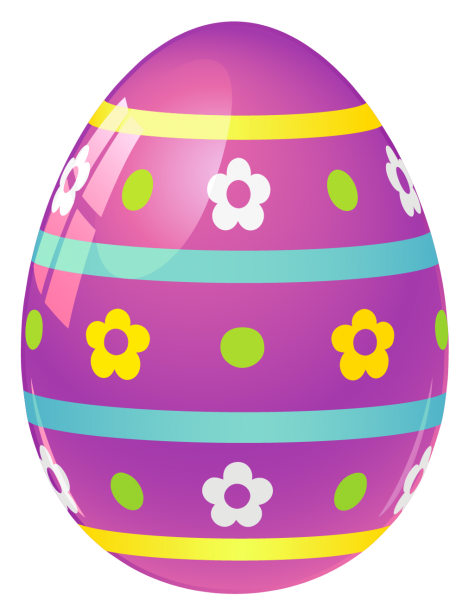 Contest
Yes, I hid this contest at the bottom of this page on purpose. Yes, I posted the picture just above for a reason. If anyone can tell me what these clues (Kent Falls' caption, the picture just above, the italicized word in this paragraph) are referring to with regards to Get More Likes bottles of beer (Actual something(s) on the bottles themselves), send me an email using the little email (envelop) button on this page and I will send the first person with a satisfactory answer a rare Kent Falls bottle of beer.
Seriously.
One more clue? It's another way to get more likes and it's not supposed to be as well hidden as it was with Get More Likes.
ICYMI: Follow @TheBarryLab, @fartinaround, @ctmqig, @danwarning, and @dellingerderek and give them likes.
It's all about the likes.
Contest Answer
"Well hidden," "Get more likes," hid, the bottle itself, an Easter Egg… Many of you emailed to say "Easter Egg" without providing what it was. I was looking for what it actually was.
The winner was able to figure it out by zooming in on a picture online and deciphering one of the hashtags on the label.
Yes on the black label there are 19 (I think) black hashtags. They are nearly impossible to see. #Dadbod is the easiest and largest, but here are all of the others.
#imfartinaround
#kilts4lyfe
#collaboration
#getmorelikes
#dadbod
#whydowedothis
#selfiestout
#seriouslylikeus
#dereksworld
#toomanycooks
#takingjokestoofar
#duckface
#sensual
#darkbeer
#eyeball
#momlife
#likeme
#ctbeer
#bobsadad
Here's the best picture I could find.
Overall Rating: A+
Rating vs. Similar style: A+
Kent Falls Brewing
Back to CTMQ's Reviews of Kent Falls beers
Back to CTMQ's Connecticut Beer Page
Back to CT Breweries page