Geyser Gose
4-pack of 16 oz cans , $12.49++, 5.5%
Purchased at Maximum Beverage, West Hartford
If you were to interrogate me about "which style" killed craft beer, I don't know what I'd say.
The Usual Suspects weighed in this year – from the idiotic Thrillist saying it was the humble gose to the dopey Beer Advocate discussing the idiotic Thrillist article.
As if goses are flooding the market somehow? C'mon.
"So, Steve, I'm gonna ask you again, 'What style killed craft beer?"
"I Kint really Verbalize my thoughts on that."
"Why don't we start at the beginning?"
"I can only tell you what I know. But I know it wasn't gose."
"How can you be so confident?"
"We're talking about goses here. Sure, Connecticut saw about seven new ones in 2015, but before that? None, really. And of those seven, only three or four were true goses to my mind. We hear about them and read about them and hipsters like to talk about them, but they are hardly ever made."
"So you're saying there is no 'gose' out there?
"The greatest trick the devil ever pulled was convincing the world he didn't exist."
"But goses DO exist! I read about them all the time! Don't be Spacey!"
"Huh? Where? In some comments on Beer Advocate by some guy in California, who goes by the name of Redfoot?… Come on now… he says goses are terrible and cheap and easy and they have killed craft beer?"
"Yes."
"I don't know what to say about that. Look, craft beer is still growing and appealing to larger audiences, but the macrobrews are still dominating the market and they aren't making goses. Do you think that there's some barbershop quartet in Skokie, Illinois finishing up a set and settling down to a Two Roads Geyser Gose tonight? Or a 12-pack of Miller High Life? What do YOU think?"
"I think you're hiding something and I think you know more about this gose thing than you are telling me."
"Soze… as I wuz sayin', I don't. But Two Roads does. Let's see what they have to say about it…"
Two Roads says:
Two Roads and Evil Twin sourced local ingredients during a trip to Iceland for this collaboration including: Icelandic moss, rye, herbs, sea kelp, skyr (Icelandic yogurt) and birch-smoked sea salt to create a Two + Evil twist on a gose beer; a sour wheat-style ale with a hint of smoke, light lemon color, dry finish and thirst quenching appeal.
"Icelandic moss? Sea kelp? Icelandic yogurt? Birch-smoked sea salt?! And you're telling me that gose didn't kill craft beer?"
"I'll admit, that description may be a shot fired across the bow, but it doesn't amount to much."
"So you DO know something about this?!"
"No. I don't. I've been in Guatamala for the last year, picking coffee for coffee stouts. Do you like coffee stouts, sir?"
"Yes. I do. They are delicious."
"And sir, would you shy away from a coffee stout with 'Madagascar vanilla beans and hand-picked Guatamalan coffee beens?"
"No…."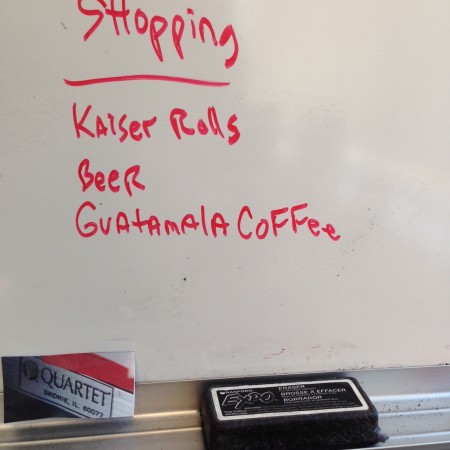 "But that's the same thing! So when you retire from the force, and they give you a gold lighter and a gold watch, every time you light your cigarette and check the time while enjoying a not-dead craft coffee stout, I want you to remember this conversation. And If I'm not under arrest, I'm just going to limp out of here and be on my way. Good day sir."
And that was that. Gose did not kill craft beer. In fact, at least here in Connecticut, they barely register a blip on the scene. By my count, five breweries made goses this year. One missed mightily, one did alright, one is OEC so they did what they do, one is Kent Falls who did it perfectly, and the other is this Two Roads/Evil Twin collaboration.
This beer is great. I don't know what all that Icelandic nonsense imparted into it, but it makes for a cool story since the Evil Twin guys are from Denmark and Iceland is a nice halfway point between Stratford and Denmark.
Lemony, herbaceous, slightly tart, fizzy, bright… and refreshing. AND readily available, which isn't the case with any of the other Connecticut goses. Two Roads knows what they are doing, whether it involves Icelandic moss and yogurt or not.
Buy this beer.
Overall Rating: A+
Rating vs. Similar style: A+
Two Roads Brewing Company
CTMQ's Reviews of Two Roads beers
CTMQ's Connecticut Beer Page
CMTQ's CT Breweries page