Shebeen Brewing's Golden Imperial Honey IPA
22 oz bottle, $9.95, 10% ABV,
Purchased at M&R, Avon
October 2016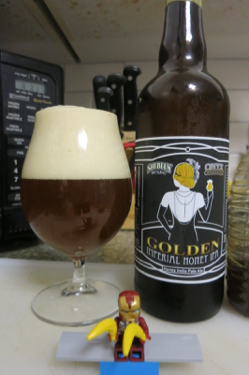 I don't know why Iron Man is holding bananas. Sorry. I'm sure it made some sort of sense when I took the picture. (Actually, I can't be sure of that at all.)
Shebeen's second Onyx barrel aged beer was rolled out about a year after their momentous win at the 2015 Secret Stash Beer Bash. The whole idea was pretty cool; as the winner of that inaugural event, Shebeen was given some spent Onyx whiskey barrels with which to play with.
Their first release was the smooth and delicious Fuligin BA black imperial IPA. You should read about that one before reading this one. Here, have at it. There was talk about a whole "series" of Onyx BA beers. Does two make a "series?" I'd suggest not, but since Onyx didn't give 2016's winner (Cold Creek) a single barrel, or even the later promised oak staves, who knows how much of their promise they kept with Shebeen.
I don't want to derail the Golden Imperial review to crap on Onyx, so I'll put this link here for you to read that, which appears at the bottom.
I'd like to point out how much I appreciate Shebeen's two attempts. Hooray for not doing the traditional BA stout. Frankly, I don't much like BA stouts – even exemplary ones. So even if Shebeen's two efforts missed, which they didn't, I'd still give them props for thinking outside of the box.
(Yes, I'm fully aware that I've questioned the brewery's "outside the box" thinking with beers like the Cannoli Beer and the cucumber wasabi mess, but, you know, let's move forward. Together.)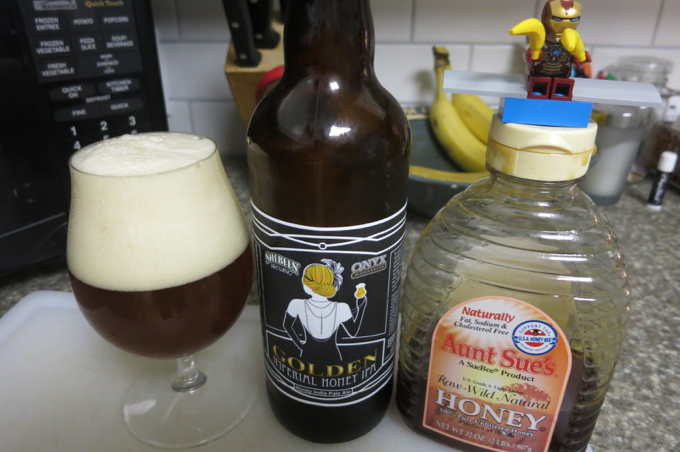 Shebeen says:
To raise money for Goodwin College scholarships, Onyx Moonshine provided spent Secret Stash whiskey barrels to over 20 CT breweries and let the public vote on the best. Shebeen Brewery and Onyx Moonshine are proud to keep the "speakeasy" spirit with the second barrel aged beer in the series.
The event did raise over $10,000 for the scholarships in 2015. "Over 20" was 21, I think – which dropped to 16 in 2016; even as the number of breweries rose dramatically. And, as I mentioned, this was the second – and apparently last beer – of the "series."
Shebeen says more:
Golden Imperial Honey IPA is a bright, imperial version of our competition winning brew spiked with honey and laced with subtle notes of vanilla and oak acquired while aging in the barrels. this big and complex brew has a resinous hop character with sweet toasted malt and honey notes that complement the char of the whisky barrels. It truly lives up to the name in color, Golden.
All true. I mean, of course I didn't really get any vanilla or oak, but I don't care. The honey was definitely present and it teetered on the edge of being too much, but it wasn't overpowering. The honey and the barrel sort of outshone the IPA qualities here, which takes away a bit from what I think this beer is supposed to be.
Shebeen says still more:
"Golden Imperial Honey IPA does not contain moonshine"
LOL. This is on the bottle's label. I wonder if they are federally obligated to put that on there. Which… would be weird. Moonshine is watered down ethanol. Beer absolutely contains ethanol.
No one ever said, "I could go for an imperial IPA with honey aged in whiskey barrels." And I can't pretend it sounds all that delicious. But it was pretty good. I've seen bottles recently (October 2017) at M&R and somewhere else I think. So you can still go get some if you want.
More on Onyx and their fest is below.
Overall Rating: B
Rating vs. Similar style: n/a
Shebeen Brewing Company
CTMQ's Reviews of Shebeen beers
CTMQ's Connecticut Beer Page
CTMQ's CT Breweries page

Oh, Onyx
I wrote about my visit to Onyx in April 2016 and thought I was fairly nice. Their little "speakeasy" space in East Hartford is cool. They are great marketers. I mentioned over and over how I'm not a whiskey drinker, let alone a moonshine drinker, so my opinions on their product were fairly moot.
But I said that their spirits are crazy expensive and that moonshine is nothing more than corn whiskey. Pretty much the simplest form of booze. Uneducated hillbillies make it along creeks in the Appalachians. I didn't even write that they don't even distill anything themselves! I kept that to myself!
Even so, I received an email from Onyx founding partner Adam von Gootkin who was a bit upset at my description of what moonshine is. The parallels to what I've received from Shebeen in the past were uncanny: How dare I say anything remotely negative about an independent local business! Why was I so mean? Why do I hate independent local businesses?
So they did their first Secret Stash Beer Bash in 2015 and it seemed pretty cool. Shebeen won. Shebeen got their barrels and later released the Fuligin and then went on to release the second Onyx barreled beer, the Golden Imperial Honey IPA described above.
Onyx put together another Secret Stash Beer Bash in 2016 and… the number of participating breweries dropped to 16 – at a time when the number of breweries in Connecticut was around 40. Attendance seemed to have dropped quite a bit as well. Brand new (at the time) brewery Cold Creek Brewing won the day. As before, the winner was to receive Onyx spent whiskey barrels to do with what they please.
Cold Creek Brewery of Ellington took home the top slot this year. Cold Creek Brewery, which celebrated its first anniversary in July, will receive the rest of the barrels and exclusive commercial rights to the name, "Secret Stash" to make its limited edition release beer.
"Exclusive commercial rights," y'all!
…This year's winner will also partner with Onyx Spirits to release their own unique Secret Stash beer.
I remember marveling at how poorly they promoted the 2016 event. Onyx! Master marketers! The outfit that convinced a state that they actually distill their own product! It was… weird.
The event didn't happen in 2017.
Want to know what else didn't happen?
A Cold Creek/Onyx BA beer.
Turns out that Cold Creek never received any barrels. Upon inquiring, they were told that they'd instead receive some oak staves. They never received any oak staves either.
I have no idea why. Did Cold Creek not write glowing press releases about how fantastic their win was a la Shebeen in 2015? Did Onyx's market share drop so much they they didn't have any barrels to give away as it was stated the winner would receive?
Again, I have no idea. But Cold Creek is certainly a small, independent, locally-owned entrepreneurial business.
Why does Onyx hate small, independent, locally-owned entrepreneurial businesses?