The Academy "German Pale Ale"
1 Growlette, $?, 5.7% ABV
Purchased at Brewery, Groton
I've liked Outer Light since they've existed. I visited them fairly soon after their launch and was impressed out of the gate. These days, as we head towards the fall of 2016, I've adopted a new policy with new breweries: Wait.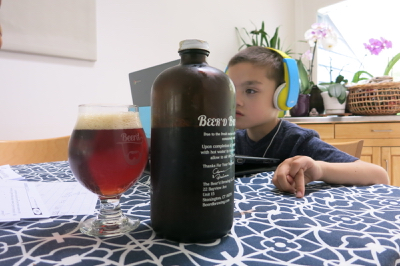 Give 'em at least six months to get things figured out. Preferably a year. (Now, you could react cynically to this self-imposed dictum and suggest that this is merely my excuse for not being able to keep up with the proliferation of new breweries. And even though you'd be mostly correct, your cynicism is encroaching on my cynicism, so watch yourself, buddy.)
And patience is certainly something I have. See that kid here? Yeah, that's Damian. He has never had a GPA or received a grade of any sort and he's in 5th grade. When you have special needs like he has special needs, you don't get grades. That would be absurd. I'd guess he'd have all "Incompletes" if not all F's. You get the point. I originally intended this page to focus on the "GPA" thing and Damian and my own difficulties at certain times in my education, but … nah. I'm going a different, though tangentially related route today: We're all going to get an education on German stuff.
Learning is fun. But let's back up for a minute.
I visited the brewery fairly early in their run. I had a few samples – all good – and then I had this one. It blew me away. The brewer had just giddily left the premises, eager to get to his brewery's very first event somewhere across town. Darn, I wanted to tell him how much I enjoyed this beer.
As far as I know, it may have been one of the first beers I'd had with a noticeable Huell Melon hop presence. Coupled with the aromatic Hallertau, I was left wondering why in the world this combo wasn't being done all over the place. I have my thoughts – German hops have fallen out of favor with many US brewers, for whatever dumb/trendy reasons. Also, I've heard from many brewers that the Huell Melon is difficult to work with for some reason.
Well, when its used right, it makes for a delicious beer.
I have had a couple examples of Connecticut efforts when the Huell has gone wrong. Amazingly, I've had a beer with such a heavy dose of the stuff that it tasted more fake-watermelony than Hooker's Watermelon Ale. And that's insane.
This Academy GPA announced Outer Light's arrival to me. This was an incredibly well executed ale – and done with a unique hop/malt bill AND a fun name and backstory.
Outer Light says:
THE ACADEMY GERMAN PALE ALE School may be out for summer, but Outer Light still pulls all-nighters. For this chapter in our Shoreline Series, we hit the books and invented a new style: the German pale ale. We used 100% German ingredients – German malt, German hops, German yeast…we even adjusted our brewing water to match that of Koln, Germany. Take a few minutes to examine our project and note the subtleties in our work. A malty sweet, bready amber backdrop props up a balanced hop profile with hints of orange, melon, and grape. We believe the resulting brew passes strict German quality standards, smooth and flavorful while light on the tongue. So raise your GPA and toast to all the new graduates of school and life. Cheers to you.
Wow, they "adjusted their water to match that of Koln, Germany?" Outer Light is not often mentioned in many people's lists of "OMG BEST BREWERIES IN CONNECTICUT" but perhaps it's time to rethink those lists. For what it's worth, they are in my top 7 or 8. It just stinks (for me) that they and Beer'd (and plucky Cottrell, for that matter) are such a haul for me.
I've since learned that head brewer Tyler Cox I spent time in Germany researching brewing techniques and whatnot. When you start to learn about who's brewing your beers, you'll come to find that the best ones are brewed by people who have put the work in. I know that's not surprising, but it's often oddly overlooked.
So you've never heard of Koln, Germany? Sure you have, but you know it as Cologne. For whatever etymological reason, we Americans know Koln by its French name. Perhaps that's because we have cologne, from eau de Cologne, which is "water from Cologne." Köln is from Latin: Colonia Agrippina. And cologne was invented, more or less, in Cologne by an Italian chemist with a German first name: Johann Maria Farina.
That's kind of cool.
But that's not the "water of Cologne" that Outer Light used. The Cologne water profile has a high temporary hardness. It is also known for containing moderately low levels of sulfates. The ratio of sulfates to chloride is 2, which provides nice bittering I think. So how does a brewery in Groton, Connecticut mimic the water in a city along the Rhine in western Germany?
Well, you must begin with distilled water. Then, they had to select from additives like gypsum, Epsom salts, non-iodized canning salt, baking soda, calcium chloride, and/or chalk, depending on Groton's water profile. Then, they had to put the additive(s) in the mash, not the plain base water, or some may not dissolve. Constant Monitoring of the pH of the mash during these additions was necessary to ensure that it remained between 5 to 5.5, which is optimal for desired enzyme activity. And finally, they had to figure out how much extra water was needed through the process since the natural loss of water will screw up the ratios.
Phew.
Could I taste the Germany in this beer? No idea, but perhaps that's why it tasted so damn good?
Since we're learning things today, let's focus a bit more on the city of Cologne. Let's look at a map: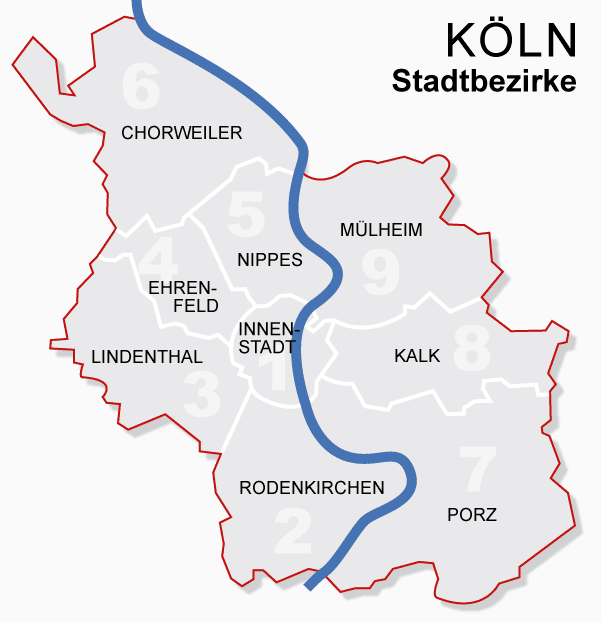 I wonder where the Poors live in Cologne. I wonder how many jokes I could make at the expense of Nippes? Which do you prefer, Kalk or Nippes? Or, since we're talking about alcohol, we could make the joke more about tiny bottles of it with regards to Nippes.
The large annual literary festival is called Lit. I bet it's lit.
Cologne is well known for its beer, called Kölsch. Kölsch is also the name of the local dialect. This has led to the common joke of Kölsch being the only language one can drink.
Cologne has the country's highest density of pubs per capita, so, that fits.
Cologne and Düsseldorf have a "fierce regional rivalry", which includes carnival parades, football soccer, and beer. People in Cologne prefer Kölsch while people in Düsseldorf prefer Altbier ("Alt"). Waiters and patrons will "scorn" and make a "mockery" of people who order Alt beer in Cologne and Kölsch in Düsseldorf.
(If I had to pick sides, I'd go with Düsseldorf here. Actually, screw that, I'd smuggle in some Outer Light Academy GPA and be happier than any of the Germans arguing over kolsch and altbier.)
Overall Rating: A+
Rating vs. Similar style: A+
Outer Light Brewing
Back to CTMQ's Reviews of Outer Light Brewing beers
Back to CTMQ's Connecticut Beer Page
Back to CT Breweries page