Granola Brown
One can, $2.09++, 5.5% ABV
At Harvest Fine Wines, West Hartford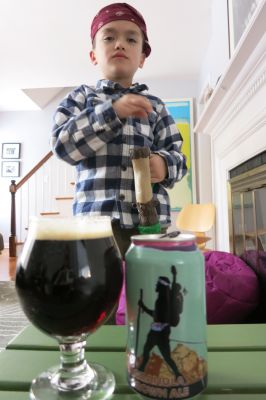 Simple. Get the hiking staff, the outdoorsy flannel, and throw on the bandana like the hiker on the can art and snap a picture. No big. And it'll be cute.
Forget about it, download it, forget about it some more.
Import to website. Look at it. Realize my cute "Damian looks like the hiker guy on the can" idea turned into, "Holy crap, Damian looks like a gang-banger."
Go with it anyway.
Think about how weird it is that this happened, since all the elements were correct.
Think about Black Hog's Granola Brown beer and how it is, to me, a straight up porter and not a classic "brown ale" at all. Go with it anyway.
Black Hog says: (e.e. cummings style is theirs, not mine.)
before a big pig roast we love to go on a long hike to get the blood flowin' and our stomachs ready for a serious feast. to keep us going we pack a few bags of crunchy granola. then it came to us! granola brown allows us to have the best of both worlds- a refreshing brew with all the wonders of our delicious granola! take this beer on your next hike or hike one up to your lips for a satisfying energy packed libation. don't want to pair your beer with a hike? try our granola brown with a nutty alpine cheese like springbrook tarentaise, comte or gruyere.
And to think, I was just enjoying some Springbrook tarentaise last night and just couldn't think of a beer to enjoy with it. Thanks Black Hog!
Anyway, Granola Brown is easily my favorite of the Black Hog flagship lineup. They nailed the sweet malts:bittering hops ratio as far as porters, er, brown ales go. The chocolate malts and malted oats really do evoke the whole "granola" vibe. Granola Brown Porter is a very good, deceptively complex beer.
One hopes that the same brewery that makes this would have equally delicious beers across their offerings. A year into their operation, that does not yet seem to be the case… but who knows.
As I've shown, all the elements can be present for something good, but it doesn't always work out that way.
Deep thoughts.
Overall Rating: A-
Rating vs. Similar style: A
Black Hog Brewing Company
Back to CTMQ's Reviews of Black Hog beers
Back to CTMQ's Connecticut Beer Page
Back to CT Breweries page