Counter Weight Headway IPA
4-Pack 16 oz can, $10.99 6.5% ABV
Purchased at Harvest, West Hartford (April 2017)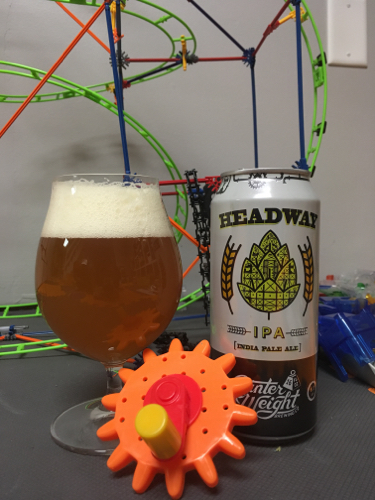 Hello and welcome to another edition of Counter Weight Weight Don't Tell Me! the BEST quiz program. Each week on this site you can test your knowledge against some of the best and brightest in the news and entertainment world while figuring out what's real news and what's made up.
Counter Weight Weight Don't Tell Me is hosted by Peter Sagal and Bill Kurtis serves as judge and scorekeeper in the Chase Auditorium in downtown Chicago. (crowd claps)
Thank you all for coming tonight, I know you all probably have better things to do, but your aunt got your tickets and you love your aunt despite her penchant for plunging necklines and Birkenstocks. (crowd laughter)
It's time to welcome our first contestant… Tim C! Tim from North Haven! Hello! What do you do for work?
Believe it or not, I work in radio.
Oh dear. So you disappointed your parents too. (crowd laughter) I'm kidding. Ok, Tim, your first question is… Matt Westfall is the brewer and owner of Counter Weight Brewing in Hamden… just down the road from you I believe… Matt Westfall formerly plied his trade at what iconic Connecticut brewery?
I know this… New England Brewing!
Correct!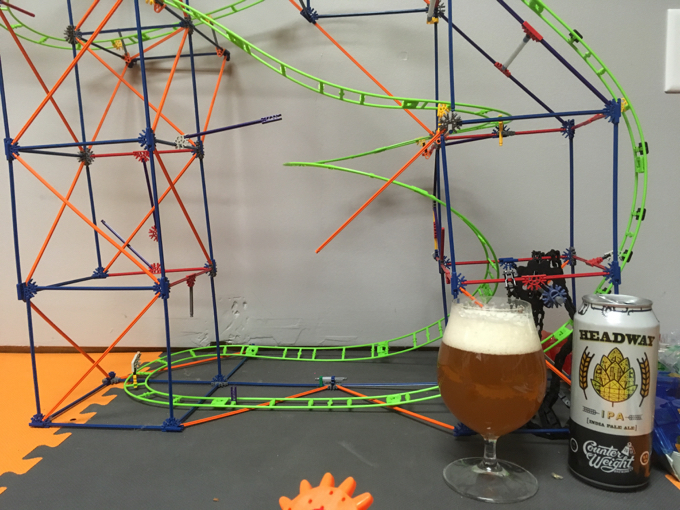 Yes, Mr. Westfall made like a Ghost Pigeon Porter and scooted up the road to open his own place, and –
Bill Kurtis intones: "That makes no sense."
I know it doesn't (crowd laughter)! But this is NPR and you are to assume that it makes sense to Mensa members and therefore you are not supposed to call attention to our poor writing skills (crowd laughter).
Ok, Tim from North Haven, question two – who said this in the past week? (Bill Kurtis intones) "This batch of Headway IPA isn't as good as the first batch and I got gouged at my local package store for it and why doesn't Matt just make more Headway and why does he distribute his beer it should all be sold at the brewery on early weekday afternoons and his old NEBCO beers Fuzzy Baby Ducks and G-bot just aren't as good as they used to be and man, my Headway was 8 days old and turned malty and Tree House is better?"
Hm. Not sure… Counter Weight Weight Don't Tell Me… I'll say, Untappd?
(Crowd laughs)
Correct! You had me scared there for a minute, Tim. As we know, Untappd is THE place where small business owner accountant Master Cicerones with MBA's who have brewed for decades go to explain to local brewery owners how to do things better!
(Crowd laughs)
I kid, I kid… they aren't all accountants.
(Crowd laughs)
We have a rare Counter Weight Weight Don't Tell Me visual question. Which is rare because we're on the radio and visual questions don't work on the radio. (Crowd laughter). But that's okay! This is NPR and our listeners can see telepathically.
This can of Headway IPA is next to what Connecticut landmark?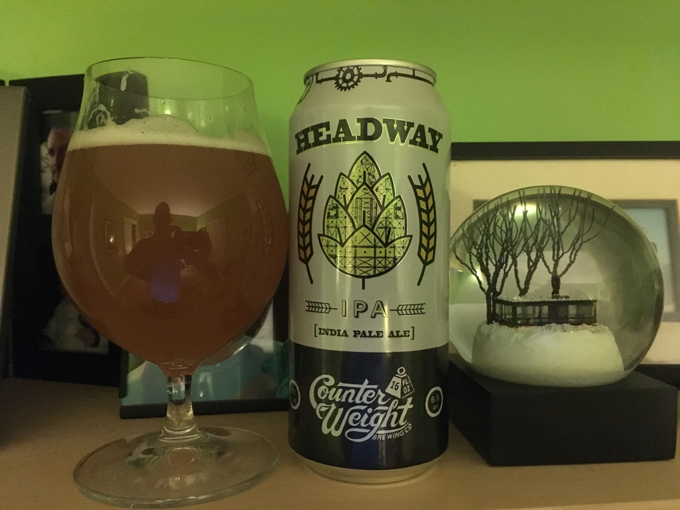 Um… well, it's a snowglobe and –
Yes, Tim. It's a snowglobe. We're looking for what's inside the snowglobe –
(Crowd laughter)
That is The Glass House!
Correct my good friend! Not the Ira Glass House, as that's entirely different. And as the old maxim goes, do not throw stones in a glass house. Yes, that's right, in a meta sense, the writer of this page should probably heed this advice, as he has certainly been guilty of offering suggestions to local breweries on how to better their business model even though he has no MBA, nor a business degree, nor has he ever brewed an ounce, nor is he a Master Cicerone. (Crowd uncomfortably laughs.)
Ok, Tim, your final question. Who said this: (Bill Kurtis intones) "An aromatic and flavorful IPA, Headway gets its pronounced aroma and juicy flavor from four different varieties of American hops. A backbone of blended malt lends rounded support to let its expressive hop character shine through. This inaugural beer should be consumed when in the company of friends."
Ummmm, the back of the Headway can?"
Correct again, Tim! Well done, sir. Do you have friends with whom to consume Headway IPA?
Does my wife count?
(Crowd laughs)
Sure, I guess so. Will she appreciate the backbone of blended malt?
(Crowd laughs)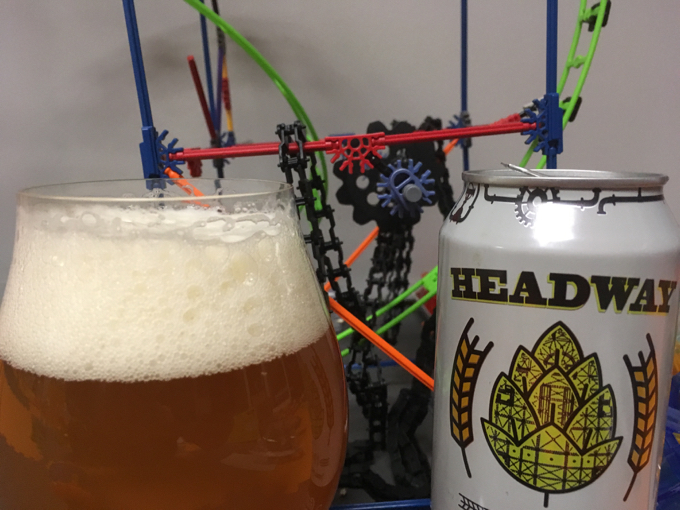 Yes. Of course. Are you implying that just because she's a woman she doesn't appreciate excellent craft beer? How do you feel about that Paula Poundstone? But Counter Weight Weight Before You Tell Me, —
(Crowd oohs and ahhs)
Okay, Tim, thank you very much for playing and you got all four questions correct! Headway IPA is a fantastic IPA. I've read that it tastes like a cross between NEBCO's Sea Hag and Lawson's Sip of Sunshine – and you know what? I actually agree with that description. It retains the characteristics of a true IPA yet also brings in some of the newer citrus/floral styles as well Counter Weight will be making this beer in volume and distribute it throughout the state as much as they can.
This will certainly become a go-to beer much like Sea Hag is for many. We here on the show love it. And remember, this was Counter Weight's first production beer! A sign of many great things to come.
We'll see you next week on (crowd in unison) Counter Weight Weight Don't Tell Me!
Overall Rating: A+
Rating vs. Similar style: A+
Counter Weight Brewing Company
Back to CTMQ's Reviews of Counter Weight Brewing beers
Back to CTMQ's Connecticut Beer Page
Back to CT Breweries page