FOR-evah, and Evah!
Harwinton Land Trust: Forever Forest
May 6, 2018
I'm going to do a rare thing here in Harwinton. I hiked all seven currently trailed properties on one (rainy) morning, so I'm going to sort of serialize the write-ups. If for some reason you want to start at the beginning, go here, to the Kalmia Sanctuary down the road.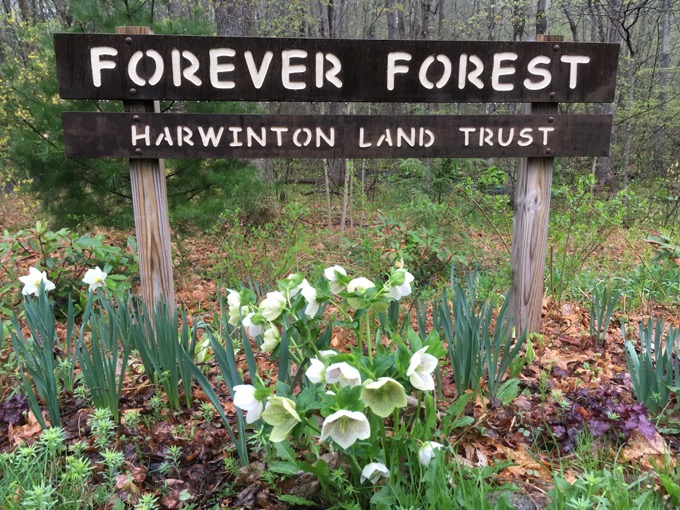 The rain picked up a bit as I made the short drive from Roraback to Forever Forest. There was no way I was going to quit my "Hike Harwinton" morning though. I was here and I was going to finish.
As i began the walk down the trail here I was again amazed at how well-kept the Harwinton Land Trust trails are. Look at this! The first 100 yards or so of Forever Forest is a graded, graveled trail!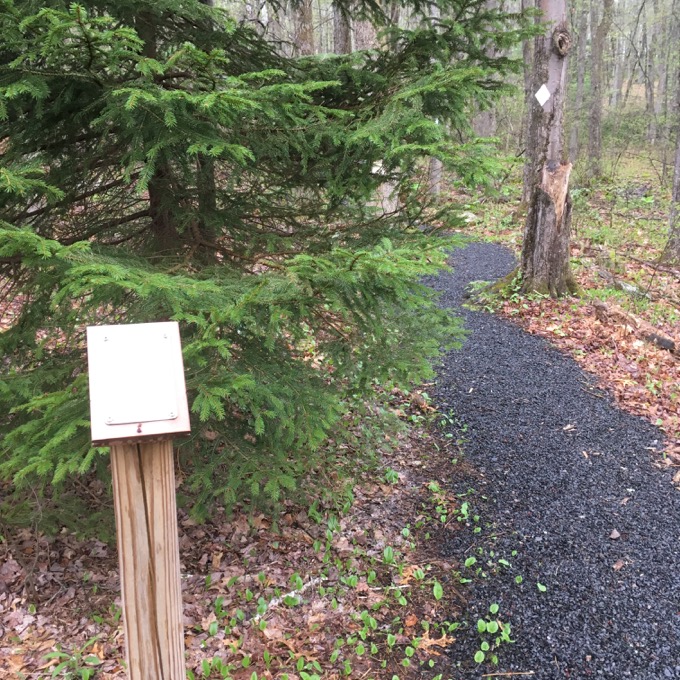 The HLT has packed a lot of trail into a small space. And yet, it doesn't often feel as though that's the case. I imagine that if there were 25 people walking around here at the same time, it would be rather ridiculous, but… I'm fairly confident that's never the case.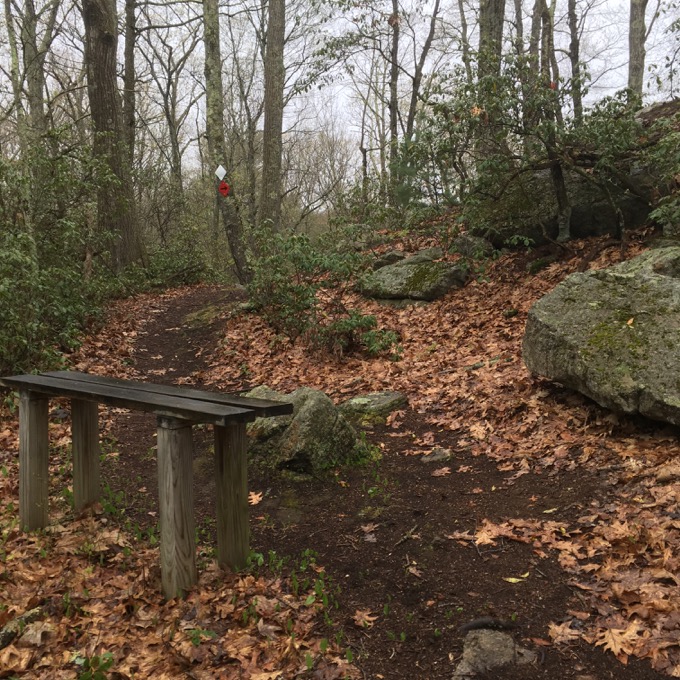 Says the HLT:
Although Forever Forest is only 12 acres, visitors will be surprised by how much it has to offer. The area has a scenic and interesting trail system that leads hikers along pretty marshes, over ledge promontories, and through distinct stands of hardwood trees and mountain laurel.

There are a total of 26 species of trees present at Forever Forest. This represents a high diversity of trees for such a relatively small piece of land. Because of the high diversity of trees, the Harwinton Land Trust saw that the area could be used for educational purposes. We have used the trail system to serve as a tree identification walk. A representative specimen for each species of tree was located along the trails. Sign posts were placed at each of the specimen trees.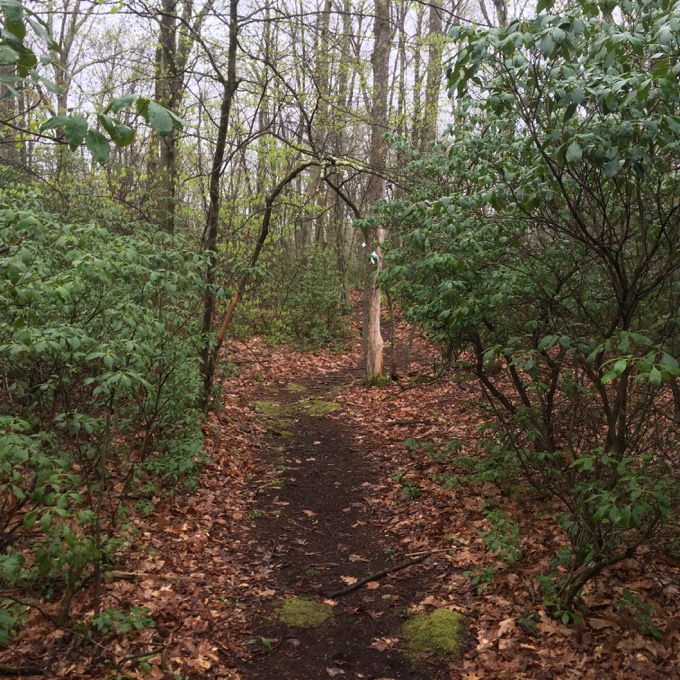 Excellent. Yes, there are informational signs along the main (white) trail to the "back" of the property regarding those trees. It gets a little crowded with the signage at times, but hey, people need to learn their pignut from their shagbark hickories.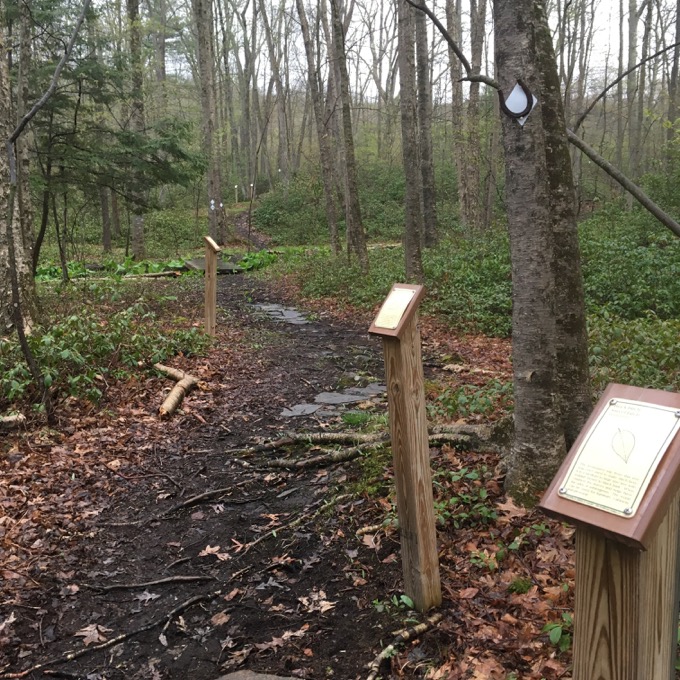 The HLT has produced a nice little tree ID guide as well. I can't really think of too many places in the woods in Connecticut that affords visitors the opportunity to see so many different species of trees in such a compact little area – with a guide and signage. Good job, HLT.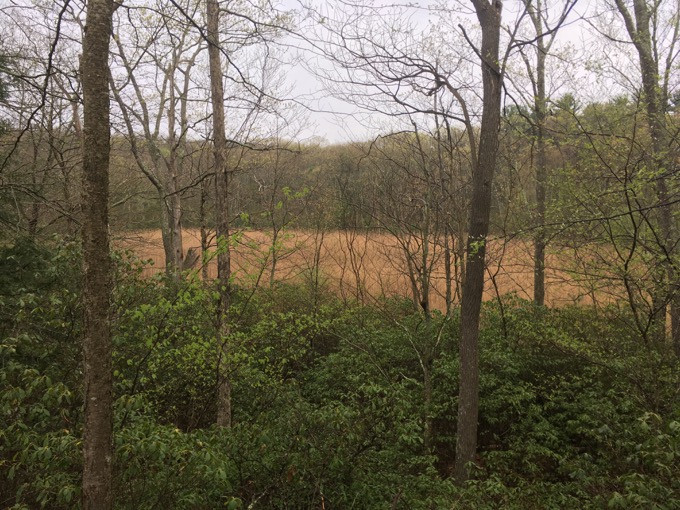 The trails here are obviously short, but still fun to walk. They are sure to ascend each little hump on the property. I went up one short spur trail which afforded a partial view of a marsh, but I also stumbled upon a geocache.
I didn't know the HLT had a Geocache series, but if you're into that, here's another reason to Hike Harwinton!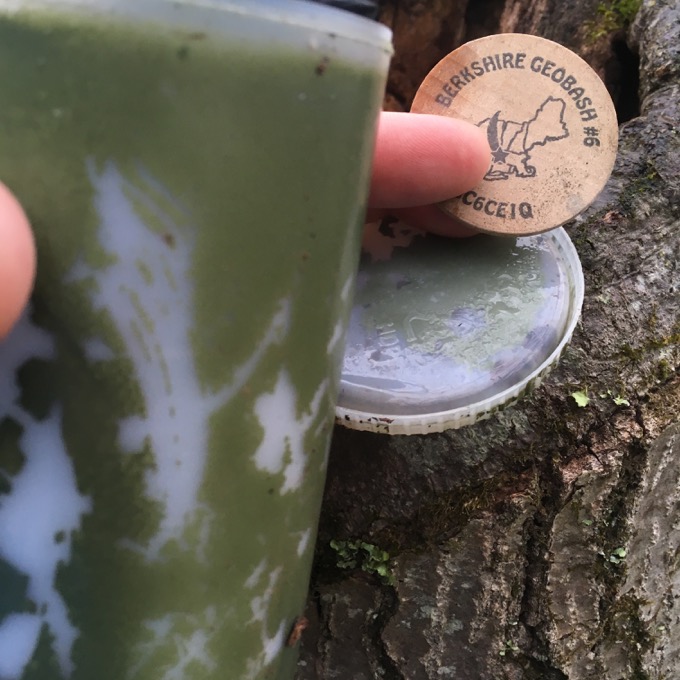 Since it was raining rather steadily, I'll let the HLT explain some more about this property:
As you walk over the footbridge of the small stream (Kelly Pond Brook) flowing out of the large marsh, you'll notice that the bottom of the stream is covered with flat rocks. The rocks are probably the smooth sand stone that was once used to manufacture whetstones (stones used to sharpen knives). These rocks were exposed by the erosive action of the stream, and are a sign of the sand stone deposit buried below the ground's surface. The area was noted for its manufacture of whetstones in the past.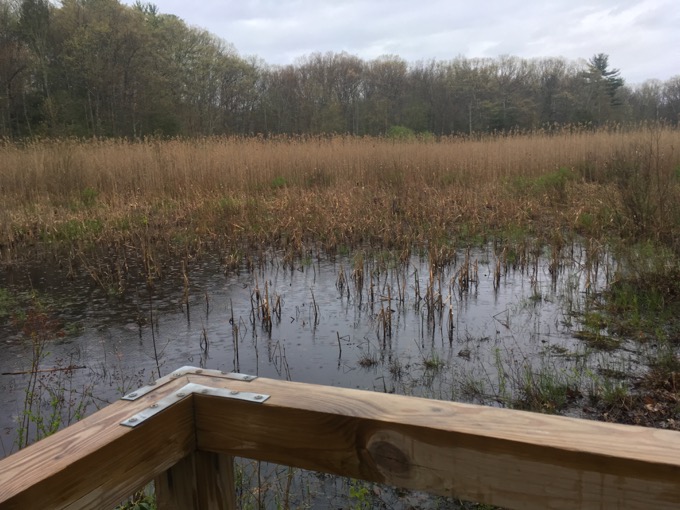 Yeah, I missed that on my walk. But I did make it "all the way" to the far end and did walk every trail. There is a lot of laurel here, so when it blooms in June, I imagine that this place will be even nicer – and will also bolster the illusion that each trail isn't actually right next to another trail.
Which is probably the coolest aspect of this property.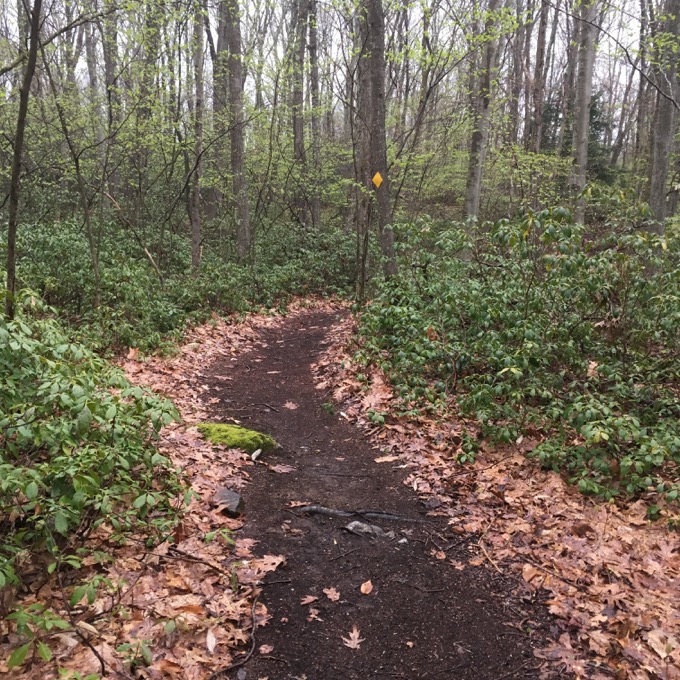 Up next: CT DEEP Western Headquarters Conservation Trails

Forever Forest Map
Harwinton Land Trust
CTMQ's Harwinton Land Trust page
CTMQ's Main Land Trust page