Black Hog Brewing Hog Water IPA
1 pint & one 16 oz can, $?, 7% ABV
Purchased at Lucky Taco, Manchester & a store
April 2016 and August 2017
Thought it would be fair to Black Hog to revisit this beer. I haven't been too kind to their line-up of IPA's and the like in the past, but rumor has it they've improved…
2016
Let's talk about the good stuff first: Lucky Taco is awesome. The owners are fantastic people who happen to be very kind and cool. They also make Mexican food and I'm telling you, their Southwestern Caesar Salad is an excellent salad choice.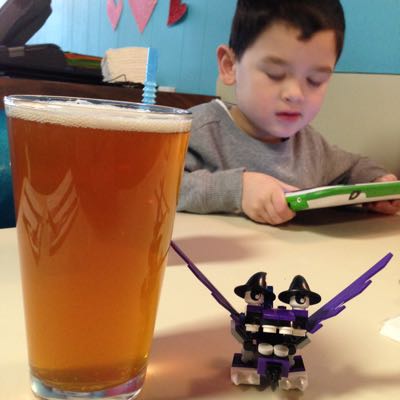 It is excellent: A spicy take on the classic! With our Chipotle Caesar dressing and Asiago cheese…. that unique dressing is genius and I can't believe they haven't taken over the Tex-Mex salad world.
Lucky Taco also always has an excellent tap list as well. When listing "the best restaurants with the best tap lists," you must include this place or your list is useless.
I can be certain that there were better choices on offer when I ordered this Hog Water IPA, but I am who I am* and I do what I do.
*An ding-a-ling.
Black Hog says:
A Hop Lovers Wet Dream! Light n' bright in color and body, with a pop of sexual tropical-fruit-hop flavor from Mosaic, Calypso, and Citra! Enjoy a cool carbonated pint of Hop Water… we mean Hog Water! #HOGWATER
Hold up. What did I just read? If you're having wet dreams about beer, you have a problem… two problems, actually.
One, that's just really weird.
Two, by the time you can drink beer, you should have figured out one or two better ways to "prevent," so to speak, wet dreams.
And by the way, shout out to the unfairness of puberty. Boys have random nighttime fun while girls menstruate. I didn't care at the time, but thinking about that now as an old man makes me feel sort of guilty.
Oh well. Despite the exciting duo of Mosaic and Citra, this IPA was fairly standard, as far as such IPA's go. It was good and hit all the right notes, but it wasn't great – and I can't get past Black Hog's description of this beer.
Because it's nowhere near that good. Man, when I was 13 or 14, Elle MacPherson burst on the SI Swimsuit scene. I hadn't tasted any alcohol at that time, but I knew that I liked Elle MacPherson.
And even now, 30 years later, I know that I still like Elle MacPherson better than Hog Water. (Which, let's be honest, isn't really fair to Black Hog. I mean, come on.)
Anyway, yeah, this is the best Black Hog IPA I've had. For whatever that's worth.
2016 Overall Rating: B-
2016 Rating vs. Similar style: B-
2017
Hey nowwwwww… Black Hog is now canning this beer (and others) in the now-standard vessel for such things: the mighty 16-ounce can.
And they still tout it as a "Hop lovers' wet dream." Gah. That still bothers me a year later.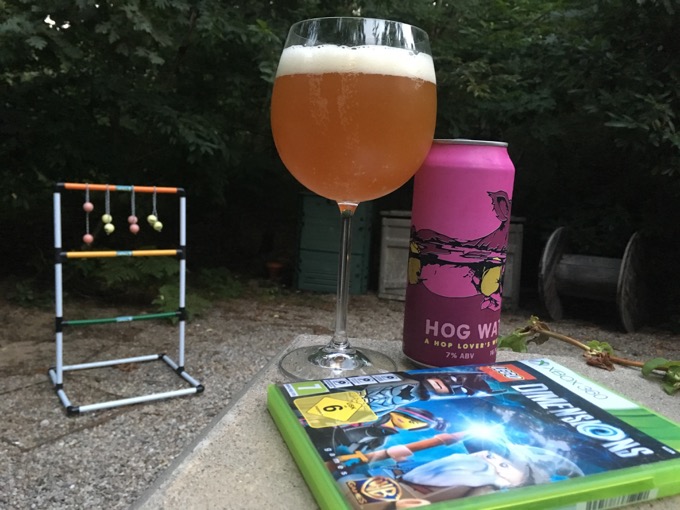 Anyway, I picked up a can and brought it with me to the Cape. My two pictures were supposed to be the gateway into a story about things that dudes who have wet dreams about beer like when they are awake.
It was going to be a trip. Xbox, LEGO, and ladder golf. I thought I had nailed it. Stereotyping IPA gamer bros who are stuck in adolescence that venture forth into the world only to breweries where they play hippie lawn games is always fun.
And easy.
But then I remembered I did the whole Elle MacPherson thing a year ago and that was silly enough. So instead, you get a few paragraphs of filler before I talk about the actual beer.
Hog Water 2017 is good! Really good, actually. I can't pretend it's different than it was a year ago, but I can try. Black Hog's IPA insufficiencies have always been, to my palate, a distinct lack of flavor.
These heavily hopped IPA's in this day and age must be really, really flavorful. And it seems like Black Hog sorted that out and changed up the hop additions for Hog Water. Still not a standout beer, but how can it be with 50 billion other Citra/Mosaic IPA's available?
In a sense, the best anyone can do is to not mess up this hop bill and style. And Black Hog hasn't here.
Still not gonna wake up at 3AM all hot and bothered by it though.
2017 Overall Rating: A
2017 Rating vs. Similar style: A
Black Hog Brewing Company
CTMQ's Reviews of Black Hog beers
CTMQ's Connecticut Beer Page
CTMQ's CT Breweries page