Thomas Hooker Brewing Company
Bloomfield
Check out CTMQ's visits to the brewery
Standard Beer List:
American Pale Ale, C
Belma Pale Ale, A
Blonde Ale, C
Brewer's Fuel, B-
Brewtus Maximus pale ale, A-
Hop Meadow IPA, A-
Fairway IPA, A+
Imperial Porter, A-
Irish Red Ale, C+
Liberator Doppelbock, A
Lime Time Gose, A-
Munich Style Golden Lager, B+
#NoFilter NEIPA, A
Double #NoFilter DNEIPA
Passport Pilsner, A
Spinster XPA, C (Retired?)
Seasonals and Limited Release:
Late winter/spring: Chocolate Truffle Stout, A-
Late Spring/Early summer: Summer: Honey Berry Happiness Ale, C
Summer: Watermelon Ale, F+
Fall: Octoberfest, B
Winter: Nor'Easter Lager, D
Bandwagon Grapefruit IPA, B
Barrel Aged Saison (2012), A-
Defiance IPL, B-
Demure Smoked Saison, C
Old Marley Barleywine, A+
Soft Spoken Biere de Table, B+
Tenacious Belgian IPA, B
Private labels, One-offs and Experimentals:
I like what Hooker is doing here. I know Back East has one private label for Carbone's Kitchen in Bloomfield, and I'm sure there are others, but Hooker has made this part of their business plan way more than anyone else. And good for them.
Burger FIPA, B+
Cappy's Ale (Flanders Fish Market private label), C
Chamard Vineyards Cider, A+
Dunkin' Goat Coffee Stout, B
Flippin' Bird Ale (Sliders private label), C
Willington Pizza IPA
Hooker One-offs, casks and experimental Beers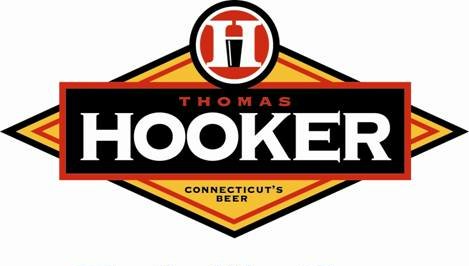 …………………………………………………..
Hooker. Not exactly a subtle name but one which has immense historic underpinnings in the Hartford area. For it was Thomas Hooker who founded Hartford. The Hooker name is so prevalent in and around Hartford that it's not even all that funny to those of us who live here. Heck, there's a Hooker Drive in my hometown of West Hartford not too far from the Sarah Whitman Hooker Homestead.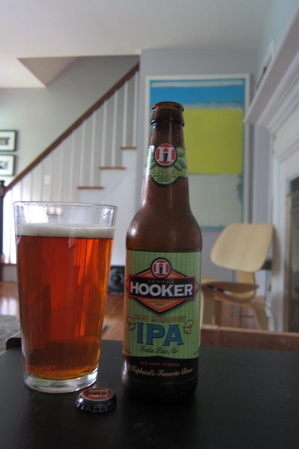 Of course, Hooker Brewing does not shy away from selling Hooker t-shirts and such with such cheeky witticisms as "No Wife, No Girlfried, No Date… You Need a Hooker" and "Hooker: Always a Happy Ending" among others. But that's par for the course in the beer industry of course. Even in our relatively small brewing state, we also have had Beaver Beer who play this same game and the Great New London Brewing Company who have a rather sexy video on their website.
But whatever. Hooker has been my "hometown" brewery for years and years. Even way back in the day when they were born as Trout Brook Brewing in the old Spaghetti Warehouse in Hartford. (That's when they first brewed a Hooker Ale, I think, and then ownership changed and the name changed to Hooker and they moved to Bloomfield.) I can get up to Hooker in about 12 minutes from my house and refill a growler for only 8 bucks.
Hooker is, I think, the biggest brewery in Connecticut but they still retain their craft brewing merits – Boy how things change. In 2016, Two Roads is bigger than all Connecticut breweries combined. The owner, Curt, is a really good dude who has taken time out to help me with the fundraiser I put together to raise money for research on my son's rare syndrome. (In fact, Hooker is a wonderfully charitable business as you can see here.)
For that alone I love them. I also love that they expanded their old tattered tasting room to what is now a large, clean and comfortable taproom area with TV's and everything.
Let's be honest; Hooker makes a couple seasonals that I do not enjoy. But I also know that they sell really, really well. And heck, Hooker is ranked number 15 in the top 50 American Micro Breweries by the Beer Advocate – like I said, times change. This is no longer true.
With Back East and Hooker up in Bloomfield right in my backyard, I can't complain.
Cheers!
My visit to the brewery
Thomas Hooker Brewing Company
CTMQ Drinks a lot of CT Beer