Powder Hollow Hop Hazard DIPA
16 oz can, $3.49, 9.2% ABV
Purchased at Harvest, West Hartford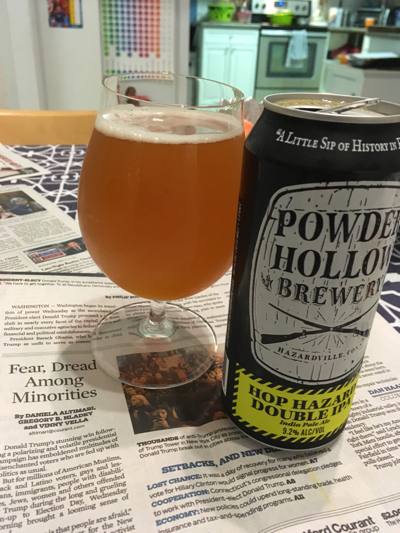 I like crossword puzzles. I particular like the New York Times and AV Club ones. Yup, throwing it out there: I read the New York Times and enjoy The Onion. Formulate any opinions from that.
And the purposeful pictures on this page.
And my Twitter feed.
And if that's not enough, perhaps the rest of this page will help you along. I am not a fan of the current president or his administration. Or his policies. Or his rhetoric. Or his businesses. I realize that many of you reading this are now gnashing your teeth and perhaps would be the first Trump supporter who can offer a cogent and thought-out reason for your support. If that's the case, fantastic. Rock on.
As for me and my family, which includes conservative Christians, veterans, immigrants, refugees, women, teachers, and a disabled child, we have a right to be appalled – as conservative Christians, veterans, immigrants, refugees, women, teachers, and disabled people.
As for me, personally, I am not Christian, not an immigrant, not a refugee, not a veteran, not a woman, not a teacher, and I'm not disabled. I'm a married 44-year-old white dude with a decent family income who lives in a safe and desirable town. Many Americans in my demographic are on the Trump-Train.
Yet I'm not. Go figure. I think Mr. Trump is a (Hop) Hazard to our country and the world.
But back to the AVClub Crossword. A few weeks ago they published a sort of open letter to their fans. I felt it to be unnecessary, but what do I know? I guess I could co-opt it for the purposes of the CTMQ CT Beer Reviews. No one gives a crap about Powder Hollow beers, so very few will read this – and even fewer of you are still reading right now, but here it is.
I've changed a few words to make it fit for me.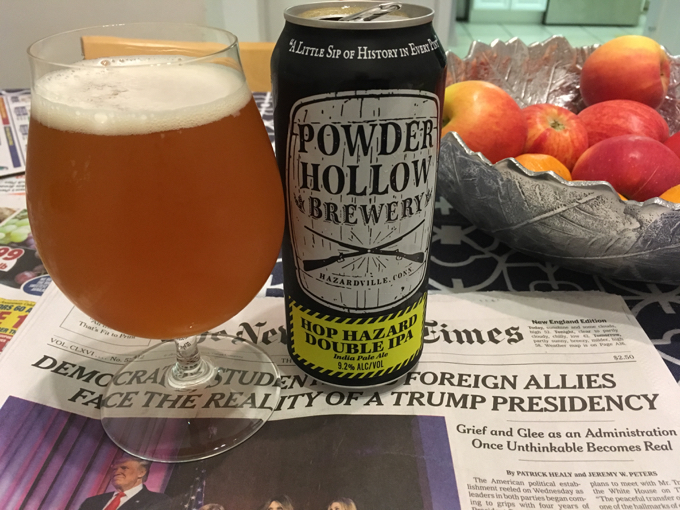 The ["Hop Hazard DIPA Review"] is a polemic. It was published after much consideration, and represents an editorial shift.

In the past, we've stayed away from certain kinds of political statements, especially those that weigh in on electoral politics. There are other stances we're comfortable taking, but mocking politicians is usually dull. We've had the opportunity to run a few such [reviews] (or simply [one-liners]). While we've taken a few shots, usually we don't.

But the election of Donald J. Trump seems to me a different animal. There are many institutions and groups being directly, even existentially threatened by his administration. A free media is just one of those. But media happens to be the category that [CTMQ] belong to, even if we're not its most trenchant or typically outspoken representatives. Still, we depend on the leeway to speak frankly and truthfully. The insinuations and indeed acts leveled at organs of the press recently are abhorrent, revanchist, and beyond anything I have witnessed in this country in my lifetime.

It is vital that the media not temper their full-throated dissent. If that results in polemics where fun is supposed to happen, now and then, so be it. You might want to speak to your congressperson rather than us. Meanwhile, it's easy for me to get angry as an individual, but ultimately much harder and more meaningful for [CTMQ] to stick its neck out as a [goofy website]. Our goal isn't to alienate any of our [readers], but to be principled where we feel we must. Nevertheless, you may [simply stop reading or ignore me].
Phew. Glad I didn't have to write all of that.
Oh. Yeah. Powder Hollow's Hop Hazard DIPA. It's alright. You can tell what it's trying to be and at over 9%, it's trying pretty hard. But this is Powder Hollow we're talking about, so it goes without saying that they've come up short. It's not a bad beer or ever a bad effort, it's just not a beer you're going to even think about buying over the 13 other DIPA's staring at you from their shelves in the store… especially since they're most likely fresher and refrigerated anyway. (For some reason, I never see Powder Hollows in the cooler.)
Overall Rating: B-
Rating vs. Similar style: C+
Powder Hollow Brewery
CTMQ's Reviews of Powder Hollow Brewery's beers
CTMQ's Connecticut Beer Reviews Page
CT Breweries page