Olde Burnsides' Hop't Scot
1 draught pint, $6.00, 6.5% ABV
Purchased at Max Burger, West Hartford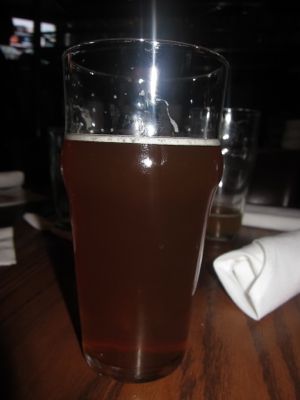 At some point in my life I became convinced I had a lot of Scottish blood in me. My mom denies it, but I absolutely recall her telling me this after one of her genealogy binges. Something about people like me and my mom, with our (formerly) black hair, pale skin and blue eyes were products of the Moors coming to Scotland (and only Scotland) and spreading their seed. I have absolutely no idea if that is even a tiny bit true, but I always thought it sounded kind of cool.
Turns out, I'm actually a German/English mutt. Nothing special. No Braveheart here. That kilt I wore for a couple years, it turns out, really was just a skirt on me. Sigh.
I've always been me. My genetic makeup hasn't changed.
The same can't necessarily be said of many of our Connecticut beers and breweries. Consumer tastes change, available materials change, branding changes.
Some breweries stay ahead of the curve or at least keep up with it… others fall behind. That's just the way of the world.
Olde Burnside was a Connecticut darling for nearly a decade. An OG. On tap everywhere. A matter of pride. If you wanted to look cool at a bar in 2002, you ordered a Ten Penny Ale from Olde Burnside. You had taste!
(By "you" I mean "me.")
It is not news to anyone that this is, sadly, no longer the case.
Olde Burnside says:
Our Scottish version of an English IPA. Unfiltered with a nice malt backbone and a variety of English hops. Balanced with nice hop character.
I have no clue what in the world a "Scottish version of an English IPA" means. But here's what I mean about how these things change. More recently, Hop't Scot was advertised at a beer fest thusly:
https://untappd.com/b/olde-burnside-brewing-company-hop-t-scot/166810
A couple things here. It is now an "American IPA" on Untappd. (Though, there surely isn't an "IPA – Scottish" choice on the Untappd dropdown.)
But "quintuple hopped?" That means less to me than "Scottish IPA." One of my (many) bugaboos for years has been when breweries boast of "double" or "triple" hopping… that means nothing if we have no idea what "single hopping" means.
Does it mean two or three times the amount of hops? (Per what?) Or does it mean the brewer adds hops at two or three different times (which is normal, making the term even more useless?)
What it doesn't mean is "the number of hop varieties." It just doesn't. No one has ever used the "double" or "triple" verbiage that way. Let alone "quin-freaking-tuple!" A ton of beers have five hop varieties in them! Boring macro beers even!
What has happened to Olde Burnside?! (Of course, this sign was at a brewfest in Hartford that caters to, shall we say, a crowd that would never read anything I write about beer, so it could be argued that having this sign there was actually pretty smart. But that doesn't make it right.)
As for me, I had this beer back when it was a boring ol' English/Scottish IPA. The color was dark, the liquid was translucent, and the "malt backbone" was biscuity and chewy. And there certainly was no "juicy finish." Ugh. Buzzwords make me sad.
The hops, however many there were (probably just Fuggles and… more East Kent and Golding), imparted a weird grassy and floral flavor that fought the maltiness rather than complemented it.
I have no idea why I'm reviewing a beer that apparently no longer exists in the form I had it. Or maybe it does and Olde Burnside's marketing is playing catch up.
It doesn't really matter though. Hop't Scot, as cool as the name is, ain't exactly on anyone's watch list.
Overall Rating: C-
Rating vs. Similar style: D
CTMQ's Reviews of Olde Burnside beers
CTMQ's Connecticut Beer Page
CTMQ's CT Breweries page