Lasting Brass Hop'ville Elementary Chinook (Single-Hop Session Series No. 2)
Gifted by the brewer, 4.7% ABV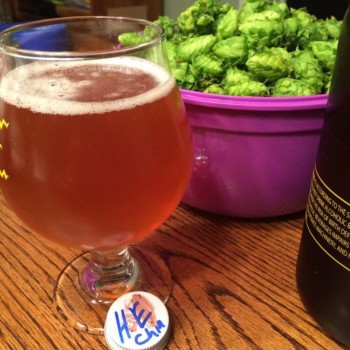 For the first time (I think) in CTMQ beer reviewing history, I have to steal a picture. It's a lovely picture from Jesse P on untappd, and I think he'll be okay with it. Jesse, like Ed of Lasting Brass, is a home brewer who actually brews good beer. (Which explains the fresh hops in his kitchen.)
Now, I have no idea what happened to my picture of this beer…
Did a Chinook eat it?
Did a Chinook carry it off?
Did a Chinook call upon the spirit guides to disappear it?
Did a Chinook blow it away?
Regarding that last one, Chinook winds can be bonkers: A strong Chinook can make snow one foot deep almost vanish in one day. The snow partly melts and partly evaporates in the dry wind. Chinook winds have been observed to raise winter temperature, often from below -4°F to as high as 50-68°F for a few hours or days, then temperatures plummet to their base levels. The greatest recorded temperature change in 24 hours was caused by Chinook winds on January 15, 1972, in Loma, Montana; the temperature rose from –54 to 48°F.
Like I said, bonkers.
And I'm quite sure I'm the only person who finds it kind of funny that there's a casino named Chinook Winds Casino in Oregon. It's like they're telling you up front, "come and blow your money away in a short period of time."
There. Now I'm over not having a picture for this page… A page that should be focusing on the Chinook hop variety and not this other nonsense. (But isn't learning fun?) Chinook isn't super popular and this marked the first time I'd ever had a single-hopped Chinook ale. I didn't really know what to expect from it – would it be predominantly piney or grassy or fruity? One thing I was pretty sure of was that it would be good – Lasting Brass doesn't exactly put out crap beers.
Lasting Brass Says:
A single hopped Session India Pale ale brewed with only Chinook hops. The overwhelming amount of late hop additions gives this beer a very tropical citrus flavor and aroma.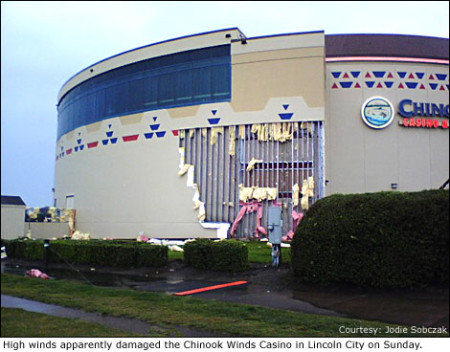 Well, there we are: Tropical citrus. Except… I didn't really get a citrus bomb here. This could be, perhaps, because I've become almost accustomed to the ridiculous (and ridiculously good) citrus destruction from Beer'd and Lawson's and NEBCO. But I like a little bitterness and pine bite in my IPA's. I love NEBCO's Sea Hag because it's still there in that one. And it was still here in this one too. The Chinook hop, to me, definitely imparted that bitter and pine that we are slowly losing in the craft industry, in favor of these citrusy hops.
[And yeah, that's right… A Chinook damaged the Chinook]
Ed's second single-hop IPA (yes, the first one was Citra, reviewed here) was astonishingly clean and crisp. This is not the norm in single-hop-world, as the hop oils and resins and hoppy hoppiness often results in an overly dank and murky beer. Don't get me wrong – those beers can still be incredible, but overwhelming at the same time.
Like, we all love Sip of Sunshine, right? I do. But I also couldn't drink more than one in a sitting… it just melts my brain too much I think. But this beer? This Chinook IPA at nice and low 4.7% ABV? Man, I could down several of these and not feel full or burnt out or any of that.
Therefore, I love this beer.
Overall Rating: A
Rating vs. Similar style: A+
Lasting Brass Brewing Company
Back to CTMQ's Reviews of Lasting Brass beers
Back to CTMQ¹s Connecticut Beer Page
Back to CT Breweries page