Back East Ice Cream Man IPA
Six-pack, $13-something, 6.9% ABV
Purchased at the brewery, Bloomfield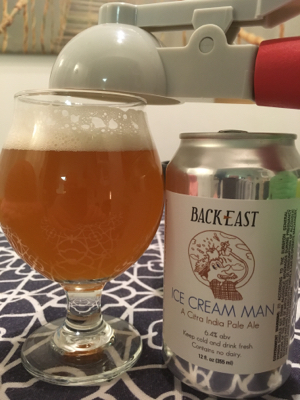 It's 20-degrees outside and the windchill this morning was somewhere around -15F. Clearly, it's time for a beer to warm you up. I can't think of a better one than Back East's new Ice Cream Man IPA.
That just makes sense.
It warms my cockles to see that Back East is still plugging along, putting out beers that keep people talking about the Bloomfield brewery through 2016. It's been a whirlwind year for owners Ed and Tony; from scoring one the best young brewers in the… I'll say world, because Stephen Andrews is currently in Norway kicking ass. In my opinion, he moved Back East from the world of solid workaday craft beer to one that everyone "in the scene" was talking about.
He left for greener fjords and Back East brought in Brian Flach who brewed at Manchester's defunct Tullycross, then somewhere in Massachusetts where he gained a following before coming to Back East. Well, yeah… Brian went back east again and is now brewing at John Harvard's in Framingham, MA and Back East brought in… I don't even know. But the point here is that he's making some good beers that that are keeping Back East in the conversation.
And that alone is impressive.
One of those beers is the Ice Cream Man IPA. It sold out the day it was released and yes, there was a line. (This leads to the question, if you brew an all-Citra IPA, will you get a line no matter who you are? It's an interesting question and the answer is "probably not, but there's a fairly good chance you will.)
I have been alerted to the fact that the can art is an "homage" to some (surely terrible) Grateful Dead thing called the "Ice Cream Kid."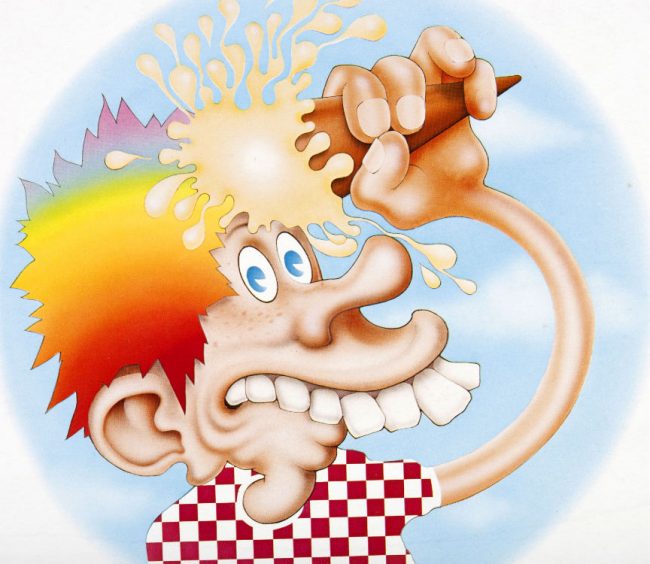 The Grateful Dead's 1972 live triple-album "Europe '72" designed by Alton Kelly and Stanley Mouse under their Kelly/Mouse Studios name and set against mostly white. The front cover shows a large Truckin' boot crossing the Atlantic, while the back cover depicts The Ice Cream Kid smashing an ice cream cone against his forehead, some of the ice cream flying through the air spelling "Live."
Man, this beer better be good, because anything Grateful Dead makes it instantly suck in my book.
Back East says:
Ice Cream Man IPA is a juicy IPA brewed with 100% Citra hops. We first brewed this beer in September as a fundraiser for the Jason William ?Hunt foundation, an organization which provides outdoor education for at risk youth. We raised almost $575 for this organization.
"Juicy." Drink.
– Remember the rules, if a brewery describes a beer as "juicy," you must drink. If they use "juicy" AND "dank," you must drink and do a shot. But you know that.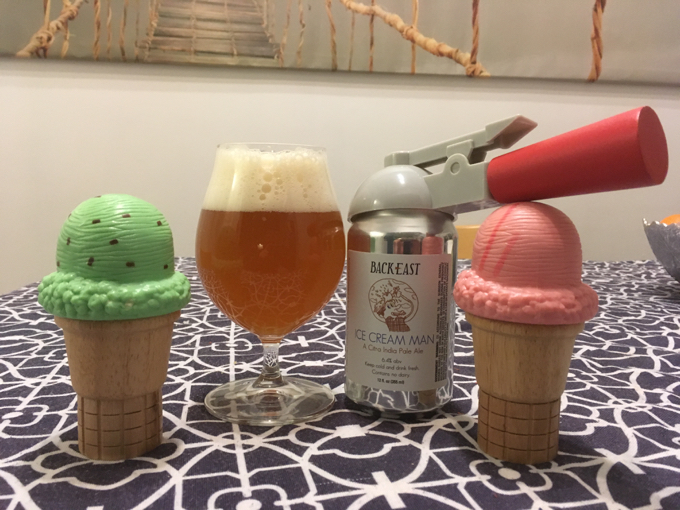 This beer was well executed and quite delicious. It was everything you've come to know and love about all-Citra ales. Super fruity and pithy with little to no bitterness. And therein lies my issue with most all-Citra ales. They are IPA's with only half of the characteristics of an IPA.
Yes, this goes for Fuzzy Baby Ducks too. These beers are weird to me… and I'll throw in Julius and Sip of Sunshine here as well – they are delicious. Really and truly. But they are all missing a key component to me: Bittering hops. Something to cut through the pithy, almost greasy slime that coats your tongue and throat when you drink them.
You don't notice it while you're enjoying them, but an hour later you do that tongue-roof of mouth (which is, anatomically, you palate by the way) smack thing and taste that fermented orange juice taste. You brush your teeth and the toothpaste tastes a little sweeter than it should for some reason.
Then you go to bed. And you dream of body-painted naked women chasing ice cream trucks, because if you're not having NSFW dreams, you're not living life.
Then you wake up and rub your eyes and do that tongue-palate smack again and you still taste that orange pith taste. Am I alone in this? Am I brushing my teeth wrong? Please let me know.
I've had this issue with every all Citra or mostly Citra beer I've ever had. Beer is delicious. Transporting sometimes. But they all bother me for some reason. Maybe it's just me.
I'm your ice cream man
I'm your ice cream man
Be-be-be-be-be-be-be-baby
Ah my, my, my
All my flavors are guaranteed to satis-uh-fy
Ow
Yeah David Lee Roth, "ow." I know what you're sayin' man. Ice Cream Man is a delicious beer. Well made, executed as well as any all-Citra IPA. The kids love it, and that's great for them and for Back East. My issue with is probably more of an issue with me.
Huge props on the charity tie-in though. Definitely cool.
Overall Rating: A-
Rating vs. Similar style: A-
Back East Brewing
CTMQ's Reviews of Back East's beers
CTMQ's Connecticut Beer Page
CTMQ's Breweries page