In The Name Of… Holy Land Belgian Tripel
Experimental Series #4
Gifted by the brewer, 10% ABV
In the name of all that is holy… holy crap, did you hear the news? Worshippers of great beer will (probably) have a new holy land, in a town… by The Name Of… Watertown. HOLY (Land Belgian) TRIPEL CRAP! Lasting Brass has a prospective brewery site in the Old Pin Shop in the Oakville section of Watertown. (It's right near the Waterbury border, and according to my studies, it used to be part of Waterbury, so let's never hear anyone question the Dirty Water-centric names of Ed's brewery and beers. For the love of all that is holy, Amen.)
But let's take a second to take our collective breath and review what has happened in our little state in the last 8 days. Today is Friday March 13, 2015.
On Thursday, March 5th, The most excellent Beer'd Brewing beer appeared for the very first time on a Hartford County tap at the most excellent J. Timothy's in Plainville.
On Monday, March 9th, Shebeen Brewing announced they will be releasing a malt liquor. I'm certain this will be an April Fool's joke, and it would be a good one too, if this was announced 23 days later.
On Tuesday, March 10th, the new Stony Creek v.2 began distribution on tap lines at Eli Cannon's in Middletown.
On Wednesday, March 11th, the new Kent Falls Brewing began distribution on tap lines around Litchfield County.
And on Friday, March 13th, Lasting Brass "announced" they had found a "prospective site" for a brewery in Waterbury.
Now, I put "announced" in scare quotes for a reason. The entirety of the Lasting Brass operation (that would be Ed Silva and I guess his wife Laura who is a rather fantastic partner) has very quietly been poking around Waterbury for a few months now. Just checking out the scene. Only seeing what his hometown had to offer him. Simply toying with the idea. Long story short, Waterbury is not the most small business friendly city in the state.
Enter: Watertown, a nice and professional landlord, decent rent, and a 2,300+ square foot space that has what Ed would need. And as of today, that's all he has.
That – and an article in the Waterbury Republican-American. (Yeah, she called me and spoke with me and left the part out where I said how there is plenty of room for new breweries in Connecticut despite the endless parade of new ones. I even gave my reasons why I feel that way, but column inches are hard-fought and I understand why it got left out.)
The bottom line is this: Ed is a great brewer who has made some great beer in his house over the last few years. IF Lasting Brass goes pro in Watertown, it won't be until 2016 sometime. And IF that happens, Lasting Brass will immediately vault into the top five breweries in the state. Yes, just like that. I stake my reputation (ha) on it.
Lasting Brass Says:
This is our Holy Land tripel that we aged on oak soaked in port wine with Brettanomyces.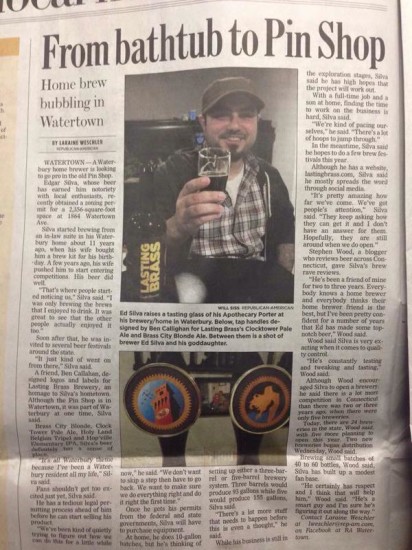 I remember when I took the picture at the top, in Brewster, MA on the Cape, that I would work in a whole sort of pun-riddled review with "Brewster" and the obvious "Brewmaster" and "Brewer."
But as you now know, I'm not doing that in light of the exciting news above and to the left. (This article appeared in the Waterbury Rep-Am on Monday the 16th and as a courtesy to you, you can click on the picture to maybe read some of it!)
I also remember I was going to do a joke about proper glassware, which was not available to me on the Cape. But yeah, we're not going to bother with that line of discussion either.
Because I've already written too much and I haven't really talked about this beer. And really, this beer deserves to be talked about. It's fantastic.
It retains all the qualities of a tripel you'd expect. The fruity esters are there, along with a slight spiciness. But the Brett and the whole oak chips and port wine thing? They work in concert with the tripel qualities rather than battling them. I don't know how that works, and I don't know how Ed thought to do such a crazy thing, but that's why Ed is awesome and I'm just the guy writing about him and his beer.
The oak and the port barrel merely cut the candi sugars in the tripel, which I liked. It wasn't an oaky beer or a winey beer or even very much of a Bretty beer… though all three components were there, none dominated the basic tripel profile. And the 10% ABV? Dangerously disguised.
And oh yeah, everyone knows where the Holy Land name come from right? The kooky mini-Jerusalem up on the hill next to I-84; one of the Dirty Water's most notably landmarks. I went there a long, long time ago when it was in comic disrepair… some guy has bought it and is fixing it up though, which kind of bums me out.
Overall Rating: A
Rating vs. Similar style: A+
Lasting Brass Brewing Company
Back to CTMQ's Reviews of Lasting Brass beers
Back to CTMQ¹s Connecticut Beer Page