Back East Intergalactic Lupulinary IPA
Growler, $?/six-pack $11.99, 5.4%
Purchased at the brewery, Bloomfield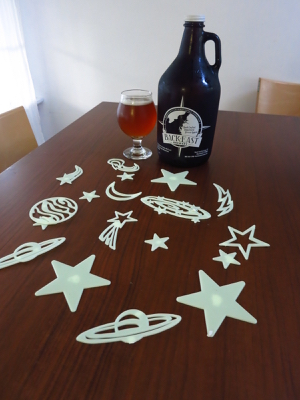 I'v followed the Beastie Boys' trajectory since "Cookie Puss." This was before they blew up with "Licensed to Ill" and then became one of the coolest and greatest bands of the 90's and 00's. I was a punk/hardcore kid, so the underground track of "Cookie Puss" made its rounds in the Jersey/Philly scene I was a little-kid-brother to at the time.
For real, yo.
They were kind of a (really quite) bad punk band back in the 80's, so they went with humor… and then went with Rick Rubin and Russel Simmons and became the "Fight for your Right to Party" guys… and then went on to just be awesome for two decades after that album. RIP MCA.
I have no idea if this beer was named as a reference to the Beasties' "Intergalactic," but it's hard not to pretend it is.
The lyrics go:
Intergalactic Planetary, Planetary Intergalactic
Another Dimension, Another Dimension…
So you see, "Intergalactic Lupulinary" can't be an accident. (And I guess if you down enough of this fine IPA, it'll take you to another dimension.)
But a-ha, I do have a reason to doubt my hypothesis:
Back East says:
Lupulinary is derived from the word lupulin, the active ingredient from our beloved hops which gives beer, and IPAs in particular, their wonderful juicy flavor and hoppy aroma. This IPA comes in at 5.4% ABV and has delicate notes of lemon, peach and melon in the nose. It is packed with dank flavors of citrus and tropical fruit. This beer finishes dry, clean, and resinous. It is brewed, whirl pooled, dry hopped, and dry hopped again with Australian Galaxy hops (as well as a few of our other favorites).
Those dang Galaxy hops! There's your "intergalactic" reference!
(I don't actually doubt that this beer's name is a nod to the Beasties' song… former taproom hero Amy B. is a B-Boys fan, and the brewers there could very well be fans. I'm only hesitating because I have this perception of owners Tony and Ed liking Led Zeppelin and Phish too much to know much about late-period Beastie Boys songs.)
Whatever. What they do know is good beer. They also know as one of our state's larger breweries, they're not going to get into the all-Citra, limited-run hype game at this point. What Back East does is make damn good beer.
This new (2015) IPA was their effort to sort of play the citrus/tropical IPA game, but still stuck to their old school west coast resiny, dry IPA roots.
And I dig that.
Maybe because I'm old, I don't know. But I liked that the Intergalactic Lupulinary wasn't overly sweet or overly tropical or whatever. It regained a bit of that resin, pine, and hop bite that has gone missing in our New England IPA's lately.
Yet – yet it still had the components that the whalezbros stand in lines for hours for, albeit muted.
Which is fine by me.
In March 2016, Back East canned this beer and we're all the better for it. This beer is fantastic; it seems a bit softer and creamier now. Also, the can confirmed my Beastie Boys allusion.
The Beasties' Intergalactic" Robot!
Overall Rating: A-
Rating vs. Similar style: A-
Back East Brewing Company
Back to CTMQ's Reviews of Back East's beers
Back to CTMQ's Connecticut Beer Page
Back to CT Breweries page