Two Roads Irish Exit Stout
1 pint, $8.50, 4.6% ABV
Purchased at Two Roads Taproom, Bradley International Airport
The almighty Two Roads has expanded their reach once again – up to Bradley Airport in Windsor Locks. They've opened their Tap Room there and time will tell if it was a smart move or not.
(My bet is on Yes.)
I don't know which came first – Two Roads' idea or Aer Lingus flying in and out of Bradley. Aer Lingus's first flight there was in late September 2016, which means they contracted probably a year earlier. (Google confirms my suspicion.)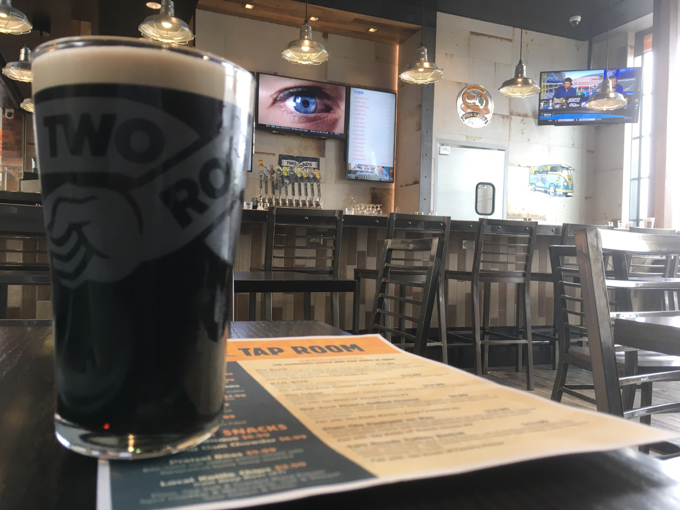 So, I'm guessing, Two Roads made the expensive plunge to open the taproom once they knew flights to and from Dublin were happening and it opened in late May 2017. I happened to visit a day or two after it opened.
And I was impressed. I'll ignore the absurd (and necessary) airport markups and focus on the selection. As you'd expect, there are a ton of Two Roads beers on tap, including this airport exclusive (I think): the Irish Exit Stout.
But beyond that, there are a ton of Connecticut beers available. And not just the run-of-the-mill stuff either; in fact, there were several fanboy faves like Headway, Nummy Nummy, and #NoFilter.
I know, right?
(For the record, Headway was $9 for the 16 ounce can… pretty steep, but again, an airport bar is quite the anomaly. They are forgiven.) The woman working there was super nice and attentive. Cheery and chipper, but not in an annoying way. Good hire, Two Roads.
Two Roads says:
A classic Irish-style Dry Stout with a rich, creamy head and a distinct coffee-like aroma and flavor. Poured "Nitro"-style
Wait a minute… is "nitro-style" different from "nitro?" I don't know. What I do know is that the Irish Exit is basically Guinness. I formed this opinion before anyone had even logged the beer into Untappd. (Like I said, I was an early taproom visitor!)
It's dry and properly bitter and has that soft nitro feel to it that all y'all craft drinkers remember from your way back Guinness days. The head wasn't as creamy as a pint of Guinness, and perhaps the body was a bit thinner than the original, but it's clear to me what Two Roads was trying to do here with this beer.
And it worked for me… I still give Guinness all the props in the world. It's amazing to me that it's now "cool" to crap on it.
Back when people still drank it, it used to drive me bonkers to hear so much incorrect information about Guinness. The same applies to Irish Exit, so here you are:
Guinness (and Irish Exit) contains less alcohol by volume than a typical draught. An average beer contains 5% ABV, while Guinness clocks in at just 4.2% (and Irish Exit is 4.6%).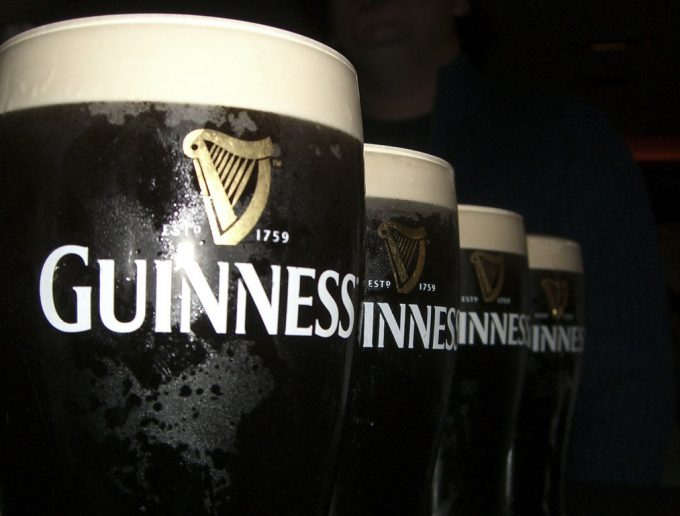 Guinness (and Irish Exit) is not "fattening." A 12-ounce serving of Guinness is a mere 125 calories—just 15 more than the same serving of Bud Light. Since alcohol is beer's main calorie source, it's relatively low in calories. My guess is that people think its "creaminess," a result of the mix of nitrogen with the CO2, is like heavy cream or something. I don't know.
Another "myth" I've already seen is that you can enjoy an Irish Exit at 6AM. While it is true that the tap room opens at 6AM, you can only enjoy a breakfast sandwich there at that time. Establishments cannot serve alcohol until 9AM in Connecticut. And no, Bradley isn't some magical "international space" or anything like that. It is solidly in Connecticut.
By the way, the law still allows serving until 3 AM on New Year's Eve, but a few years ago the state eliminated the same provision for the day we move our clocks back. This stuff is publicly available.
Bored? Here you are:
Sec. 30-91. Hours and days of closing. Exemption. (a) The sale or the dispensing or consumption or the presence in glasses or other receptacles suitable to permit the consumption of alcoholic liquor by an individual in places operating under hotel permits, restaurant permits, cafe permits, restaurant permits for catering establishments, bowling establishment permits, racquetball facility permits, club permits, coliseum permits, coliseum concession permits, special sporting facility restaurant permits, special sporting facility employee recreational permits, special sporting facility guest permits, special sporting facility concession permits, special sporting facility bar permits, golf country club permits, nonprofit public museum permits, university permits, airport restaurant permits, airport bar permits, airport airline club permits, tavern permits, a manufacturer permit for a brew pub, manufacturer permits for beer and brew pubs, casino permits, caterer liquor permits and charitable organization permits shall be unlawful on: (1) Monday, Tuesday, Wednesday, Thursday and Friday between the hours of one o'clock a.m. and nine o'clock a.m.; (2) Saturday between the hours of two o'clock a.m. and nine o'clock a.m.; (3) Sunday between the hours of two o'clock a.m. and ten o'clock a.m.; (4) Christmas, except (A) for alcoholic liquor that is served where food is also available during the hours otherwise permitted by this section for the day on which Christmas falls, and (B) by casino permittees at casinos, as defined in section 30-37k; and (5) January first between the hours of three o'clock a.m. and nine o'clock a.m., except that on any Sunday that is January first the prohibitions of this section shall be between the hours of three o'clock a.m. and ten o'clock a.m.
I'm fun at parties.
Overall Rating: A-
Rating vs. Similar style: B+
Two Roads Brewing Company
CTMQ's Reviews of Two Roads beers
CTMQ's Connecticut Beer Page
CT Breweries page