Fat Orange Cat's Jalapeno Jack
Crowler, 3.4% ABV
Procured at the brewery, East Hampton
Ole ole, ole ole
Ole ole, ole ole
Yessa, haha
Yes, girls
Me mind on fire, me soul on fire
Feeling hot, hot, hot
Party people all around me
Feeling hot, hot, hot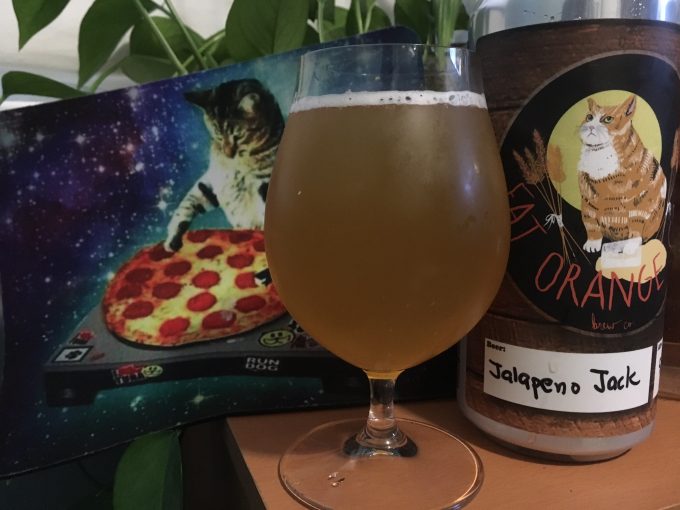 Here's the funny part: FOC's Jalapeno Jack Cream Ale actually isn't "hot."
What to do on a night like this?
Music sweet, I can't resist
We need a party song, a fundamental jam
So we go rum bum bum bum
Yeah, we rum bum bum bum
Feeling hot, hot, hot
Feeling hot, hot, hot, oh, Lord
(Me la la la lum bum bum)
Okay, that's enough of that. Shout out to Arrow, the Montserratian artist who originally wrote and sang "Hot, Hot, Hot" for equating "fundamental jam" with "party song."
Yes, that's right, Buster Poindexter is not responsible for this song. So you can stop hating him now.
In fact, hating Buster Poindexter is foolish on any level. After all, before he was Buster, he was David Johansen, lead singer of The New York Dolls. And, of course, the Dolls were one of the first punk bands in the world along with MC5 and a few others. You know, real music. Like this:
There's your "Hot, Hot, Hot" guy in 1973.
Hating Buster Poindexter unfairly would be like hating Jalapeno Jack Cream Ale unfairly. You say you don't like cream ales? Or spicy beers?
I know I already blew your mind once with the Montserrat thing, but Imma bout to do it again: Jalapeno Jack is excellent. And it is a cream ale and it does have jalapenos in it.
Fat Orange Cat says:
Cream ale infused with a generous amount of jalapeño peppers. Our process creates a unique brew with the aroma and flavor of jalapeño without the heat. Add a wedge of lime for a refreshing variation.
This is accurate. This isn't a "spicy" beer, but it is a jalapeno-y beer. Weird, I know. (Far less weird than the David Johansent-to-Buster Poindexter thing though. Or my son's mousepad.)
I chose Jalapeno Jack as my very first FOC beer to review – even though they've quickly become known more for their stellar and wide range of D/IPA's. I think it was one of their first offerings back when they very quietly opened in 2016 on their suburban street. I remember thinking, "Who the hell are these people? A tiny barn brewery? In East Freaking Hampton?"
Well, here we are now nearly a year later and FOC is thriving. They have leased brewspace from Shebeen and are up there brewing and canning themselves to try to keep up with demand. They expanded their parking lot. They added a cold room. They've added staff.
Fat Orange Cat is a thing now and there's no turning back. A very good, sought-after thing. They have lines. They have the attention of the beer bros AND the beer elite. (I made up these terms, by the way.) Oh, and they certainly have my attention, for what that's worth.
And they're not even on Twitter. Crazy.
Mike and Sheila and Scott and staff are wonderfully nice and talented folks. They care very much about what they're doing and how they're doing it. That matters to some of us, and it shines through in the high quality of their beers.
Beers which include a jalapeno cream ale that I'd drink over and over again. And that's pretty much saying it all right there.
How you feeling?
(Hot, hot, hot)
How you feeling?
(Hot, hot, hot)
(Hot, hot, hot)
(Hot, hot, hot)
(Hot, hot, hot)
(Hot, hot, hot)
(Hot, hot, hot)
(Hot, hot, hot)
(Hot, hot, hot)
(Hot, hot, hot)
(Hot, hot, hot)
(Hot, hot, hot)
(Hot, hot, hot)
(Hot, hot, hot)
Here's MC5 as a treat for those of you who made it down here. FOC is punk in the truest sense, even if Mike and Sheila there would probably blanch at the description. But I'm going for it. (Warning: Language right off the bat.)
Overall Rating: A+
Rating vs. Similar style: A+
Fat Orange Cat Brew Co
Back to CTMQ's Reviews of FOC beers
Back to CTMQ's Connecticut Beer Page
Back to CT Breweries page