Cottrell Brewing Juniper Bridge
1 22oz bomber, $10?, 7% ABV
Purchased at the brewery, Pawcatuck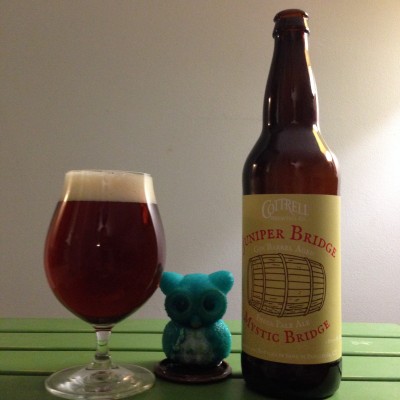 I'll warn you upfront. This will be a straight-up review. No kooky stories, no imaginative conversations that never happened, no rumors, no creative pictures. None of that.
It has been years since I've reviewed a Cottrell-branded Cottrell beer. I've reviewed a few labels that contract at Cottrell, but not Cottrell-proper beers. What's truly crazy about that is that Cottrell is Connecticut's longest running brewery that has stayed put in the same location and with the same owners. They've been doing what they do since 1997.
In Connecticutland, 19 years is an eternity.
And yet… and yet you rarely hear anyone talking about Cottrell. A small part of that is because they are located as far away from many of as possible. They are literally on the Rhode Island border in extreme southeast Connecticut. They use Rhode Island water in their beer. (Or so I've been told, as if it matters a whit.)
Cottrell, to my knowledge, doesn't really work social media or promote themselves with aplomb. They seem content making money contracting (They've had some good gigs with casino branded beers and Trader Joe's "store" brand) and living off their smaller distribution footprint. Which is fine.
Another part of the Cottrell thing is that they only distribute a few core beers around the state. Decent enough beers, but certainly nothing too exciting. Not in 2016 anyway. They've also been overshadowed among the scenesters by Grey Sail and Beer'd, both mere minutes away. If someone makes the trek to Stonington and/or Westerly, RI, you're probably going to either Beer'd or Grey Sail or both.
And driving right past Cottrell.
I get it. I do. I've done the same.
I'm not here to beg you to go to Cottrell. But I am going to suggest you check them out next time you're down at Beer'd or Grey Sail. They have a tiny little bar and most importantly, they have nice little barreling program now and the few bottled barrel beers I've had from them have been really, really good. One was great.
Those of us who have had some of these beers know what's up. We're not the cool kids in the latest fashions drawing the cool kid wannabes with our Trail Blazers, Very Greens, and Double Sunshines. We're the coolER kids, sitting off to the side, dressed in simple tee-shirts and jeans, with far fewer friends; trying to convince each other that we are, actually, coolER somehow because we have our Cottrell Juniper Bridges and Hard-a-Ports.
Hey, let me pretend I'm cool for one damn minute, okay?
Cottrell says:
Mystic Bridge IPA aged in gin barrels.
Don't be scared. This beer is fantastic. And here's the funny part.
A year or so before Juniper Bridge came out, Connecticut saw its first gin barrel aged IPA. Remember Beer'd's Realization IPA aged in Ethereal gin barrels? (Here's the review of it.) Now, Realization IPA is a better base ale than Cottrell's Mystic Bridge IPA.
But there wasn't much difference in quality in the resultant beers. I swear. Juniper Bridge is that good. I loved Beer'd's effort. I super-liked Cottrell's. And I admit, I was a little surprised by this. I was also then eager to get my hands on Cottrell's other barreled beers – they've done five at this point in May 2016.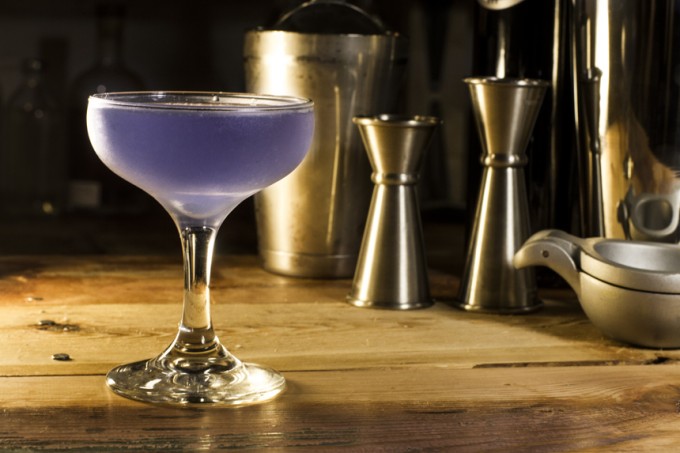 If you don't like gin, you won't like the Juniper Bridge. But for me, a gin guy, I find that the citrus and floral characteristics of an IPA works well with the pine and juniper of the gin. And in the hands of the right brewery barreler, it just works.
Think I'm crazy? Then why do you put a lime in your gin and tonic? Why does an aviation include gin, crème de violette, and lemon juice? You see? The truly cool people know this stuff. (Ha.)
Moral of the review: Stop totally overlooking Cottrell. It's okay to do your Outer Light, Beer'd, Grey Sail runs every couple months, but how about every other time you pop into the oldest Connecticut brewery and pay your respects.
Punks.
Overall Rating: A
Rating vs. Similar style: A+
Cottrell Brewing Company
Back to CTMQ's Reviews of Cottrell beers
Back to CTMQ's Connecticut Beer Page
Back to CT Breweries page