Powder Hollow Brewery Lift Your Kilt Scottish Ale
16 oz can, $2.99, 5% ABV
Purchased at Harvest, West Hartford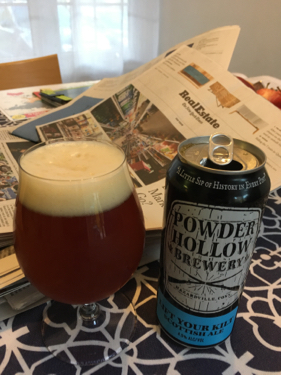 The world contains many mysteries. I like to think about them and read the thoughts of those much smarter than I am.
But there are some mysteries that even our brightest minds cannot solve. No, I'm not talking about the whole "Do Scots really go commando under their kilts" thing.
I'm talking about, "Why is Powder Hollow canning and distributing so many of their beers so far and so wide?" I've lost the pulse on the local brewing industry once it got too large, so I had no idea Powder Hollow had reached this point in their life cycle.
Imagine my surprise upon entering my local package stores and seeing a wide array of Powder Hollow cans. IPA, DIPA, Scottish ale, porter, some practical joke strawberry beer… When did this happen?
And good for Powder Hollow. They seem to be doing quite well on their Enfield Island and I just need to catch up.
I hadn't had a Powder Hollow beer for quite a while and as they approached their second birthday, I figured it was time to give them their fair due. We don't get too many Scottish ales in the Connecticut market, so I was tepidly excited for this one.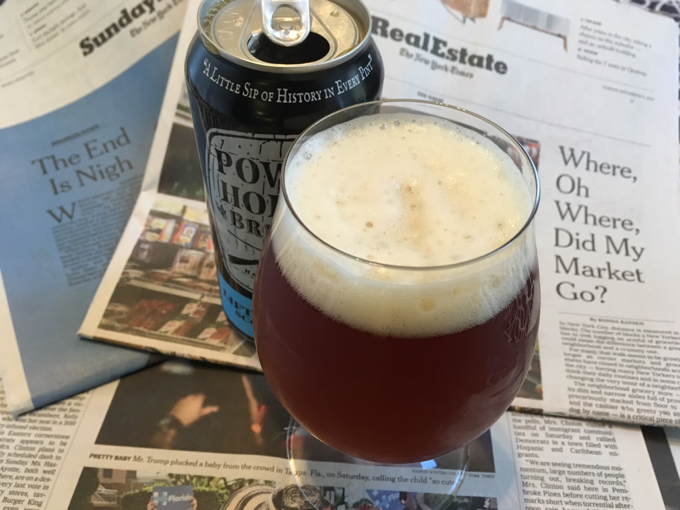 I drank the beer while reading the paper and took my pictures and… whoa. Those headlines! Weird.
"The End is Nigh" – A bit harsh. Scottish ales come in a variety of levels and this one is decidedly on the light end of the spectrum. (I saw somewhere that they called it a "session Scottish ale" which… nevermind…) It's very light. Could it pass as a Scottish ale in the UK? Yeah, probably. I guess. The caramel and honey malts and all that stuff was fairly true to style – and present in the each aspect of the beer.
"Where Oh Where Did My Market Go?" As I mentioned, Powder Hollow has a market all over Connecticut. The owner/brewer Mike recently told WFSB that they sell out of their DIPA every week and can't make enough. So his market didn't go anywhere, it's apparently everywhere now. Good for him and his brewery. Both are quite young and that's exciting.
But it's a good thing they have a DIPA to sort of lean on, because this Scottish ale just isn't very exciting to me at all.
Overall Rating: C+
Rating vs. Similar style: C-
Powder Hollow Brewery
CTMQ's Reviews of Powder Hollow Brewery's beers
CTMQ's Connecticut Beer Reviews Page
CT Breweries page