Charter Oak Lights On Summer Ale
Bomber, $5.79++, 4.8% ABV
Purchased at Liquor Depot, Simsbury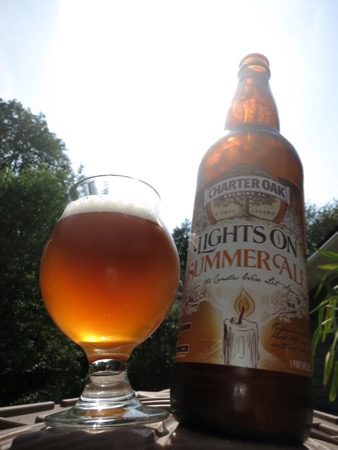 Everybody calm down. This is a review of Lights On Summer Ale from Connecticut contract brewery Charter Oak, not Lights On Pale Ale from (nearby) Massachusetts (deservedly) WhalezBro brewery Tree House.
I want to give special props to Charter Oak, though, for taking on Tree House with two of their "Charter Series" bomber releases in 2015. People wait in the Tree House lines for hours to get their Lights On and Lights Out cans. People wait months for the Charter Oak Lights On and Lights Out beers to go on Crazy Bruce's cart sales.
Actually, that's not fair, as the Charter Oak Lights Out Stout was very good. Excellent, in fact. Unfortunately, it doesn't have "brewed in Monson, MA" on the label, so it too-often languishes on the shelves. For it is brewed in Holyoke, MA… a mere 20 miles from Monson.
(I should also note that there are a few other Lights On beers, and a ton of Lights Out beers. So it's not like Charter Oak – or Tree House – is "in the wrong" here. I'm merely doing what I do and making something out of, quite literally, nothing.)
Anyway, yeah, Charter Oak. Will they or won't they ever become an actual production brewery in Connecticut? We've been hearing rumors for years about them making the jump from Paper City contract label to a brick and mortar operation. Some place in SoNo? When two (two!) fake breweries in town closed in late 2013/early 2014 (Guvnor's Extract Brewpub and the SoNo Pretty Kettles To Look At Though Brewhouse) I heard mumbles that Charter Oak may make a play for one of those spaces.
Alas, that was not the case.
It appears they continue to be more Lights Out than Lights On.
Speaking of which…
Charter Oak says:
Charter Oak's second in their limited release 'Charter Series' is Lights On Summer Ale (recall, it was when the candles were relit, the Charter was missing) is an easy drinking, wheat based beer infused with real Oranges. It is a perfect beer for those warm summer days when a thirst quenching beer is the answer! This limited release is brewed to a pale orange shade with plenty of Orange aroma and taste up front. Lights On Summer Ale is a perfect match to welcome Summer.
Y'know, it must be tough to be a lower-tier brewer intent on making seasonals. Like, you want to sell as much beer as you can of course. But you can't over-produce a seasonal (or a DIPA or highly hopped IPA for that matter) because consumers aren't so hot on buying "a perfect beer for those warm summer days" when October comes around. So those unsold bottles really have no hope.
Hence, my Crazy Bruce's Cart Sale comment above.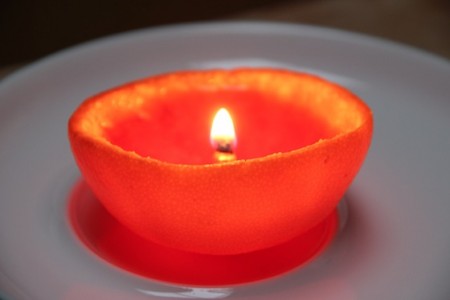 Anyway, Charter Oak has more to say:
This is an easy drinking, very sessionable Summer Ale with a full Orange aroma and taste as one enjoys your first sip, yet finishes very clean and refreshing … without that syrupy, sweet residual on the palate. This beer is surprisingly well balanced for all the nose and will prove to be a real refreshing summer treat.
Note: when trying to sell the public on a beer, try to avoid admitting your own surprise at its balanced taste. Let the consumer make that call.
As for this particular consumer… Lights On was alright. I was a tad disappointed after my immense surprise at how delicious the Lights Out Stout was. Hell, I even called that the best beer Paper City has ever brewed. (No, I've not had every beer Paper City has ever brewed, nor do I wish to.)
It's a weird beer, but true to the description. The aroma is orangey and sweet, but the taste is surprisingly not orangey or sweet. It's actually quite bland, but not offensive. In short, it's just another typical boring wheat ale that tries mightily to be something it's not.
Overall Rating:, C+
Rating vs. Similar style: C-
Charter Oak Brewery
Back to CTMQ's Reviews of Charter Oak beers
Back to CTMQ's Connecticut Beer Page
Back to CT Breweries page