Outer Light Brewing Lonesome Boatman Ale
1 pint, $6?, 5.2% ABV
Purchased at Brewery, Groton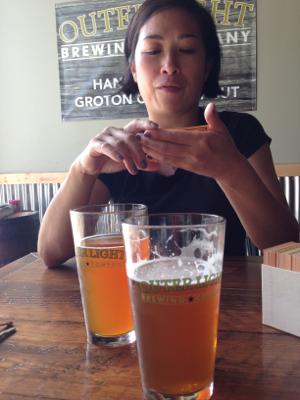 Oh look, a picture of a beer with a person checking it in on untapped.
OR IS IT?
Actually, it's not. Allow me to explain what's going on here. That's my wife (who would surely hate the angle of this photograph… sorry, baby) and she's not holding her phone. She's actually reading words on something called paper. This "paper" object does not have a touchscreen.
I know, I know… weird, right? What's more, it's a "Trivial Pursuit" card, one of the games supplied by the fine folks at Outer Light Brewing in Groton. Upon asking me questions, I tried to come up with the answer from my own memory. I wasn't even googling it on MY phone!
A total "Lonesome Boatman" move.
Moreover, we had fun… playing this "game" without the aid of "WiFi," "3G," or even "4G." cRaZy times!
The Lonesome Boatman Ale is one of Outer Light's flagship beers. So let's get right to their explanation of it.
Outer Light says:
The Lonesome Boatman is a sessionable ale with a reddish hue. American two-row is blended with specialty malts and barley resulting in a toasty and bready backbone with hints of tangy sourdough. Complemented with the fleeting essence of floral hop character, the result is a flavorful brew that drifts with the tide between shoals of red and amber ale.
The Lonesome Boatman is a perfect example of a very good flagship ale. There are no all sorts of thoughts regarding whether or not a brewery even needs a flagship. I'm old (as evidenced above), so I hold on to the idea. I love that Beer'd, right up the road from Outer Light, always has their flagship wit on tap. And NEBCO isn't NEBCO without Sea Hag.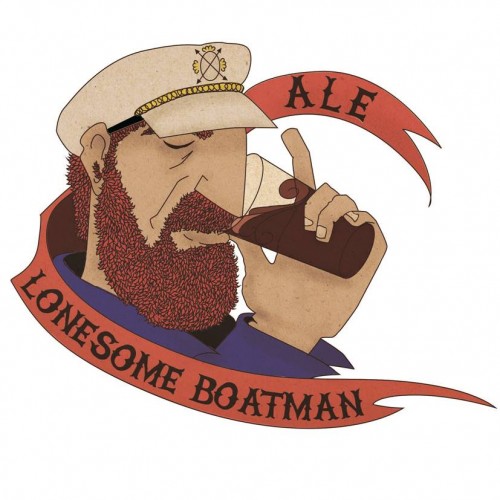 But newer players like Kent Falls and Steady Habit don't have "flagship" beers. Neither does OEC or Relic, really. It's an idea that is fading away, but I won't let it die. So thank you, Outer Light, for keeping it real.
Flagships should be fairly straightforward beers that are "easy" to brew with hop and malt bills that will always be available. They should appeal to pretty much anyone who likes beer. The Lonesome Boatman fits that bill quite nicely. It's a good beer and hits all the right notes for what it is.
99% of you can stop skimming this post now. I'm about to go off the rails.
the result is a flavorful brew that drifts with the tide between shoals of red and amber ale
So poetic, Outer Light! So poetic. Which made me wonder… were they being flowery on purpose? As in, were they giving a subtle nod to the various Irish poems out there called "The Lonesome Boatman?"
Of course they were. Duh.
The more traditional "Lonesome Boatman" was written by Finbar Furey. You can go read the lyrics here. There is music that goes with it and its another one of those awful tin-whistle things that drunken sods like to pretend sounds good.
In recent times the song has featured at football matches, most notably performed by fans of Glasgow team, Celtic FC. So apparently Scottish people like it too.
But there's another, more interesting Lonesome Boatman out there. This one was written by Bobby Sands, using an ink cartridge he stored up his butt. You see? Aren't you glad you kept reading? From the Bobby Sands Trust, none other than Sinn Fein's Gerry Adams wrote:
As well as being the leader of the blanket men and of the second hunger strike, Bobby Sands was also the most prolific writer among the H-Block prisoners. He not only wrote press statements, but he also wrote short stories and poems under the pen name "Marcella", his sister's name, which were published in Republican [in the late 70's].

Bobby's writings span the last four years of his life in H-Block. They were written on pieces of government issue toilet roll or on the rice paper of contraband cigarette roll-ups with the refill of a biro pen which he kept hidden inside his body… This collection contains creative pieces – writing of an extremely high standard – as Bobby describes penal life in a compelling and graphic manner. When one recalls that all of his writing was accomplished in almost impossible conditions, one cannot but admire his achievement, an example of the ingenuity and determination of the republican prisoners about whom he writes.

There is a premonition of personal tragedy running through his writings: that his H-Block cell will, literally, become a tomb. His admiration for his comrades and his feelings for supporters and for oppressed people outside of prison emerge in the words which he expertly uses as a weapon against a regime which tries vainly to break and dehumanise him. Bobby's diary is a unique piece of literature, his last written words.

…

In his own poetry Bobby asserts that the spirit of freedom and injustice has been innate to humankind from the beginning. … The persecuted early Christians, slaves, peasants, native American Indians and Irish republican freedom fighters share the stage of history against tyranny. And the driving force against oppression, as Bobby concludes, is the moral superiority of the oppressed.
Serious stuff. Hey, did you know that there's a Hunger Striker's Memorial in Hartford's South End? It's a fairly unique thing, as many consider the IRA terrorists… and some consider the memorial a bit difficult to reconcile because of those feelings. Speaking of which, does anyone else cringe at those shots called "Irish Car Bombs?"
I do.
Anyway, here's Bobby Sands' "Lonesome Boatman" poem. I like it.
In the middle of the sleeping lake
The Lonesome boatman dwells,
Around him rise the bracken hills
The dreamy glens and dells.
The skies are red and rolling
Tinted in the twilight's velvet hue
The ragged scarecrow peers in relief
To where the crackling crows have flown.
The lonesome boatman doesn't move
His clothes are old and worn
Oh, lonesome boatman reveal to me why,
Why you look forlorn.
Is it life's sorrows
Or a forgotten memory that you have found
Or do you listen to the wind
For the boatmen you've seen drown?
Oh, lonesome boatman, there's a gleaming star
High above your head.
The waters glisten in the dusk
Are they tears that you have shed?
Oh, lonesome boatman, the birds are here,
The morning shadows fall.
Oh, friends, why must you be
But a dying shadow on my lonely cell wall.
More of his butt writings here.
For a brewery that was brand new when I enjoyed their Lonesome Boatman Ale, I am impressed with Outer Light.
Overall Rating: B
Rating vs. Similar style: B+
Outer Light Brewing
Back to CTMQ's Reviews of Outer Light Brewing beers
Back to CTMQ's Connecticut Beer Page
Back to CT Breweries page