Meghan D. Rinksmon Imperial Stout & Elle E. Deeze Triple IPA
Bottom-Side Up Brewing
Yeah, yeah, I know. These beers are from a non-commercial homebrewer and it makes no sense to "review" them on the esteemed platform of CTMQ.
But honestly, you're never going to have – or have the opportunity to have – half of what I review here. So what's the big deal? The brewer in question, Heath Gelinas, puts just as much effort into these beers as anyone else. And then he gives them to me because he's a nice guy.

And fortunately for both of us, he knows what he's doing around a brew kettle. And as of April 2016, BSU Brewing has 58 beers listed on Untappd – many with quite professional labels and backstories.
Heath and the others at BSU Brewing put a lot of effort into their hobby, so it's only right I talk a little bit about a couple of their beers that I've had.
Note to homebrewers: This will literally be the very last time I do a review of a non-commercial brewery. Thank you for your understanding.
Meghan D. Rinksmon Imperial Stout
Santa's Henchmen Series 2014, 9% ABV
Given to me by the brewer at some point in my life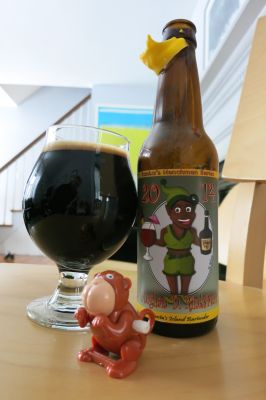 I feel sort of guilty about this one, simply because the BSU crew put a lot of time and effort into this label and the whole goofy fictional story about Meghan D. Rinksmon being Santa and Mrs. Claus's favorite bartender in the Carribean. But I never transcribed the story, and I can't find it online anywhere, so you'll just have to make one up for yourselves.
I also must apologize for feeling like I'm totally missing out on a joke here. "Meghan D. Rinksmon?" That simply must mean something, right? Some insider double-entendre or something? And I'm not getting it at all. Am I getting to old for this stuff?
I get that the "mon" in the surname is an allusion to Jamaican patois, but beyond that? I've got nothin'.
(And yes, I am getting old.)
And then there's this:
2014 Santa's Henchmen Series offering. An imperial Stout that is roasty, velvety and chocolatey. It was aged on white oak that was soaked in spiced and coconut rums. Right before bottling an entire fresh pineapple was added for some additional flavor.
Whoa. That's insane. And knowing that this beer was made in mid-2014, back in the olden days before every brewer was dumping tropical fruits and citrus into their IPA's and such, back when rum barrels were only rarely used – and not for stouts… back before coconut notes were decidedly not a selling point… this beer is all the more insane.
Today, of course, in 2016, you can go to your local store and buy coconut stouts and rum-barrel this and tropical fruit that. So let's credit BSU brewing for being the very first brewers on the planet to use three things in this beer for the first time in the history of brewing.*
*I don't care how untrue that is. I'm calling it. Congrats BSU Brewing.
Moreover, this beer was good! I know you were thinking, "spiced rum and stout is probably good. Coconut rum and stout is probably good. Oak staves and stout is probably good. Pineapple and stout probably is not good. But Spiced rum, coconut rum, oak staves, AND pineapples in a stout sounds like a flavor hellscape."
Fair enough. But it's not. Somehow, in the kooky BSU "Santa Claus gets drinks on a Jamaican beach from some lady named Meghan D. Rinksmon" world, it all worked. Somehow it wasn't too sweet for me and none of the disparate flavors really competed with the others.
Update: Upon reading this, Heath reached out to me to tell me that "Meghan D. Rinksmon" is a play on "Makin' the drinks, mon."
So there you go.
Overall Rating: B+
Rating vs. Similar style: n/a

Elle E. Deeze "Triple IPA"
Santa's Henchmen Series 2015, 11% ABV
Given to me by the brewer at some point in my life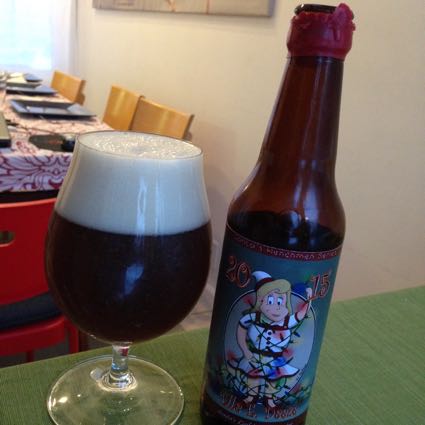 Yeah. Again I don't know what "Elle E. Deeze" means. I'm guessing it's sort of like, "Hey, here's some very professional looking wax-dipped beers."
"What the Elle E. Deeze?"
"Excuse me?"
"Wha? You no understand? I say, "Tiple IPA? What da 'ell are deeze?"
"Ah, gotcha. Slow down, buddy. They are beers. And they're free because the dude that brews these is a homebrewer. Of course, his supply is finite, but I was being nice by offering you a couple."
"Tanks. But what duh HELL ARE THESE?"
Deeze are:
A Triple IPA brewed with only about 70 Ibus, and then we added cranberries to balance out the malt profile and used heavy orange-citrus hops to make a holiday IPA-like offering.
I think you get it now, right?
Another bold – really bold – offering from Heath and BSU Brewing. A "Triple IPA?" To his credit, when Heath gave me a bottle he was sort of like, "I called it a triple because I don't really know what else to call it. the so-called triple IPA's in the market are all boozy, and this beer really isn't boozy at all, even though it's 11% ABV."
Me, having no clue what makes an IPA a triple IPA, just said, "thank you" and went on my merry way.
(This is a fairly interesting read – even the comments! – on whether or not the Triple IPA even exists. Interestingly, the Elle E. Deeze slides in that chart right around some beer called Pliny the Younger, as far as IBU's and ABV is concerned.
Not content to being just another ol' Pliny, BSU dropped in the cranberries. Because that's what BSU does.
This beer, whatever it should be classified as, is good. Like, really good. The 11% is spectral and for such a highly-hopped IPA, it drinks smooth and warm.
As this will be my very last non-professional CT beer review ever, I'm glad I've ended on two very good notes. Well done, BSU Brewing, well done.
Update: Upon reading this Heath reached out to me to make me feel extra stupid for not realizing that Elle E Deeze is a play on "LEDs" as in the type of lights – the very type the woman on the label is wrapped up in. Sigh.
Overall Rating: B+
Rating vs. Similar style: n/a
Bottom Side-Up Brewing
CTMQ's BSU page, such as it is
CTMQ Drinks every CT Beer
CTMQ's page on CT Breweries and Brewpubs