Powder Hollow Brewery Mellow Mayhem RIS
16 oz can, $3.29, 8.1% ABV
Purchased at Liquor Depot, Simsbury
This beer is officially Powder Hollow's Mellow Mayhem "3." I'm not sure if that means that 1 and 2 were different in any way, and I'm not really invested enough to find out. So we'll just agree that Mellow Mayhem is Mellow Mayhem is Mellow Mayhem.
And an oxymoron.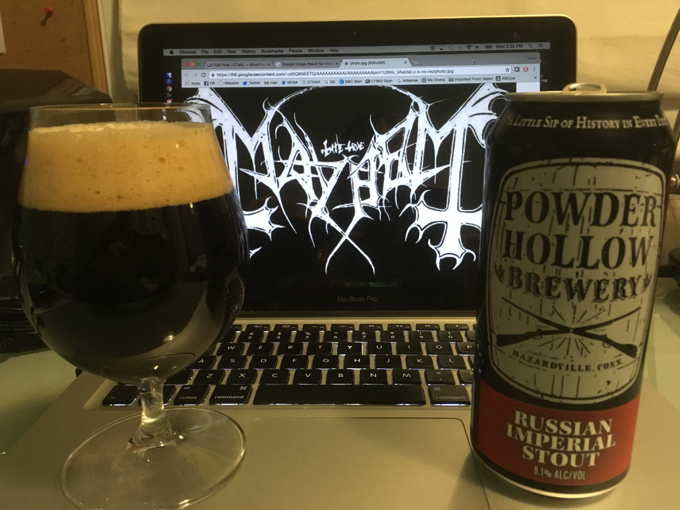 The beer is fine. If you're into Russian Imperial Stouts, go for it. To me, they're pretty much all the same anyway. It's a dark, roasty stout with slightly higher alcohol content than a straight up stout. It does finish rather thin as far as these beers go, but whatever.
This is Powder Hollow after all, so it's not like you're expecting Three Floyds here. Support local, the owner's a good dude… all that stuff. Go buy it.
Thus ends the beer review part. Let's talk about Mayhem.
Since all CTMQ readers are also fans of Scandinavian Black Metal, you know all of this. But just in case you aren't, the saga of pioneering band Mayhem is perhaps the craziest band biography you'll ever read.
These guys aren't just Black Metal… they are actually Black Metal. (One guy stabbed another guy to death. There have been band members named Dead, Necrobutcher, and Blasphemer. Yeah. I know. Rad.)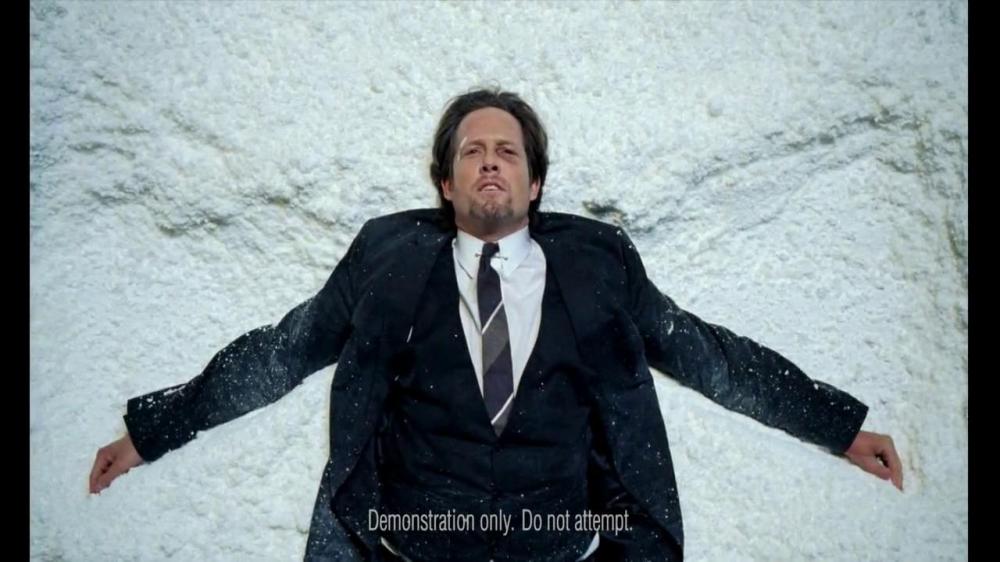 They've been around since 1984 and the more I learn about Mayhem and all the tentacles of Black Metal, the crazier it is. For instance, there have been rifts between Mayhem's Norwegian Black Metal scene and the Finnish Black Metal Scene. And don't get me going on that war between the Swedish and Norwegian scenes.
And don't you dare call Black Metal Death Metal. That's just rude.
The glory of Mayhem's history cannot be captured here. I encourage you to do as I've done and go down the Mayhem rabbit hole, courtesy of Wikipedia. Even the craziest stuff is sourced.
This is from the very first paragraph: Mayhem's early career was highly controversial, primarily due to their notorious live performances, the 1991 suicide of vocalist Per Yngve Ohlin ("Dead") and the 1993 murder of guitarist Øystein Aarseth ("Euronymous") by former member Varg Vikernes ("Count Grishnackh").
Nothing mellow about this Mayhem.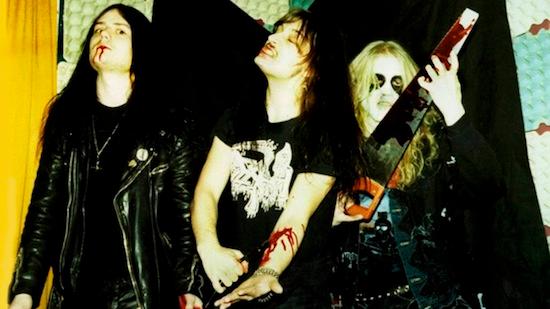 Dead's suicide… Fellow musicians described Dead as odd, introverted and depressed. For performances, he made himself look like a corpse and would self-harm while singing.
But it gets better… which means worse. Like, way, way worse.
Dead was found with his wrists and throat slit and a shotgun wound to the head, by Mayhem guitarist Euronymous. Before calling the police, he got a camera and photographed the body, after re-arranging some items. One of these photographs was later used as the cover of a bootleg live album: Dawn of the Black Hearts.
I'll let you Google that on your own. It exists.
It gets worse yet.
Euronymous made necklaces with bits of Dead's skull and gave them to musicians he deemed worthy. There was also a fake rumor that he had made a stew with bits of Dead's brain.
When they weren't messing about with corpses, a bunch of Norwegian black metalers were busy burning down churches. Lots and lots of beautiful old churches.
When they got bored of committing arson in the name of Satan or whatever, they turned to murder. Yeah, in early 1993, animosity arose between Euronymous and Vikernes. Vikernes and Snorre 'Blackthorn' Ruch drove from Bergen to Euronymous's apartment in Oslo. When they arrived there was a confrontation and Vikernes stabbed Euronymous to death. His body was found outside the apartment with 23 cut wounds – two to the head, five to the neck, and sixteen to the back.
No reports of whether Vikernes rearranged the body to take pictures for a future album though.
You can still purchase the band's tribute to Euronymous though. That month saw the release of Mayhem's album De Mysteriis Dom Sathanas, which features Euronymous on guitar and Vikernes on bass guitar. Euronymous's family had asked Mayhem's drummer, Hellhammer, to remove the bass tracks recorded by Vikernes, but Hellhammer said: "I thought it was appropriate that the murderer and victim were on the same record"
Aw, that's nice. It's almost… Mellow Mayhem.
Have a nice day.
Overall Rating: B-
Rating vs. Similar style: C+
Powder Hollow Brewery
CTMQ's Reviews of Powder Hollow Brewery's beers
CTMQ's Connecticut Beer Reviews Page
CT Breweries page