Method IPA, formerly A Hop and a Dream (Mosaic) IPA
750 mL bottle, $?, 7.3% ABV
Purchased at the brewery, Haddam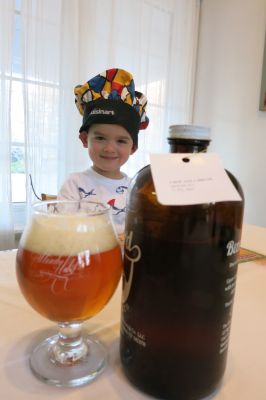 Having known Jon at Steady Habit for a few years now, I can tell you how much this experimental series of beers from him made me smile.
For it's true – Steady Habit Brewing was a hope and a dream at one point, and now it's a rather successful reality. Jon and his partners are making the beers they always wanted to make. They started lining up for the "limited" hops years ago.
Now? Now those hopes are hops and the dream is being lived out. Lucky for us, we get to enjoy the fruits of those dreams in the form of really, really delicious beers.
Citra is probably the most popular hop these days (2014-15). At least in America. And Steady Habit's Geek Nip is a perfect example of how to showcase Citra. I love Citra, but I also love Mosaic. Back in the day, before NEBCO's Supernaut had a name and and even before it was called "Mosaic IPA," and was known as HBC369 IPA… back then I decided Mosaic was the greatest thing ever grown on a farm, ever.
(I no longer think that, but I still retain a strong affinity for it.)
I like it because it still retains some of the pine and bitterness of the older stalwart IPA hops. And when you have Mosaic-predominant beer brewed by great brewers, well, it's delicious.
Anyway, as NEBCO's HBC369 IPA became Mosaic IPA became Supernaut IPA, Steady Habit's Hop and a Dream Mosaic has become Method IPA.
Steady Habit Says:
Brewed with 100% Mosaic hops, Method IPA graduated from our test batch series, "A Hop And A Dream," and enters into our regular rotation. This beer was made with the true hop lover in mind.
The beer trends more towards the tropical fruit side of things as opposed to the citrus that many of the other 21st century hops feature. Single-hopped beers are not easy to nail, but Steady Habit has done it again and again. Do yourself a favor and get down to the brewery in Haddam. They also used flaked oats for a smoother body and feel, which I loved.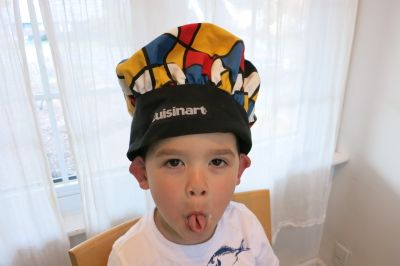 Oh – three more things: One, My son is wearing a Piet Mondrian hat because his dad is an idiot and had it in his head that Mondrian's signature style was a form of mosaic art. It is not. Not even close. So what you get are just two pictures of my kid in a goofy chef's hat.
Two, if you can't get this beer (or Supernaut), go buy Ballast Point's Grunion. It is a phenomenal showcase of Mosaic by a national brewery – probably the best you can buy.
And three, this marks the second Steady Habit beer that shares a name with a member of the Wu-Tang Clan (Our Daily Bread, or, ODB being the other.) I sense a trend – one that I very much endorse.
Overall Rating: A
Rating vs. Similar style: A
Steady Habit Brewing Company
Back to CTMQ's Reviews of Steady Habit beers
Back to CTMQ¹s Connecticut Beer Page
Back to CT Breweries page