City Steam Naughty Nurse IPA
1 12 oz. Bottle, $1.89 6% ABV
Purchased at Harvest, West Hartford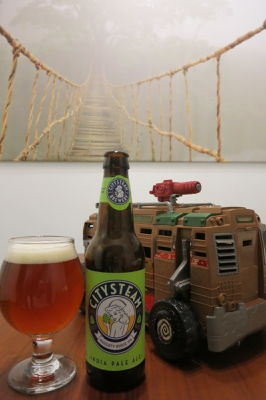 City Steam head brewer, Guru of all things Connecticut beer, Legendary hero to many of your favorite local brewers… has retired. By all accounts, the torch has been passed to a very capable young man with big plans – in Hartford.
I have no clue how this change will affect the contracted bottles though. To me, the line-up of City Steam bottles has always been woefully inferior to the draft lines in Hartford. I am not sure, but I think most are still brewed at Two Roads, while this newest bottle is done at Stony Creek in Branford.
And this bottle sort of makes me sad.
For one, it makes no sense. The original Naughty Nurse is an amber ale or red ale or English Bitter or… whatever. Descriptions are all over the place. It's basically just City Steam's flagship ale that is boring and middle-of-the-road that it appeals to everyone* on some basic level. Naughty Nurse IS City Steam, for better or for worse.
*Okay, it doesn't appeal to that one nurse who complained to local media that the name of the beer offended her. Of course, as the story goes, the "naughty nurse" for whom this beer is named, is a dude that Ron Page knew somehow. Here's a picture of said nurse:
This, of course, ignores the hot come-hither nurse on the label, but whatever. Wait til y'all get a lot of the the Mr. Page's Special Reserve labels.
Back to my point: To now have a Naughty Nurse IPA is just… odd. City Steam contracts another IPA (the Innocence Ale) which is pretty decent. To cynical me, this beer seems to be some sort of, "Let's leverage our most famous marketing brand in Naughty Nurse and make an IPA because IPA's are far and away the top selling craft beer style these days."
And that's just sort of lame.
City Steam says:
A wonderfully fragrant IPA, brewed in the modern style, which emphasizes clean citrusy aromas and a subdued but still apparent hop bitterness, along with just a touch of traditional English Crystal malt. It is good for what ales you.
Gotta love City Steam – dropping a crumb for their old school fans with that "traditional English Crystal malt" bit at the end. Like nuskool IPA drinker read the first bit and then quit after "citrusy" and go for it. Oldsters keep reading to the "bitterness" and "malt" part. Genius.
However, due to labeling size constraints, they had to leave out the lunch meat part:

Sorry, that was just too funny to ignore. For the record, I got no lunch meat with this beer.
But I didn't get much of anything delicious either. Sure, it smelled like a muted IPA, but it tasted … you know what? It tasted like a Naughty Nurse IPA! A pedestrian, if well made, amber ale with an extra dosing of newer hops. Which is exactly what City Steam told me this beer is; with the name and the description.
WTF else was I expecting?
So there you go. If you want a late 90's era amber ale dosed with some extra "citrusy" hops. The description of this beer at the brewpub says it includes Summit, Galena, and Lemon Drop. This may very well be true in Hartford, but this doesn't mean the bottle version from Branford is the same. I contend it is not.
Naughty Nurse IPA seems to be a muddled attempt at grabbing a specific market share. The City Steam bottles of the Innocence Ale is much better (and the canned Blonde on Blonde is infinitely better).
Overall Rating: C-
Rating vs. Similar style: C-
City Steam Brewery & Cafe
CTMQ's Reviews of City Steam's bottled beers
CTMQ's Connecticut Beer Page
CTMQ's CT Breweries page