2 New Haven Nighthawks Beers
12 oz bottles, variable pricing/ABV
Purchased at Total Wine, West Hartford
August 2017
Note: This is now an archived page. At some point, perhaps even before you read this, all of my CT Beer Review pages will suffer this same, sad fate. After much reflection in late 2017, I decided that my beer reviews would come to an end. For more on that decision, go here.
I have a lot of dumb pages on CTMQ. 99% of the dumb pages are beer reviews. This is one of the dumbest.
I honestly can't think of two beers that anyone cares less about than these two. And yet… and yet they have an online shop from where you can purchase all sorts of New Haven Nighthawks gear for some insane reason. They also bought the rights to the team's name and logo in order to market and sell these beers.
With that introduction out of the way, let's get to 'em!

New Haven Nighthawks Old Time Ale
12 oz bottle, $1.79, 5% ABV
Because the world was clamoring for a beer that pays homage to a long departed AHL team that played in, you guessed it, New Haven. (They actually played there for 20 years, until 1992, which surprised me when I just looked it up.)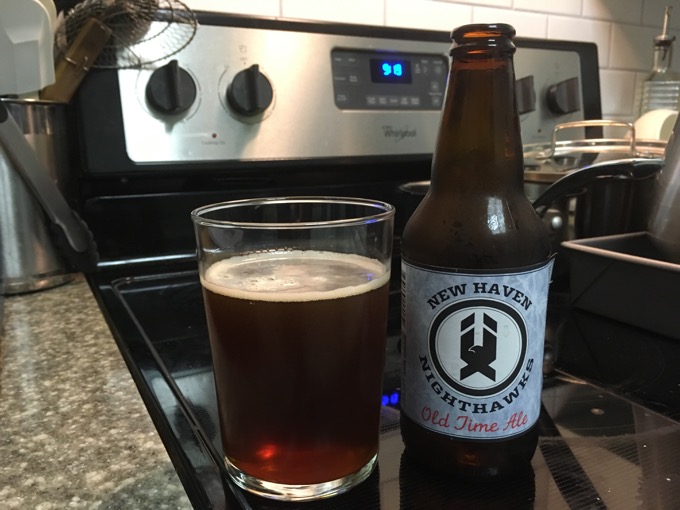 I grew up a huge hockey fan and have even traveled to several AHL barns over the years. Alas, I never made it to see the Nighthawks play. I'm sure they were terrible like all AHL games were terrible in the 70's and 80's.
But hey, Chico Resch, Bobby Nystrom, and Willie O'Ree all played for the franchise! And I've met Chico Resch! And their logo was pretty cool. They never won a Calder Cup though.
The team changed to be the New Haven Senators in 1992 and only lasted one season before moving to Prince Edward Island. Later, the New Haven Knights of the horrid UHL played in town.
But in between, the worst named franchise in all of sport, with the worst logo, plied their trade in Connecticut's best city. I present to you, dear friends, The Beast of New Haven: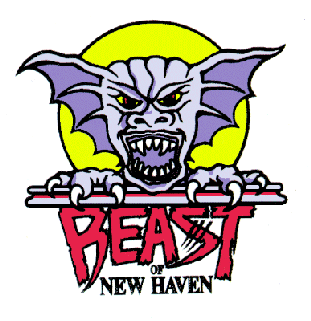 Holy hell. My child could draw a better "beast."
New Haven currently has no team in any bad minor league because it has no arena. The city does boast Yale though, and Yale has a beautiful arena and the team did win the national championship in 2013, so that's cool.
Oh yeah, the beer. The Old Time Ale was contract brewed at Thimble Island and is billed as an altbier but it was wholly forgettable and I have no idea why this label exists.
Overall Rating: C
Rating vs. Similar style: C-

New Haven Nighthawks Nite Lite
12 oz bottle, $1.99, 4.5% ABV
Wait. Why did the Nite Lite cost more than the Old Time Ale? The Nite Lite says it's a cream ale. I appreciate the outfit for making an altbier and a cream ale for an old time AHL team since the only people who care about an old AHL team are the only people that seek out altbiers and cream ales these days.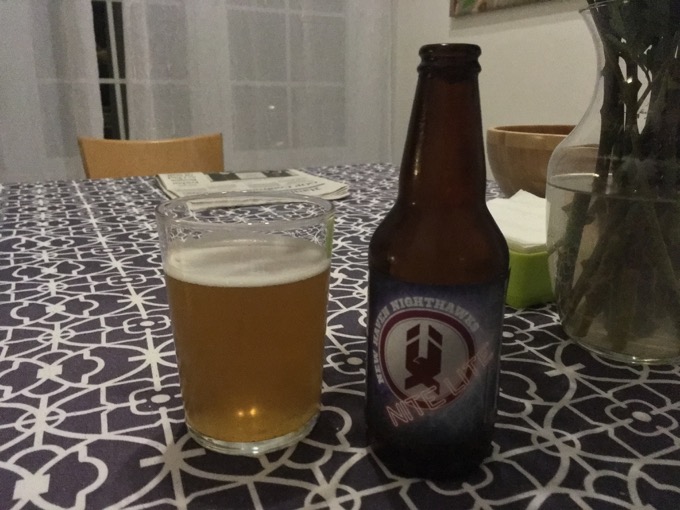 This beer was also brewed at Thimble Island, but then the "Crazy Connecticut Contract Catastrophe" happened and the 12% Brewing (Omnipollo, Stillwater, Evil Twin, Decadent, Root+Branch, Fat Orange Cat) left Overshores for Thimble Island which meant that a bunch of Thimble Contracts (this one, Hull's, Soundview, Steady Habit, and others) moved to Overshores (which already hosts Armada, Erector, Metronome, Rhythm, and Hoax) before the 12% crew bolted Thimble after a few months for Veracious in Monroe which is just totally weird but this whole thing is totally weird and is another reason why I'm hanging up the beer reviews soon.
Speaking of which, this page marks my last and final CT contract brew review I think. (I guess, technically, I have some Fat Orange Cat stuff that was brewed at Shebeen in my drafts, but whatever.) This means nothing to any of you, but I love "finishing" stuff and this "finishes" a subsection of a subsection of my beer reviews and I feel good about that.
Nite Lite cream ale. It's a beer. It's unoffensive. It exists.

New Haven Nighthawks Brewing Company
CTMQ's Connecticut Beer Page
CTMQ's CT Breweries page