Kent Falls No Funny Stuff IPA
16 oz Draft, 7% ABV, $7
Purchased at Birch Hill Tavern, Glastonbury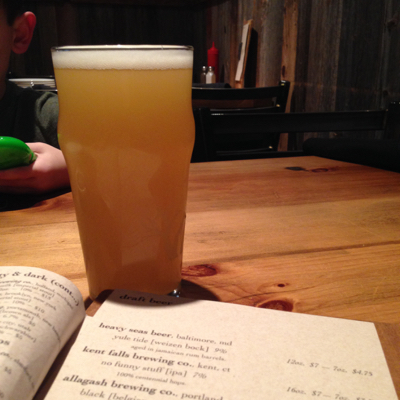 For as long as I can remember I always wanted to be a blogging beer reviewer. To me that was better than being president of the United States. To be a blogging beer reviewer was to own the world.
In my neighborhood at that time, blogging beer reviewers were the kings. They got all the respect. Men wanted to be them, and the dames, they wanted to be with them.
I didn't care about all the stories I heard about how blogging beer reviewers had no scruples. That they took payola; good reviews for free beer and all of that. That they were alcoholics masquerading as actual writers. That they used extortion to get free tickets to the Extreme Beer Fest and stuff like that.
That wouldn't be me. I'd pay for all my beer. I was gonna be the best damn blogging beer reviewer the world ever saw. I was gonna check Beer Menus on my own to see where limited release Kent Falls IPA's were on tap – and then I was gonna drive there myself.
I worked my way up the ranks. I did the work no one wanted to do. Writing about museums and waterfalls and Connecticut's severed hands on display.
Okay, that last one was fun. 'Cause I thought, in the back of my pretty little head, if I ever meet blogging beer reviewers who didn't play by my rules, I'd add their hand to the collection.
I ran with a good crew. Two-bit lowlifes like me, just trying to scrape by the right way… A guy like Jake Bagadonuts. Even some of the dons, like Wee Willy Gordoni began respecting my work. I had it pretty good.
Then I met Tommy DePolenzi. We had a beer together. It was a Kent Falls No Funny Stuff IPA. It was delicious. Tommy told a good story about demanding free press passes to a big beer fest in Denver. I gave him a beer and told him what it was: "hey, No Funny Stuff." It got f*ckin' crazy from there.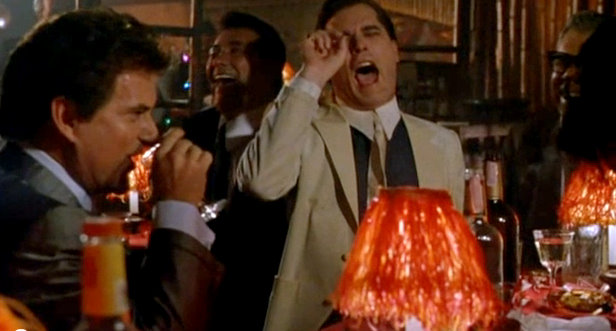 CTMQ: You're a pistol, you're really funny. You're really funny.
DePolenzi: What do you mean I'm funny? No Funny Stuff you say?
CTMQ: It's funny, you know. It's a good story, it's funny, you're a funny guy. Here – No Funny Stuff.[laughs]
DePolenzi: What do you mean, you mean the way I talk? What? No Funny Stuff?
CTMQ: It's just, you know. You're just funny, it's… funny, the way you tell the story and everything. Try No Funny Stuff, okay?
DePolenzi: [it becomes quiet] Funny how? What's funny about it? No Funny Stuff?
Wee Willy Gordoni: Tommy no, You got it all wrong.
DePolenzi: Oh, oh, Wee Willy. He's a big boy, he knows what he said. What did ya say? Funny how? No Funny Stuff what?
CTMQ: Jus…
DePolenzi: What?
CTMQ: Just… ya know… you're funny. Just No Funny Stuff!
DePolenzi: You mean, let me understand this cause, ya know maybe it's me, I'm a little f*cked up maybe, but I'm funny how, I mean funny like I'm a clown, I amuse you? I make you laugh, I'm here to f*ckin' amuse you? What do you mean funny, funny how? How am I funny?
CTMQ: Just… you know, how you tell the story, and the beer, No Funny Stuff… what?
DePolenzi: No, no, I don't know, you said it. How do I know? You said I'm funny. You said No Funny Stuff. How the f*ck am I funny, what the f*ck is so funny about me? Tell me, tell me what's funny!
CTMQ: [long pause] Get the f*ck out of here, Tommy!
DePolenzi: [everyone laughs] Ya motherf*cker! I almost had him, I almost had him. Ya stuttering pr*ck ya. Jake, was he shaking? I wonder about you sometimes, CTMQ. You may fold under questioning.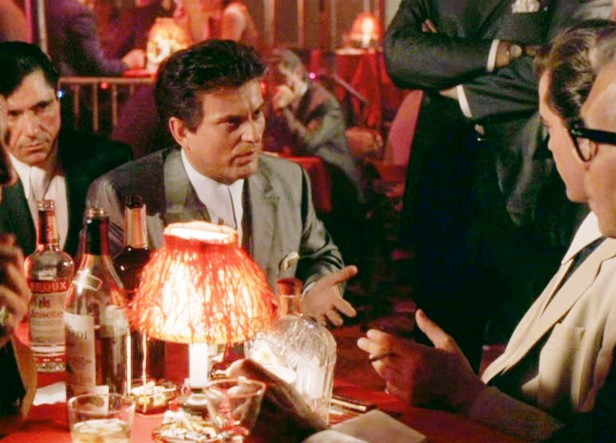 What could I do? I only wanted to enjoy this delicious, sensuous clean IPA from Kent Falls. Look how beautiful this beer is! I was boys with Barry and Derek from the brewery, but stuck to my guns (and by now, I had plenty of 'em), and reviewed each Kent Falls effort impartially. No Funny Stuff is a 100% Centennial hops IPA. I couldn't just give Kent Falls a pass cause we was boys.
I'd had all-Centennial ales before, but none like this one. Centennial ain't one these fruity newer hops, and it retains a good amount of bitterness. Yet somehow, them guys in Kent drew out lots of citrus here. Like the lemons my girl puts on her eyes, sayin' how it makes her younger. F*ck, these guys can brew beer. This isn't their best IPA, but when you been in this game as long as me, you know that banging out an all-Centennial IPA that tastes like No Funny Stuff ain't no joke.
Too bad Tommy DePolenzi don't get that.
So that's my story. My story of how I became a blogging beer reviewer. How I got to this point of trying to taste and review hundreds of Connecticut beers. How I piss off those guys like Tommy.
No Funny Stuff, motherf*cker. Find it. Drink it.
You got a problem wit' that?
Overall Rating: A
Rating vs. Similar style: A+
Kent Falls Brewing
Back to CTMQ's Reviews of Kent Falls beers
Back to CTMQ's Connecticut Beer Page
Back to CT Breweries page