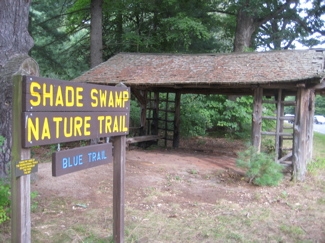 I held off from creating this page for a long, long time. But over that time, I came to learn there are plenty of nice and interesting trails around Connecticut that are not managed by the CFPA. Of course, there are plenty of trails around here that aren't worth my time to write about – or yours to read about. I'll make those determinations as this section develops.
I won't be as hardcore about being a completist with much of the list below, as there's really just no need to be. There are certainly some trails and trail networks though that certainly DO deserve my full, obsessive attention. These are the ones that recognize completers with official certificates, patches, hats or whatever. You better believe I'll be completing them.
Also, if the Land Trust or whatever publishes a top-notch trail guide, I'll try to do them justice by completing those trails as well.
These will include the many trails on various Land Trust lands, Nature Conservancy land, town parks, Audubon tracts and whatever else is out there. There are so many trails that this page is pretty much impossible to have a comprehensive listing, but what the heck, that's what I strive to do.
Feel free to let me know about others I may not have listed here. There is a bunch of overlapping stuff here with State parks and other organization's lands and stuff. Eh, we'll figure it out together.
…………………………………………………….
For now, I'll keep these sections below on this page.
…………………………………………………….
CT Hiking Challenges with Rewards:
Mattabesset Trail (CFPA) – Completion patch! (Done)
Sleeping Giant State Park trails (CFPA & SGPA) – Completion patch and certificate! (Done)
Metacomet Trail (CFPA) – Completion patch!
Steeprock Hiker's Challenge – lapel pin and certificate!
Madison Land Conservation Trust 2015 Trail Hike Challenge
Quinnipiac Trail – (CFPA) Completion patch!
Appalachian Trail Connecticut Section (ATC)
Ives Trail (Bethel, Danbury, Ridgefield) – Completion patch!
Branford Trail, Branford – Completion Patch!
Burlington Trail Master – Completion Patch and Certificate!
…………………………………………………….
Rails-to-Trails, Canal Trails, Greenways
There are an insane number of these things – and more in the works.
…………………………………………………….
Canoe/Waterway Trails
There are more than you think.
Essex Canoe/Kayak Trail
Housatonic Valley River Trail
Quinnipiac River Canoe Trail
Mattabesset River Canoe/Trail
Mystic River Water Trail
Norwalk Islands Canoe/Kayak Trail
Old Lyme Canoe/Kayak Trail
Willimantic River