Stubborn Beauty Nummy Nummy DIPA
14 oz draught, $?, 8.1% ABV
Purchased at Prime 16, New Haven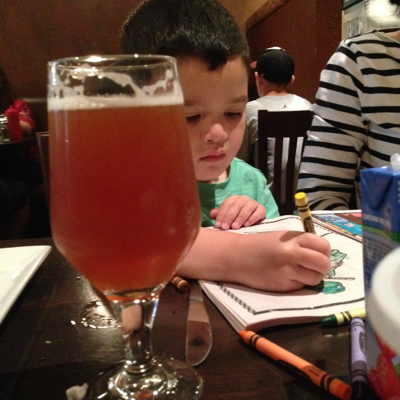 This is (finally) my first Stubborn Beauty written review. It wasn't my first, best, nor my latest beer from the NoRa boys. But it is probably their most well-known. (Of course it is… after all, it's a hop/citrus forward double IPA and we're in New England. It's kind of a rule.)
I've always appreciated Stubborn Beauty's pluck. The guys there kept their day jobs while opening a little brewery in a beat-down factory, literally, "on the other side of the tracks." In fact, now a couple years after opening, I think they may still have their day jobs. I happen to like that for some reason.
And I like that they didn't rest on the laurels of having Eli Cannon's down the road to have a Stubborn dedicated line. (Do they? Pretty much? I hope so.) They hustled and you can find SB beer at some fairly wide-ranging beer places around the state. Randomly, I see that in early March 2016, this beer is on at Millwright's in Simsbury.
And the food at Millwrights is some of the Nummy Nummiest in the area.
Yes, friends, there are people in this world that actually say things like "nummy nummiest." Please don't be one of those people. Speak like an adult.
That's not to say that naming a beer "Nummy Nummy" is a bad thing. It's a fun beer name. It's also what my coke frie- um, some people I heard about once, um, they used to say when rubbing the, I think it's white? Powder on their gums. But this beer is so-named because its creators found it to be delicious. Not because it makes your gums and half your face numb behind the coolers at work or anything like that.
Anyway, so… yeah. Where was I? Oh, Nummy Nummy DIPA. Did you know this was Stubborn Beauty's first beer too? Not even their first production beer, but apparently their first homebrew way back in 2009 as well? Well, it was. In head brewer Shane's words, this was, "a spectacular imperial ipa dripping with columbus hops. we named this beer "nummy nummy" and it was, well…nummy nummy and i think we all knew we were onto something."
Let's check in with our coloring duo:
Man, that must be some good coloring.
Tell me about this beer I'm enjoying.
Stubborn Beauty says:
our signature big ipa. hop forward aroma with citrus, grapefruit and an in your face juicy hop flavor that gets more complex as the beer warms
"Dripping with Columbus" will do that for you to some degree I suppose, but I'm guessing they've added other hops to the mix since 2009. Maybe some Simcoe or Citra or whatever; gotta get that grapefruit and juiciness in there.
Turns out, Stubborn Beauty is pulling those flavors from straight up, 100% Columbus. So this is a single-hop DIPA that tastes much more nuanced than that. "Color" me impressed.
The Nummy Nummy is an excellent DIPA. There are perhaps a few better DIPA's in Connecticut; perhaps a bit better balanced or richer in body, but for a younger brewery, I can't front on the Nummy.
And I can't front on how fun coloring is for my wife and son: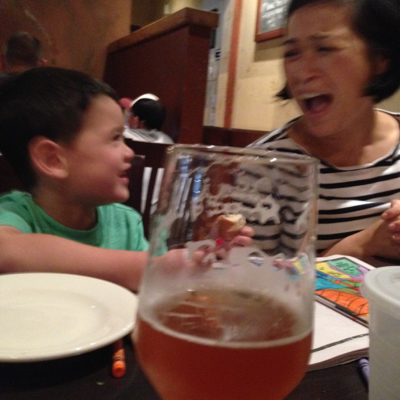 Remember this meme? I've always loved this one, especially since my Calvin became such a fan of coloring. My kid did f'ing love coloring, man.
Yeah, I know, this review was boring. They can't all be winners. Hell, I've written over 400 of these things now and I'm fairly happy with a quarter of them. I'm cool with that.
As long as you like DIPAs, you won't go wrong with the Nummy Nummy, no matter what other beers are on tap. So if you're a person who only orders beers that rating sites tells you to order, stop being a nummy numbskull and take it from me, branch out and order this beer.
You dummy dummy.
Overall Rating: B+
Rating vs. Similar style: B+
Stubborn Beauty Brewing Company
Back to CTMQ's Reviews of Stubborn Beauty beers
Back to CTMQ's Connecticut Beer Page
Back to CT Breweries page