Ordinem Ecentrici Coctores (OEC Brewing)
Oxford
I've procrastinated putting this page (and the reviews themselves) together for well over a year. OEC is, by far, the most vexing Connecticut brewery. From their grammatically incorrect Latin name, to their impossibly confusing beer-naming convention, to the fact that many of "their" beers aren't really theirs, to the wonderfully absurd complexity of the beers themselves.
Oh, and not to mention the fact that most of their beers are released over time as different "blends" which vary in different ways than their other beers vary. (Syrah vs. Pinot barrel! 40% of this vs. 60% of that! Aged this base beer this long vs. aged this base beer that long! Et cetera.
So, yeah… Bear with me. Especially since I kind of really very much love almost all of OEC's beers – except for the few I hate.
Beers: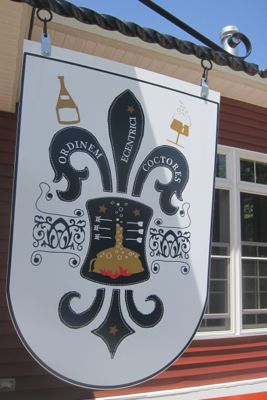 Aeris
Albus, A
Amara, D
Brunneis, C
Exilis, A+
Grandis, A
Malefactus, A
Nepenthes
Nepenthes Hydromelita, A-
Novale
Novo, B
Phantasma, B+
Phantasma Sour,B+
Salsus Singularis, A+
Tempus, A-
Artista Zynergia Series:
Click here for an explanation of this series
Gosatequin, B+
Oudilis, A+
Solaris
Experimentalis Series:
There have been a bunch of these, which have releases of quantities as limited as "only 23 bottles" or whatever. Needless to say, I've never had an Experimentalis release, but I wanted to put it in permanent writing how absurd "special releases" of 20-some bottles are.
Zymatore Series:
Click here for an explanation of this series
Isaac (Gin/Pinot Noir Barrel Aged)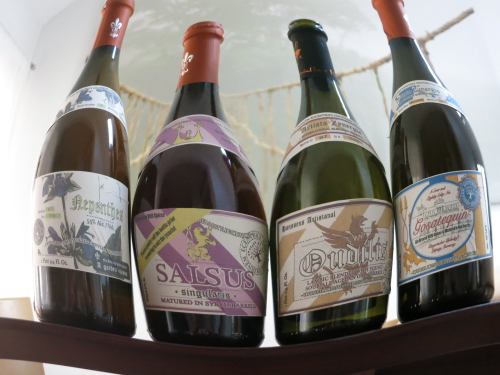 …………………………………………………..
Hm. This is hard. Do I just review the bottled efforts? No, that would be doing a disservice to the brewery. Do I care about the different blends? I say no – and don't pretend that you do. There's no way on earth anyone could sip Tempus 1, 2 and 3 and tell me which is which. Do I care about whether the base beer isn't actually an OEC beer? That's the killer. (And it assumes I even know.)
Interestingly, as of today (October 2015), they don't list the Zymatore series on their site's list of OEC beers. This makes perfect sense to me, as the Zymatore series doesn't use OEC beer. Here's a good explanation of what these beers are. (But they do list the Artista Zynergia series, which also uses non-OEC brewed beer.
Who knows.
Also interesting: B United (OEC's daddy) has been making the Zymatore beers for many years – many more than OEC has existed, that's for sure. They've been released all over the place, from California to New York in the past.
Like I said, man, OEC is a riddle wrapped in a puzzle. Thank goodness the beer is usually on point or these OEC pages would be full of venom, simply for melting my brain.
…………………………………………………………..
My visit(s) to the brewery
OEC
CTMQ's page on CT Breweries and Brewpubs
CTMQ Reviews of CT Beer

Here are a couple explanations from OEC.
Artista Zynergia Series

Instead of doing anything the conventional way such as brewing one recipe at one brewery (most conventional collaborations are following the same conventional script), what about brewing one part of a complex fermentation at one of our world-class breweries abroad, have it shipped to us via one of our temperature controlled tank containers and have the second part brewed at OEC here in Oxford CT. Then we combine both & allow refermentation using one of the complex wild yeast strains indigenous to our local fruits in Oxford, CT or isolated from one of our complex Zymatore projects? Maybe the final outcome to be aged in one of our complex Zymatore barrels for pure additional pleasure?

Whenever we taste a new Zymatore project we are always stunned by the new flavor and aromas the brew is able to develop in such distinct wooden barrels with the help and assistance of a fleet of highly distinct wild microbes that have become fiercely committed to our projects in Oxford, CT . We therefore theorize that the flavors and aromas of our new concept "Artista Zynergia" should be equally stunning and of course entirely unexpected.

Our term "Artista Zynergia" is composed of two parts: Artista = artistic & Zynergia = a fantasty word formed from zymergy (the art and science of fermentation) and synergy (the complex art of combining separate pieces to create something of higher and of unique value)
The Zymatore Series

* The Zymatore (zih-muh-TOR-ay) program is run entirely from their facilities in Connecticut

* Three years ago, B. United developed a new beer shipment method in which their trans-oceanic brewers send them beer. Instead of sending kegs all over the world—a logistical nightmare—they invented a new, standardized container. The container is non-pressurized—meaning all the beer in it is flat—and was described as looking like an oil truck, only smaller (though still much larger than a keg). B. United thus carbonates and kegs all of their clients' beer in-house. The oceanic voyages are all done on refridgerated ships and all arrive in less than a week, besides beers from Japan. Thus, the beer is still very fresh.

* Using these same shipments, B. United has developed a barrel program in which they age some of their clients' beer themselves in various kinds of barrels from all over the world, and sell them with the Zymatore brand added to the name (ex Glazen Toren Canastre Zymatore)

* The program is very artisanal, and there is a large focus on getting interesting barrels from small and/or international producers rather than just doing lots of bourbon barrels, like the market seems to demand (his words). B. United clearly has a lot of international contacts, and when they are routinely pulling barrels of stuff I've never heard of (and I spend a lot of time tracking down obscure international alcohols), you know they are doing something pretty impressive.

* The program currently consists of over 300 barrels, with extensive details that can be found here

* There is a focus on allowing microflora to develop and flourish in the beers. Those that have had the pleasure of trying any Zymatore most likely noted that the beers are quite often somewhat sour, and usually quite strange but very complex. This is intentional. Barrels are left "dirty": in the Reissdorf Kolsch aged in Pazzo barrels (a fortified, madeirzed wine), the barrel arrived filled with grape skins and gunk and all manner of sediment. They left it all in there and went to town. The beer came out fantastic.

* Beers are aged for significant periods of time; I'm not sure we had a single one at this event that was barreled less than 12 months

* All beers in the program are naturally carbonated before kegging. Zymatore repitches yeast and allows a final fermentation before it hits the keg.