Ordinem Ecentrici Coctores (OEC Brewing)
Oxford
OEC's beers are complex. Challenging. Absurd. Ridiculous. Strange. Fantastic. Off-putting. All of the above.

Beer List:
I've removed a bunch of sampler-and-draft-only beers I've had. I can only write about so much weirdness.)
Albus, A
Floresco, A
Gosatequin, B+
Malefactus (Syrah Aged), A
Narcissus, A
Nepenthes
Nepenthes Hydromelita, A-
Novo (Blend 1), B
Oudilis 1, A+
Oudulis 2, A+
Oudilis Cerasus, A+
Phantasma, B+
Salsus
Salsus Singularis, A+
Tempus (Blend 1), A-
Zymatore Isaac (Gin/Pinot Noir Barrel Aged), A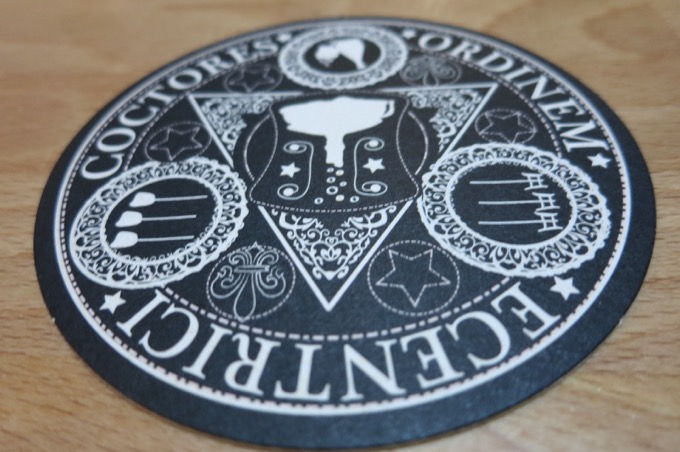 I procrastinated putting this page (and the reviews themselves) together for well over a year. OEC is, by far, the most vexing Connecticut brewery. Heck, they are one of the most vexing breweries in the entire country, if not the world. From their grammatically incorrect Latin name, to their impossibly confusing beer-naming convention, to the fact that many of "their" beers aren't really theirs, to the wonderfully absurd complexity of the beers themselves.
OEC roughly translates to "the eccentric brewers" and yeah, that's apt. Over their first four years of existence, they have brewed/blended/created a panopoly of beers using methods and ingredients that literally no one else on earth has.
To take a deep dive into the world of OEC would require far to much time and effort for this page. It might also require some psychotropics and a Kerouacian road trip. I will try to tease out some of the most important things you should know about OEC in as brief a way as possible.
OEC is one of my favorite breweries in Connecticut and beyond. My wife would concur. It is one of the most expensive breweries in Connecticut and beyond. My wife is unaware of that aspect of OEC. They are one of the least favorite breweries of more than one of my most beer-knowledgeable and beer-worldly friends.
OEC's beer naming convention is asinine and confusing. I've had fanboys try to explain that it all makes perfect sense, but… nah. They've separated out many "classes" of their beers into categories like Artista Zynergia (OEC Brewing international blending project), Clavis (project consisting of blending our sour/spontaneous beers with house produced, barrel fermented kombucha), Experimentalis (special series containing estate grown fruit for which people line up at the crack of dawn for a shot at a lot of like 23 bottles sometimes because that makes sense), Frigus (their "eis" beer project), Hydromelita (OEC beer blended with various European meads), Oryza (sake is involved), Spontalis (lambics/spontaneous fermentation beers), Urwaga (Jesus, this is some Kenyan thing where beers if fermented in pits or something), Zymatore (the granddaddy of them all; Their parent B. United brings in beers/barrels from partners from all over the world and OEC blends them all up in different ways and names them nonsensically and we pay a ton for the bottles and drink them up.)
Within each of those "projects" (and there's more I left out!) are dozens of iterations and permutations of beers (and "beers") with names you'd be lucky to pronounce, let alone remember.
People travel from far away to find the attractive OEC outpost in Oxford. OEC doesn't really distribute in any meaningful way, and they don't do brew fests or really promote much of anything beyond quietly making some of the weirdest alien alcoholic beverages in the world.
They are not afraid of sour sours or oakey sours or… anything really. They named a beer after a "sport" and chose pétanque. The protein on the "OEC Plate" available for nibbling is sardines. OEC doesn't care. OEC is a riddle wrapped in a puzzle, and thank goodness the large majority of what they do is pretty great. There's no telling what Ben and Tony and Matthias and everyone else at OEC will do in the future.
Because they're from the future. And the past. Or outer space. Or all of those places.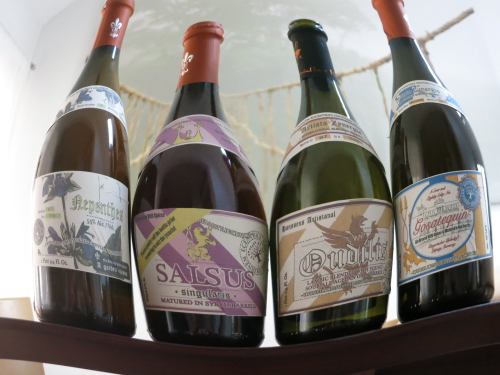 My visit(s) to the brewery
OEC
CTMQ's page on CT Breweries and Brewpubs
CTMQ Reviews of CT Beer