Two Roads Ok2berfest
1 can, $2-something, 5.8% ABV
Purchased at Total Wine Cause I'm a Sell Out, West Hartford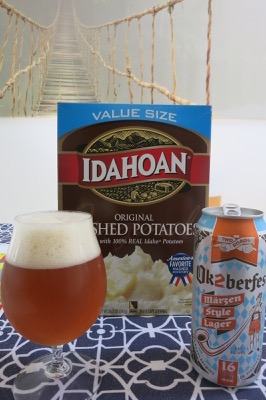 It's been far too long since I've written about a Two Roads beer. They seem to have settled in to their wide and rather nice portfolio of beers and have only canned/bottled a few new ones over the last year or so. I can't be bothered to go check if they canned their Marzen, the Ok2berfest, in years past. So I'll pretend I know what I'm talking about when I say that 2016 is the first year they canned it.
Once again, Two Roads has come up with a cutesly/clever name for a very standard beer. Note: "standard beer" is not meant to denigrate the beer at all – Marzens should be marzens should be marzens in my mind. It's one of those classic, traditional styles that should not be messed with.
And oddly, at least across the Connecticut landscape of Octobers, I can't really think of a brewery who has. It's like we in America have decided that this ONE style of beer should stay traditional and "as is."
As refreshing as that is, I offer this idea, free of charge, to all Connecticut breweries:
OkTUBERfest. Hear me out.
A traditional Marzenbier brewed in the traditional style of Munich – with a starchy twist! In addition to the crisp German hops and malt profile, this beer is also brewed with a healthy helping of mashed potatoes. A real meal in a glass!
You're welcome.
Yeah, that sounds insane. No brewery would ever brew a beer with mashed potatoes. Oh wait. Nevermind.
Anyway, yeah; OkTUBERfest. The marketing writes itself. Go for it.
As for the existing, Ok2berest, Two Roads says:
Modeled after the classic "Marzenbier," Oktoberfest style that was traditionally the beer served at the Munich Oktoberfest. It possesses a smooth, toasty malt profile with a crisp character of traditional German hops.
I'm not expert on Octobers, and they are all usually pretty similar across the board. Two Roads' effort was a bit thin, but certainly had the proper amount of malty goodness with a greatly diminished hop zing. I felt it may have been a tad sweeter than what I'd get in Germany, perhaps to satisfy the American palate. Or perhaps I'm just trying to find something to pick at. Bottom line: this beer is a darn good October.
Heck, it made this Beer Advocate reviewer write an (I'm assuming) unintentionally hilarious review.
Sounds like a great time! Between getting things in the can at a sausage fest and the swallow and the sour finish. Good for him.
Overall Rating: A-
Rating vs. Similar style: A-
Two Roads Brewing Company
Back to CTMQ's Reviews of Two Roads beers
Back to CTMQ's Connecticut Beer Page
Back to CT Breweries page