New Frontier DIPA & American IPA
16 oz cans, $3.50 or so per can
Purchased at the Crazy Bruce's, West Hartford
I have many weird quirks. Most are innocuous, but some are just annoying. One of the annoying ones is my "need" to write reviews of beers that no longer exist. Or, in this case, from a company/brand that no longer exists.
Yes, after a year or so of Pioneer/CT Valley confusion on my part, the picture has become clear: Pioneer Brewing, ye of brick and mortar Sturbridge, MA fame, ye of tenant/gypsy/contract brewing at Rapscallion, Olde Burnside, Overshores, and Shebeen… no longer exists.
The same Master Brewer with the same Master Brewer skills is now rebranded and (presumably) rejuvenated at CT Valley Brewing in South Windsor.
And yet, here I am, writing reviews of Pioneer beers. Why? Well, most importantly, both of these beers have changed quite a bit with the South Windsor operation.
But since these were brewed at/by Shebeen in Wolcott, let's take a moment to remember the halcyon days of Pioneer in Wolcott. There were surreal moments to say the least. Lines at Shebeen, rumors of infighting, Shebeen boasting that a beer brewed on contract at Shebeen was the hottest beer in the state…
And it was that last one that people picked up on and snickered at. We had been told – or somehow "understood" – that Pioneer was a "tenant brewery" rather than a contract brewery.
This mattered to many consumers. For many "CT beer bros" dislike the Shebeen operation for any number of reasons. But "CT beer bros" dislike all sorts of things for any number of (often very dumb and unfair) reasons.
Flame wars broke out about this whole thing, jokes at Shebeen's expense were made, "of course Pioneer doesn't let Shebeen touch the process!" So on and so forth.
And you know, I really don't know where the truth lies. I could find out I suppose, but I like to let the breweries speak for themselves. With that in mind, let's check in on what Pioneer had to say about this matter:
Okay! That's what everyone thought. That settles it then. The fanboys were right all along. What's that? Shebeen had something to say on facebook about this?
I have heard that the way these contracts work by definition means that yes, Shebeen actually "brewed" the beer. If I recall correctly, that information came from a guy who has accepted contract brewers at his brewery. But Shebeen's owner in the facebook exchange above doesn't really do a good job clarifying the situation.
Anyway, none of this stuff really matters because if we know anything about people in 2017, it's that they really don't read anything. They believe what they believe and that's that.
Not that I've helped out much here, so I guess it really doesn't matter if anyone reads this or not. In the months since Pioneer left, Shebeen has become a bit more vocal about their role in the Pioneer beers. This has become even more interesting because Pioneer beers were generally beloved coming out of Wolcott and generally vilified coming out of South Windsor.
Also, a few months after Pioneer left Shebeen, Shebeen's website touts their contract brewing bonafides on their site:
Now, the Fat Orange Cat folks will say, like Pioneer said, that it is they, in fact, who brew the beer. Which, of course, brings up the point that other contract brewers never really feel the need to do this… right? Eh, I guess they sort of do to a degree, but not proactively, do they?
From this observer's point of view, I love this stuff. From the business side, I imagine it's icky and contentious and annoying. To the beer!

Pioneer American IPA
6.5% ABV
This beer is now rebranded as "A Fantastic Voyage" and is, of course, a "New England IPA." Way back when this was brewed at Shebeen under the Pioneer brand, it was merely an "American IPA."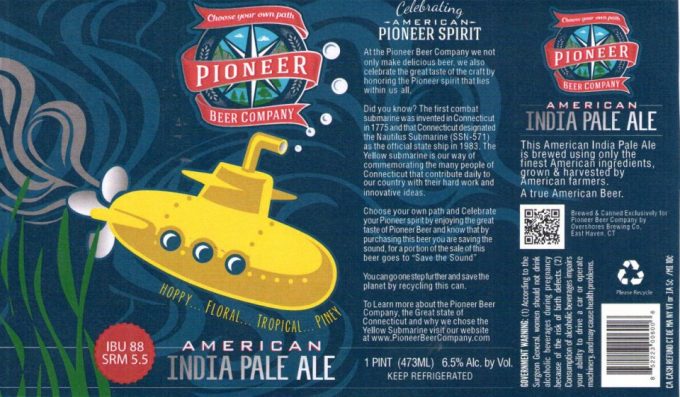 And you know what else? It was pretty good! It was what one could, would, and should expect from a late 2016/early 2017 straight up IPA. What is that, exactly? We could turn to how Pioneer described it at the time…
Pioneer said:
HOPPY
CITRUSY
PINEY
FLORAL
TROPICAL
DANK
PERFECT
Pro-tip, the all-caps descriptions make the beer taste better. Dropping in every IPA descriptor at once, then adding the final "PERFECT" touch is the mark of a true Master. Well done.
But yeah, I enjoyed my "yellow sub Pioneer beer" as everyone called it. I don't know if it hit EVERY clichéd IPA note listed above, but it did a pretty good job trying.
Spoiler alert: the new "yellow sub" beer at CT Valley is an entirely different beer that I do not like as much as I liked this original version.
Overall Rating B+
Rating vs. Similar style: B+

New Frontier California DIPA
11% ABV
One weird "controversy" about this beer is its supposed 11% ABV. I've heard so many people say that there's just no way it was 11%. Even now, at the new brewery, there is disbelief.
I have no idea. I've had 11% beers that hide the higher alcohol content well. But yeah, I'm not sure I buy that this beer is 11%. Who knows.
When I had The New Frontier back in the Pioneer days, I liked it well enough. I don't think it was as dark as my terrible picture makes it out to be, but it was definitely darker than it is now as a CT Valley beer.
And, like the "Yellow sub" one, I'm sure the recipe has changed. Pioneer surely added some of that mysterious foam/head killing ingredient and whatever it takes to get some haze. Brah.
Let's turn again to the glories of Untappd to learn what was going on with this beer.
Pioneer said:
BIG
BOLD
HOPPY
CITRUSY
PINEY
FLORAL
TROPICAL
DANK
PERFECT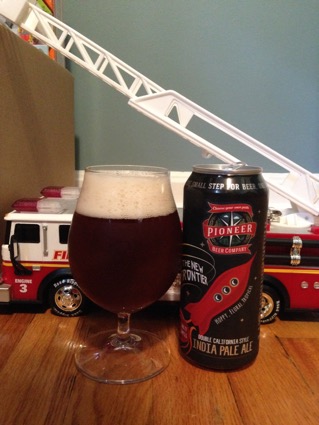 LOL. I love these guys. This beer is a double IPA so they added "BIG" and "BOLD." When all is said and done and we're all retired, I'm telling you man, Pioneer/CT Valley is gonna get huge props for just epically trolling us all.
On multiple levels in a 5-D universe of chess or whatever they say.
I think I've forgotten what a "California IPA" is. Or was. Was it ever? I guess it was. I've heard people claim that "west coast" means more pine (My guess is that comes from people who have heard about Russian River's Pliny beers and assume Pliny = piney) but I think it means a heavier reliance on maltiness and perhaps bitterness than… than New England IPAs?
I don't know. But "West Coast" probably wasn't "TROPICAL" or "DANK"? Again, I have no idea. Maybe now it has come to mean "Isn't an opaque tub of sludge."
Again, I rather liked both the old New Frontier and old Yellow sub IPAs from Pioneer. Both had heads! Aroma! And a decent balance of hop bitterness and TROPICAL and FLORAL and PINEY to them.
Overall Rating B
Rating vs. Similar style: B

Final Notes
These beers mark the end of Pioneer beer reviews for me – but again, just the beginning of CT Valley Brewing beers. Pioneer did a brown ale called "Path of the Unknown" that was really good. But they never canned or bottled it as far as I know. These two beers have long explanations on their cans that have been retained at the new brewery, so we'll deal with that stuff in the future.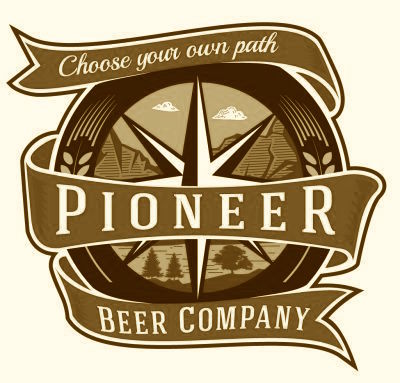 I hope the new New Frontier still has this at least: "Pioneer's New Frontier Double IPA explodes in your mouth with blasts of hops and malty flavors."
That's poetry.
And so, friends, we close the chapter on Pioneer. On to South Windsor!
CTMQ's reviews of Pioneer beers
CTMQ's Connecticut Beer Page
CTMQ's CT Breweries page