Beer'd Brewing/Night Shift Organized Playdate
Growler, $?, 8% ABV
Purchased at the brewery, Stonington (mid-2015)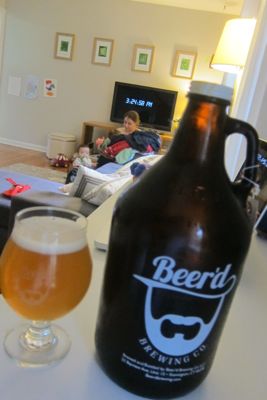 Y'know, there really haven't been too many collaboration efforts in Connecticut. I don't really like putting much mental energy into thinking about it, but off the top of my head, as far as commercial breweries go…
Relic/Beer'd
Um…
Beer'd/Relic
Um…
And Beer'd/Night Shift, which is up in Boston. I am excited for the 2016 release of the Steady Habit/Lasting Brass collab, but that's a bit too far off the radar even for me. There have been others I'm forgetting, but the point remains: These things just don't happen too often.
Not that I care – I probably would never do one if I were a brewer. It's like how no one has ever written anything on CTMQ other than me. I'm controlling about this stuff. (Some would just call it being an a-hole, but whatever.)
One time I was talking to Aaren of Beer'd when his gin barrel-aged DIPA was still in the barrel. I said, "Dude, I've only ever heard of one place doing a beer aged in a gin barrel and that was Night Shift and they put everything into any kind of barrel up there."
Aaren looked at me and said, "Yeah man, I have to admit, their barreling program is what gave me the idea to do the DIPA/gin thing."
Oh. Snap. (FYI, the gin/DIPA was phenomenal.)
More grew out of his visit to Night Shift, as Aaren explained on the https://www.reddit.com/r/ctbeer">CT Beer sub on Reddit.
I've had an admiration for Night Shift since they opened their doors in a very similar fashion to us. The fact that they could put out such unique beers, and build such an interesting brand identity really resonates with me. As a result I've followed their progress very closely and again via social media, made a connection with Vince Tursi, at the time one of their brewers. Vince's parents live in CT, and so during one of his visits home he came to visit us and try some of our beers. After a few pints and some discussion of similar brewing techniques we felt like some sort of collaboration needed to happen. I first visited Night Shift to brew Tropical Hydra, a big juicy IPA that released in Boston, and then he visited and we developed Organized Playdate (one of my favorite beers we brew here). It's always great to work with different brewers in differing scenarios because it both gets you outside your own box, and confirms techniques and best practices.
And there you go. You want more?
Beer'd says:
Utilizing a blend of juicy American hops, this IPA lends grapefruit and other tropical notes. Further conditioning on pineapples and limes push this into the "juice bomb" category.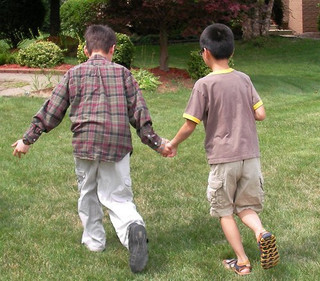 I can't remember all the details that surrounded this beer's release. There was a release party, I believe, at The Engine Room in Mystic. The party was called "An Organized Playdate." There was a special cask version with some sort of tropical or citrus fruit of some sort. It was packed (of course it was) and fun. Beer'd continues to brew this beer by themselves, but I guess the way it works is that the recipe was collaborative, so it'll always be an official collaboration?
OP is, most certainly, a "juice bomb." Some would argue it is a bit "too much," with all the pineapple and limes and citrus and fruity hops used in it. Others would say that there is no such thing as too much juiciness in an IPA these days.
I love it (more than most straight up Night Shift beers, but Shhhh, don't tell them that) but I do think it could use a bit more malt and/or bittering balance. This is a very sweet beer.
I should menation that that picture at the top features the lovely Miss Amanda and one of her twins, who had come over to my house for an Organized Playdate! She was my special needs son's first paraprofessional we brought on to work with him at home and here we are now, 5 years later, still friends.
Just like Beer'd and Night Shift appear to be.
Cool.
Overall Rating: A
Rating vs. Similar style: A
Beer'd Brewing Company
Back to CTMQ's Reviews of Beer'd beers
Back to CTMQ's Connecticut Beer Page
Back to CT Breweries page