Our First Mistake
6 oz in a cup, 11% ABV
Drank at the brewery, Haddam
I write a lot of stupid stuff, but writing a "review" of a bad beer that never really existed in the marketplace might be the stupidest. Yet, here we are.
Here's the deal: I visited Steady Habit shortly before they opened to the public. Such are the perks of being me I suppose. Back then, Jon was still tinkering with recipes and hop bills and whatnot. (Back then, the plan was for the Our Daily Bread to be Steady Habit's flagship IPA, constantly on rotation. Plans change.)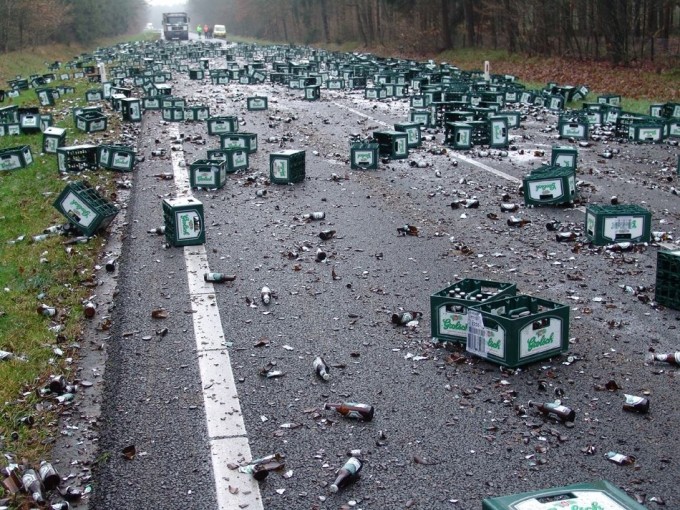 Anyway, at one point Jon emerged from the back and offered me a few ounces of this beer. He had a smirk on his face and just told me to drink it, as Jon pretended to drink his.
It was gross. It tasted like that bubblegum flavor fluoride you thought would taste good as a kid at the dentist. Perhaps with a hint of cotton candy. Basically, something went wrong in the brewing process (usually this off-flavor is due to fermenting temps being too high which results in higher concentrations of the esters the yeast produces), Jon knew it, named the beer "Our First Mistake" and dumped it. I just happened to be there before it got dumped.
Steady Habit says:
Very first beer brewed on our brewing system. It was a tough day everything went wrong. This was actually supposed to be our first batch of "Our Daily Bread"
Fair enough.
Yet, somehow it made its way onto untappd. And some people, some of whom I know, rated the beer fairly well, noting its "cotton candy notes" and whatnot. (Ignore the more recent entries, for they are in error.)
Granted, bubblegum and cotton candy from the esters
are
desireable in some beers – in low doses. This beer was supposed to be an IPA and it had a
lot
of sugary sweetness in it. Like I said, gross.
So why am I bothering writing this page? I don't know, I thought it would be fun, but it turns out that it's been pretty stupid.
"Fun" because I thought it would show that while some brewers and breweries recognize mistakes, learn from them, and dump the batch (and lament the wasted money), others shrug their shoulders and put it on tap.
Because what the heck, consumers can be dumb and convinced screw-ups are good. Fortunately, Steady Habit didn't do that. If only every local brewer did the same.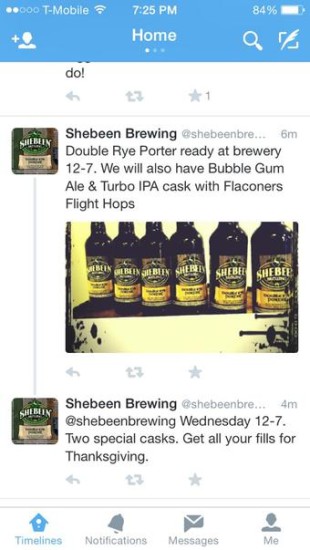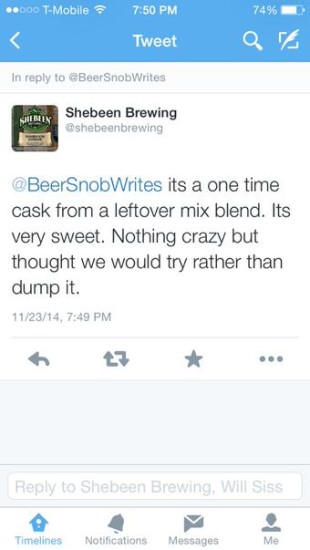 Sigh.
Sadly, Shebeen isn't the only offender when it comes to putting out known bad beers. They just happened to go through a period when they seemed to do it over and over. "Sour cannoli" anyone?
Ah! But we have new heroes coming on to the scene soon who promise that they are skilled and rich enough to know when to dump bad batches! Not only that, but Stamford's Lock City Brewing also tells us they want to be the next Alchemist!
Of course, we all hope that's true, but… yeah.

They also claim their DIPA is on par with G-Bot. And a little birdie told me they once regarded Sea Hag as "terrible." But it's nice to know that they will dump bad batches. Let's all remember that, shall we?
And by the way, I know Jon and the crew at Steady Habit. They aren't commodity traders in Fairfield County like the Lock City guy, so no, they can't really afford to dump beer (a.k.a. money) down the drain. But they did – and that's important.
Well, relative to the tiny little part of the universe I inhabit that cares about such things anyway.
I have no idea if Lock City will be good or even great. They very well may be the next Alchemist in the end. We all say dumb stuff from time to time and of course I wish them the best.
I very much look forward to their Heady-Bot DIPA later on in 2016. Lines are forming shortly.
Overall Rating: F
Rating vs. Similar style: A+
Steady Habit Brewing Company
Back to CTMQ's Reviews of Steady Habit beers
Back to CTMQ¹s Connecticut Beer Page
Back to CT Breweries page