Outer Light Brewing Company
Groton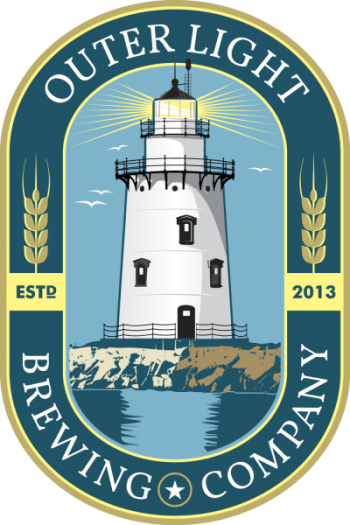 A visit to Outer Light Brewing Company is here.
Constantly Flowing Beers:
Lonesome Boatman Ale, B
Libation Propaganda Coffee Stout, A
SUBduction IPA, A-
Shoreline Series
Admiral Lublin's Imperial Pilsner, B
The Academy GPA, A+
Firelands Smoked Cherry Porter, B
Libation Propagation Coffee Stout, A
Libation Propagation Imperial Stout, A-
Barrel-Aged Libation Propagation Imperial Stout, B-
Outerweiss Hefeweizen, C
Punching the Ocean DIPA, A
Stealing Sunsets Weizenbock, D
Trail Magic Session IPA, B+
Woods Devil India Brown Ale, A
…………………………………………………………..
The old saying, "There's somethin' rotten in Groton" can now officially be retired. Sure, the last time I was there (February 2016), I had an awkward conversation with some heroin addicts at a diner – and that was pretty rotten. I wanted them to get better.
But right up the road one can find Outer Light Brewing Company in an otherwise faceless, squat, tan rectangle industrial building. And once inside the brewery, something magical happens: there sits a very nice and friendly little taproom. The rare one with at least a smidge of actual design and patron comfort in mind.
But what's more important, of course, are the beers one can enjoy here. For my family, Outer Light is actually decently located for post-beach visits during the summer months. Since we go to Waterford's Harkness Beach, and that's a haul, it's nice to have a brewery to stop at on the way home.
Note: We'll never stop going to Beer'd whenever we can while down there, because we're not stupid… I'm just saying there are options now.
And it turns out that Outer Light knows what they are doing, thankfully. For a very young brewery, I've been very impressed with their offerings that I've had in their first year. Looking forward to good things from this place.
My visit to the brewery
Outer Light Brewing Company
CTMQ's page on CT Breweries and Brewpubs
CTMQ Drinks every CT Beer