Two Roads Pachamama Porter
4-pack 16 oz cans, $12.49, 6.5% ABV
Purchased at Maximum Beverage, West Hartford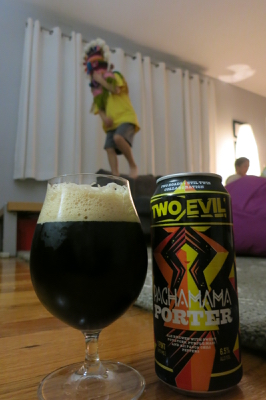 It's time.
It's time I sacrifice myself to Supay, the Incan god of death and ruler of the Inca underworld called the Uca Pacha.
For I have sinned. I still feel stupid for writing some unfounded disparaging things about Two Roads back when they first opened. I focused on the dumb stuff and didn't see the forest for the trees.
So before I go and hurl myself into a volcano, I'd like to say that I was wrong. (I've said this multiple times across multiple platforms over multiple years, but I still think I screwed up and Two Roads will never respect me again.)
Two Roads is great. They are great for Connecticut beer for a multitude of reasons. They are huge, and hugely successful. While I can't pretend to love all of their beers, and frankly a couple have been clunkers in my opinion, I do love everything about the greater operation. Their marketing is unparalleled, their distribution reach is 100x that of any other local brewer, and their professionalism, business model, and brewing skills are among the best I've even known.
Ah. That feels good. Nothing can make me change my mind… Take me away, Supay, Incan god of death! ~~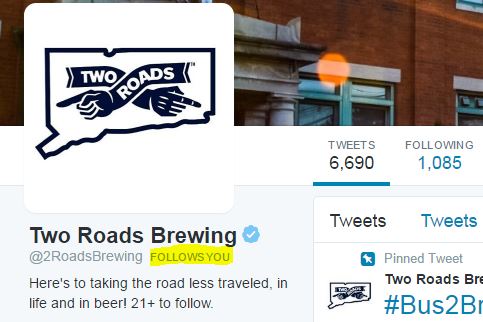 ~~ Hold up, Supay. What's that? Two Roads finally followed me on Twitter? I'm tearing up. Screw you, Supay. I'm alive! I'm going over to Pachamama now!
Hellooooooo Pachamama! One hot mama god… the goddess of Earth. I feel so warm and happy now. All is well with the world.
The Pachamama Porter is the second collaboration between Evil Twin and Two Roads. The first one, Geyser Gose, was one of my favorite beers of the last year or two, bar none. (It inspired one of my favorite reviews too, here.)
This beer is sublime.
Two Roads says:
…Two Roads and Evil Twin have paid homage to Incan heritage by using three Peruvian staple foods in this porter: sweet potatoes, purple mais and aji panca chili peppers.

Pachamama is a goddess revered by the indigenous people of the Andes; she is known as the earth mother in Inca mythology. Given that the main ingredients of the 6.5% ABV porter come from the rich Peruvian soil, the two breweries thought the name Pachamama fit this product beautifully.
Before you roll your eyes, wacky ingredients are an Evil Twin thing. It's what they do. Hell, the Geyser Gose had "Icelandic moss, rye, herbs, sea kelp, skyr (Icelandic yogurt) and birch-smoked sea salt" in it.
And like that beer, the Pachamama was 95% delicious example of the style, and 5% wacky ingredient additions. The heat from the peppers is perfect in this beer. You drink and taste a perfect porter, you swallow, then a subtle, sweet heat tickles the back of your throat. Nothing burning or distracting. Just as it should be.
Sidenote, Connecticut's Black Pond Brewing had a recent beer called Supay, of all things. I didn't have it, and I like Black Pond, but something tells me (they do, on their website) this beer was painful.
I don't like painful beers.
I like delicious beers that show deft craftsmanship and intelligent brewing. Pachamama Porter is all of that.
So thank you, Two Roads' main Twitterer for following me today. You saved me from Supay and allowed me to continue to write my CT beer reviews.
And thank you for this beer.
*Please Note: I'm joking about truly caring that they followed me. And about sacrificing myself to a mythological Incan god. But they did finally follow me today and that is kind of cool and that did inspire me to review this beer before it's no longer available to you this winter. And please, if you think the follow clouded my judgment of this beer, you don't know me very well. And if you still don't believe me, screw you and go read this tweet from two and a half months ago.
Overall Rating: A
Rating vs. Similar style: A+
Two Roads Brewing Company
CTMQ's Reviews of Two Roads beers
CTMQ's Connecticut Beer Page
CT Breweries page