Connecticut Beer Trail Ale
Bomber, $?, 5.6% ABV
Given to me
You surely noticed the "Part 1" at the top of this page. You thought to yourself, "Hm, that's weird. That makes no sense, especially for a beer that no one remembers at all. What does Steve mean by that?" Fair question.
Introduction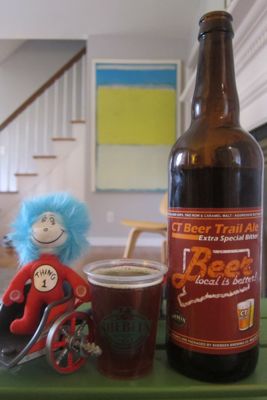 For me, the summer of 2016 has been a sort of apex for all things Connecticut beer. Breweries are opening left and right and more and more out-of-state brands are being distributed here. Troegs one week, New Belgium the next. Boulevard on the way. It's a great time to be a beer lover in the Nutmeg state… and a difficult time for those few of us who attempt to keep up with it all.
As a result, the rumors are partially true: I'm stepping back a bit from "the scene." My life is a fairly busy one and can be a difficult balancing act with my full-time job, my wife's full-time job, a five-year-old who deserves to do five-year-old things (rather than brewery visits and package store runs), and a special needs son who commands our constant and unrelenting attention and planning. Beer literally means nothing to me in the grand scheme of things.
It would also be prudent to remind the world that CTMQ is about much more than beer. So there's that too.
This series of five essays will serve a couple purposes: to give y'all a sense of where I'm at with the whole "beer scene thing" and to close a few chapters of certain aspects of Connecticut brewing for good. It's just time to put some things to bed from my end.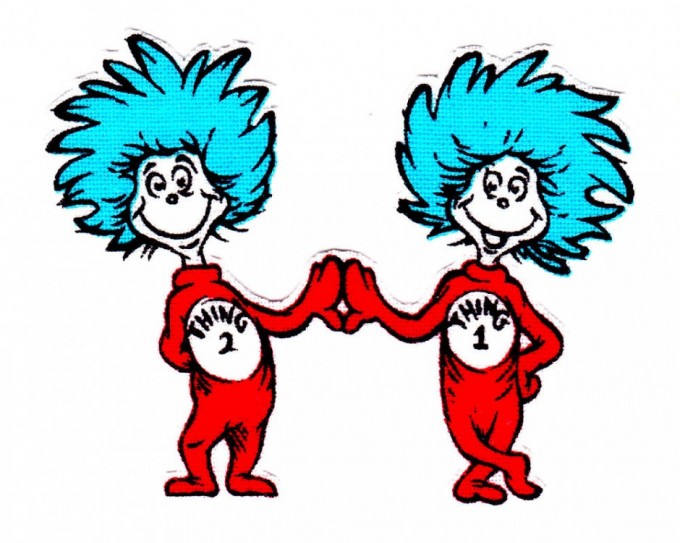 But don't despair! This is NOT my last CT beer review. Heck, this won't even be my last Shebeen review. However, this probably IS my last time rehashing the past missteps, as I see them, of Shebeen and the Beer Trail.
It is now mid-2016 and I've sort of "given up" on a bunch of beer things. This series of essays will examine several facets of the industry with which I am, quite simply, bored. I won't pretend that I am "right" and others are "wrong." I'm older and perhaps – just perhaps – a little bit wiser. I've followed the rise of the state's industry as closely as pretty much anyone. And I think it has passed me by to an extent.
I've given up chasing down special releases – which is really just using my "pull" to have others grab/hold them for me. I'm fortunate that I'm in a position to pretty much get whatever I want from any Connecticut brewery without standing in lines or driving all over the place myself. So to Jay and Mel, Joe, Chris, Steve, Kevin, Tim, and everyone else… thanks for your efforts on my behalf over the years, but I'm all set. To Ian and Matt at my favorite West Hartford beer stores, don't wait for me. To Matt, Aaren, Barry, Jon, Zack, Tony, Geoff, Tony, Ed*, and all the other wonderful brewery friends I've made over the years, just sell your bottles and cans and don't worry about me.
*Okay, I'm still excited for Lasting Brass.
As has become cliché: It's just beer.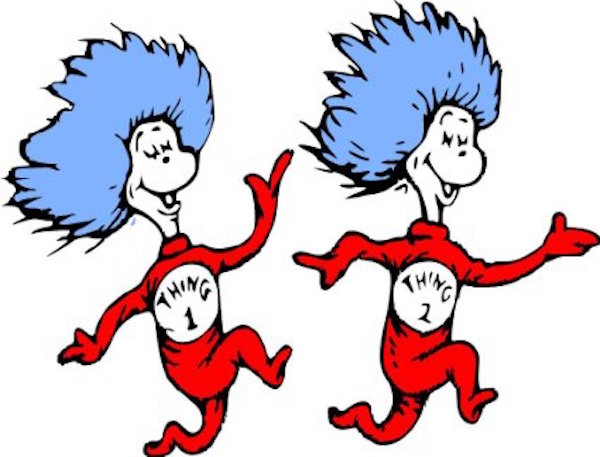 And while I'm at it, to all the new breweries coming online, thanks for reaching out, good luck with your new ventures, but I'll get to you on my own time at some point in the future. I'm not interested in any sneak-peeks (never really have been); rather, I will just be curious as to where you are after a year or so of production. I've never been swayed by freebies or look-sees or butt-kissing anyway. I've long since given up getting excited about brewery openings* or expansions. Sorry, that's just the natural progression of things.
*I lied again. See: Lasting Brass.
Of course, I still love Connecticut beer. I think we have a whole slew of fantastic breweries owned and staffed by super cool people. I remain one of the industry's most ardent and vocal supporters and certainly plan to continue and grow the relationships I've forged. No change there at all.
I do not, however, love what has happened within the tiny minority of the scene.
Simply put, the whalezbroz and the shift in focus to marketing over quality have sucked the life out of the entire pursuit for me – a guy who, as I've mentioned, doesn't even need to deal with the lines or the FT:ISO crap. I'll explore these things more in Parts 2-5.
I'm sure you're very excited.
None of this has anything to do with the Connecticut Beer Trail Ale, but I wanted to explain what's going on here. And I have a sneaking suspicion this page will be read by a few more people than usual, so there you go.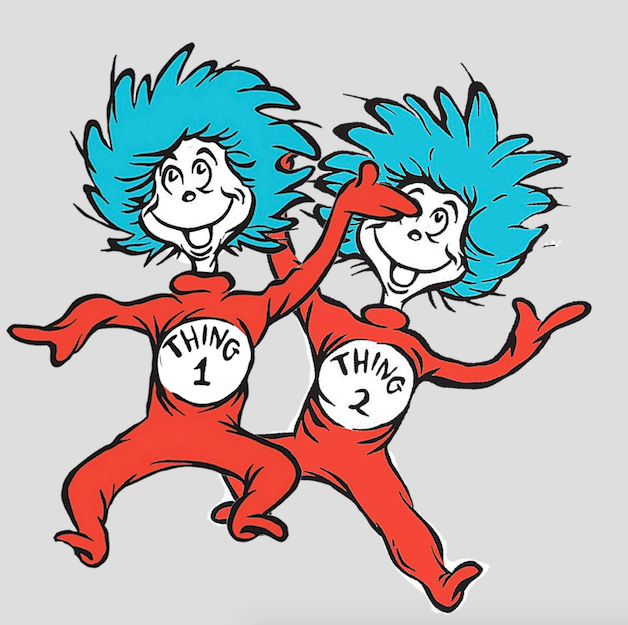 Now onto the task at hand…
Connecticut Beer Trail Ale
I pretty much stopped mentioning the much-maligned Shebeen Brewing over a year ago. Nothing I ever write would be novel or more interesting than anything the company did/said itself anyway. Besides, that was always the case, right?
Heck, there was a two-week period over in the CT Beer Drinkers facebook group when Shebeen-bashing became bloodsport. It got so ridiculous that I felt the need to DM a few of the participants to tell them to just stop. It was just bullying and childish piling-on. I felt bad for Shebeen and the folks who work and volunteer over there.
That ugly episode began after some random guy, new to the scene, privately messaged the owner of Shebeen and somehow it escalated into an argument about… I have no idea. In the messages, the owner (this is a broken record, I know) blamed others for some of the brewery's difficulties over the years. Nothing new with that at all. But the guy he was conversing with, who likely baited Shebeen into these comments, posted the messages on the facebook group and, well, it didn't go over too well with the members. Now, I don't support posting private messages publicly, so I'll only share one here.
Here's a screengrab of one written by Shebeen's owner. This was posted in the facebook group.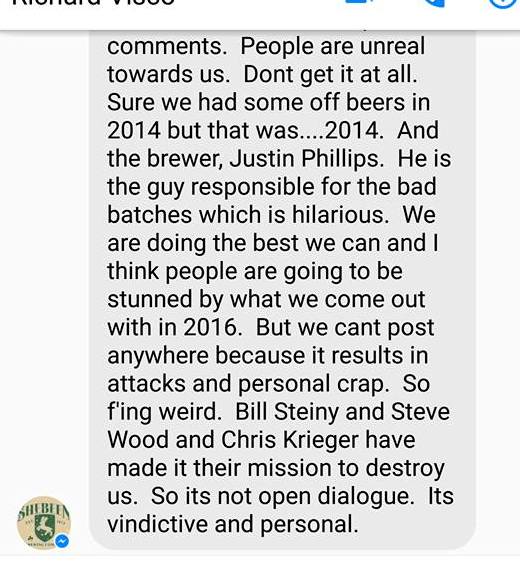 To be clear, this was not a message or text to me, but to that other guy whom I don't know. He posted it on facebook and I grabbed it because, well, I think you can figure out why.
Anyway, yes, that's real. (Shout out to my boy Chris K!) It's just such a ridiculous contention that I or Chris had anything in the world to do with Shebeen's problems over the years that I laughed it off. I've never met the other guys, Justin or Bill, both of whom worked/volunteered there and have some legitimate beefs with the way things were run and managed two years ago.
I have only posted one thing about Shebeen in 2016… a tweet noting how much I enjoyed their Fuligin barrel-aged black IPA thing. And, until today, that's been it. (For the record, I've also had their new Fore! Session ale and the IIPL and both have been perfectly fine.)
As for the CT Beer Trail, I've had my back-and-forths with its owner as well. We've had disagreements but again, I sort of reached a point of not really caring what he and his business did. It had no effect on me and while I'd never have any interest in doing his brewery tours, who am I to say they are a silly waste of money? To his credit, he changed the tours up a bit to be WAY more cost-effective and fun for participants. Perhaps in response to the new brewery tour company that's starting up (that would be Connecticut Beer Tours which has said that they were filling a niche for which nothing yet existed, which sort of cracked me up), but who knows. Both the Trail and the Tour models are just not for me.
My main issue – and this was simply MY perception – with the Beer Trail was always that the for-profit company did their damndest to appear "official" and that annoyed me. In fact, the CT Tourism folks, by and large, were magically convinced that the Beer Trail was "official." It is not – which is fine, of course. The only official "Beer trail" anything in CT was the legislation that was passed allowing breweries to pay a decent chunk of money to have those blue "destination" signs placed on the highway. That's it. That's ALL the "CT Beer Trail" legislation allows for.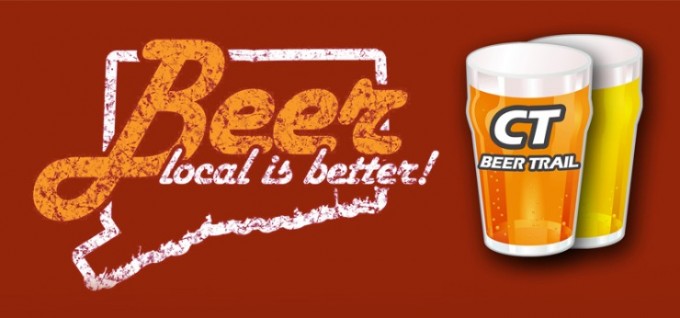 Go ahead, read all about Senate Bill 464. To date, only deep-pocketed Two Roads has purchased a sign.
By the way, the Connecticut Wine Trail is a state-supported and funded tourism/small business effort, whereas the Connecticut Beer Trail is an independent private for-profit small business venture. Now, I have some issues with the way the Wine Trail works and is funded and how it's ridiculous and unfair that they receive all sorts of advantages despite the fact that a large percentage of our wineries skirt the "farm winery" laws and despite being busted a few years ago, were hardly punished.
Curious? The state supports the wine trail because they are supposedly supporting Connecticut agriculture. The rule used to be that 51% of the grapes for Connecticut wines had to be grown here. Then they all got busted for using far less than that and the standard was dropped to 25%. But even that was WAY more than many of our more popular wineries were using.
Haight-Brown Vineyard in Litchfield, Connecticut's oldest winery, sold more than 20,000 gallons of wine in 2010, but a state inspector later found that barely 2 percent of the vineyard's wine that year was made with Connecticut grapes, according to state reports.

In 2011, Haight-Brown did not harvest a single grape from its 11 acres but still produced and sold 5,833 gallons of wine, prompting a state inspection report that said Haight-Brown was "not operating as a bona fide farm winery."
They weren't alone. Everyone loves Jonathan Edwards Winery – and for good reason! They use grapes from their California vineyard! So my point here is that the lack of state support for Connecticut breweries is, in a word, bullshit. So, in a sense, good on The CT Beer Trail for stepping into the void left by the state.
Phew, I'm all over the place. Sorry.
Anyway, Shebeen and the Beer Trail came together to brew a "collaboration" ale in late 2014. Two of the three beer entities who have had issues with me personally (that I know of, anyway) joined forces! What were the chances?
Sorry, but that is kind of weird, right? It's pure happenstance of course, but it's still sort of weird. The Beer Trail and Shebeen continue to "partner" on social media. (Though, one must wonder, if Shebeen's relatively massive support of the competing Beer Tours will affect this relationship.)
At least I hope it's an official, paid partnership. (Not going to get too deeply into it, but the Beer Trail pays for promoted facebook "boosts" and while the Trail ostensibly represents all Connecticut breweries, or at least those that buy into the idea and sign up, the Beer Trail sometimes promotes/pays for the Shebeen related posts and not for other brewery events.)
Which, of course, is fine. Probably. Sigh… you want to see what I'm talking about again? Okay. Here's a recent post regarding a beer fest at which CT Beer Trail members received a discount – certainly a reason for the Trail to promote the event: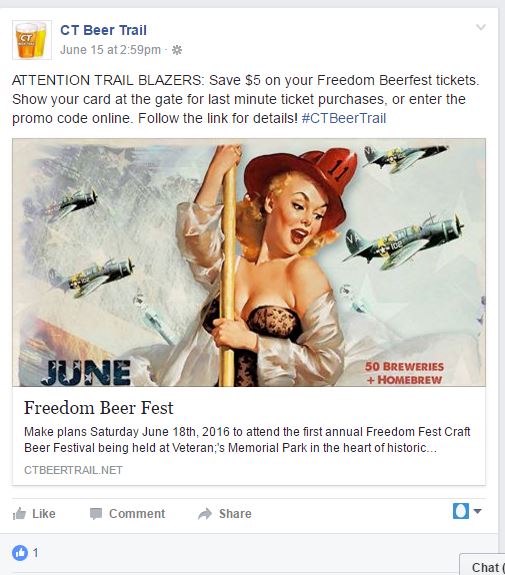 Note that there is only 1 like and no engagement. In other words, this was not a paid post. During the same week, here's a post promoting a Shebeen beer release: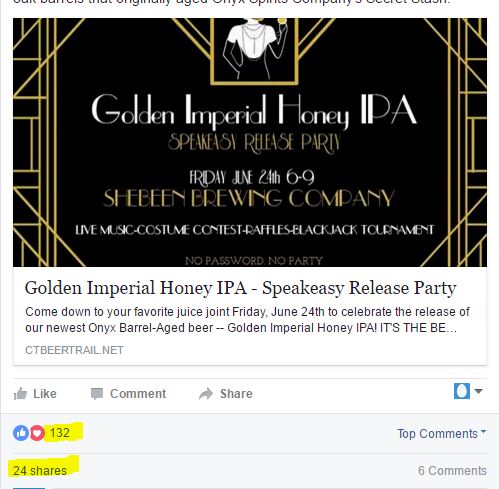 Whoa! All those likes and shares! Well, that's what happens when you pay facebook to "boost" or promote a post. By the way, this is what facebook almost forces businesses to do and it sucks. Shebeen has been paying for all sorts of promotion in 2016, in an effort to rescue the brand. This is smart of them and is a wise investment. Those who "care" about certain breweries and their beer are a tiny fraction of the beer-consuming public. So the infamous WTNH spot (with "logger" and "Gallick") that they paid for and all that stuff? Good on them.

But I really do hope Shebeen paying the CT Beer Trail for those promoted posts. It would just be proper. Otherwise, it seems rather unfair to the other breweries on The Trail, y'know? (The Shebeen post above is the only brewery post The Beer Trail paid for in June & July. There were other paid posts, but they were for advertising the Beer Trail tours and events.)
Then again, this all may just be the outgrowth of a "collaboration" beer between a brewery and a non-brewery.
Might as well mention here that every time you see a business or group asking you to "like and share" posts and as a result you'll be entered into some random chance drawing? Yeah, that's a bunch of malarkey. They can only see a very, very small percentage of those who shared the post – it all depends on privacy settings.
Here, look. Here's a post of mine from facebook: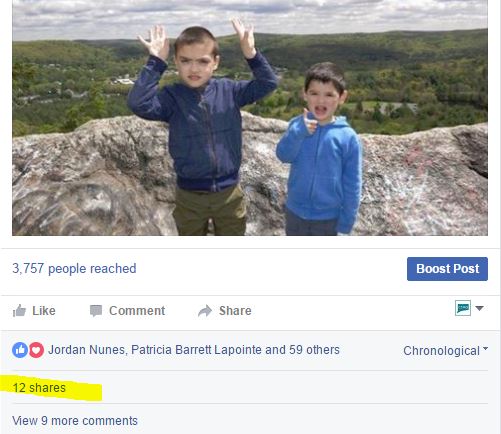 12 unsolicited, organic shares! How exciting! Let's see who those 12 people are and how people responded!
Oh. Nevermind. I could see only ONE of the 12 and that was my wife, which I wouldn't have been able to see if I didn't follow her on my personal page. So 8% of the shares were visible to me, which is about average (I've asked some friends who post for popular businesses and each example comes in at 7-8%). So "sharing" a facebook promotion to win some contest is great for the business, but totally useless for you if you have any sort of low-level privacy settings activated.
From facebook themselves:
Posts shared from a Page respect the privacy settings of the people who created or shared them. You can, however, see the Likes on the post.
Moving on… the CT Beer Trail Ale! This thing was a collector's item. I hope you got yours:
This is a limited release, and for now the beer will only be available for purchase at the brewery. So come on out and get them while they last! An enjoyable beer, and a future collectors item!
Sweet. And, we were told, this was only the beginning!
This will be the first of number of beers we hope to make with various breweries and brewpubs across the state in the months to come! Stay tuned for more on that in the near future!
Beer takes time y'all. So just because it's been nearly 2 years since this declaration, hold out hope! With the success of the first CT Beer Trail Ale, and its 19 check-ins, I imagine the long delay between releases is simply due to the brewery infighting to sort out who's next. As they say, stay tuned.
In the meantime, all 23 months of it, we can fondly reminisce about Shebeen's Beer Trail Ale. This particular ale was an ESB, brewed back in the days when Shebeen still proudly avoided any hop-forward ales. (The market, as it's wont to do, has forced Shebeen into the hop game a bit more. And the contracting game. But that's an entirely different story – and another "win" for the crew in Wolcott I'd guess.)
Shebeen says:
Locally brewed with Glacier hops, two-row and caramel malt. Aggressive but balanced for your enjoyment.
"Locally brewed?" Well, that's good. "Aggressive but balanced." That's clever. Where did they come up with that?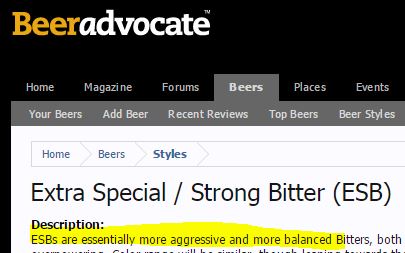 Oh. Apparently "aggressive and balanced" is just an ESB thing. TIL. (No, seriously, I'm not being a prick.)
They also say something about "Connecticut's craft beer culture has been leaps and bounds in the last few years" whatever that means.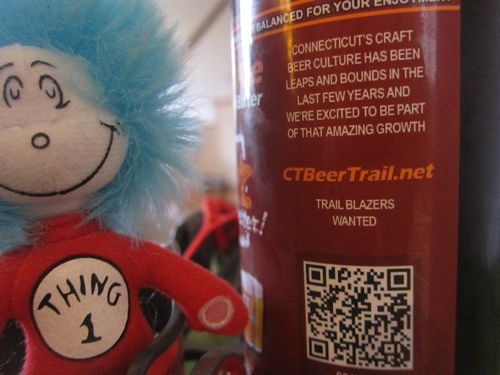 Now I'm being a prick.
The 19 untappd check-ins rated this sweet ESB very highly. We all agree that untapped check-ins are far more trustworthy than I am – especially as one that personally sought to destroy Shebeen. But, here's my opinion: this beer really wasn't very good to my taste. A bit too much on the caramel malt for me.
Yeah, ESB's aren't really "bitter" at all, so this one was within the range of okayness. (I had one recently from Powder Hollow and holy crap, that was awful.) The CT Beer Trail Ale had a touch of cloying sweetness one more associates with barleywines, but again, it wasn't too bad. Just not something I'd care about having again.
Even if it's a collector's item.
Collector's Item Addendum
Okay, here's the deal. I said at the outset here that I'm pretty much done with "the scene" and caring too much about a lot of things associated with it. And I am. Totally. And this includes harping on any issues I may have with Beer Trails or Tours or Shebeens. Oh, I'll still review some Shebeen stuff – as I said, the 2016 beers I've had from them have been good to very good. And I like their more focused marketing efforts and stuff. I like the Beer Trail's revamped tours and I like that the owner of it clarified how the business operates on his About page.
I write these pages for fun and I really don't like being a jerk. I know, I know… many of you love when I'm the jerk. But I don't. I've made plenty of mistakes over the years and sometimes my honesty (and research) has been… a bit pointed. I have never met either of the owners of Shebeen or The Beer Trail and to be fair, both have earnestly reached out to me in the past to do just that. I declined – and that's on me.
I don't care that I was (privately – which is important – in a text I wasn't meant to see) called out by the owner of Shebeen. It wasn't a surprise to me at all and I've sort of thought he felt that way about me for years. It's unfortunate, really. I've never set out to hurt people or businesses. CTMQ is a place for one man's (hopefully informed) opinion. That is what it has been since September 2006 when I began.
I'm not affiliated with the state or any entity at all. I've written honest/prickly/negatively about everything from museums to trails to chocolate shops to wineries to yes, breweries. But you folks that read these beer pages, to a very large degree, don't read any of that other stuff.
Here's the funny thing: In hindsight, the whole stupid thing that started Shebeen hating me was just… dumb (and Shebeen would agree). The owner publicly bashed a NEBCO beer and I happened to be present and I wrote about the exchange. He blasted some other NEBCO beers on untappd. Three years ago, I thought this was gauche and unprofessional. And while it still is – and other CT breweries have done the equivalent in the interim – it's just not something to keep going back to. (I haven't, and you shouldn't either.)
I actually deleted that old stuff a couple years ago, but revived once I realized that the exchange I captured wasn't an isolated event. Shebeen just kept… kept stepping in it and kept saying damaging things in the press, kept putting out crap beer (in hte 2014 time-frame) and trying to cover for it, kept… I don't know. Kept being Shebeen.
Which gave me no pleasure.
Owning a brewery is a business. That whole "we're all in it together" butterflies and nosegays thing is played out. They are in competition no matter what anyone tells you – now more than ever, obviously. And if a brewer doesn't like a fellow brewer's beer? That's fine. That's expected and that's normal… Just don't make loud public declarations in real life or on social media about it.
I'm an observer. I am not immersed in any scene in Connecticut. I tend to stay on the outside of things and observe. I like that and I won't change. I write about tons of museums and trails, but you'll never see me on a group hike or a museum's board. I've observed some stuff over the years that Shebeen and the Beer Trail have done that I didn't like. I wrote about them. People read them. I have no axes to grind with either, despite what you may have felt reading this page. In fact, from my end of things, all axes have been buried.
Even the picayune stuff… I point out spelling and grammar errors on many beers, from Relic to Half Full. I question business practices and money trails on things like the Connecticut Science Center to Food Truck Festivals. I poke fun of fellow reviewers on many platforms besides untappd; like Yelp and TripAdvisor.
And I poke fun at myself most of all. Also, I welcome criticism of my own stuff. There's plenty to go around. CTMQ is my hobby. Through this hobby, I've gained a little audience, and that's fun. But I always encourage everyone to form their own opinions about everything.
For the businesses that are affected, criticism is not fun. But by and large, what I do is appreciated – even by some of the people and entities I've taken to task. If I changed, and suddenly became yet another "everything's the bestest!" blogger, I wouldn't be able to live with myself – and you'd stop reading what I have to say.
BUT, like I said, there's no point in my bringing up old Shebeen nonsense or goofy Beer Trail stuff anymore after this week. I'm moving forward.
After all, we've got a different "Trailblazer" to take on now, right?
Thanks for reading.
Overall Rating: C
Rating vs. Similar style: C-
Shebeen Brewing Company
Back to CTMQ's Reviews of Shebeen beers
Back to CTMQ's Connecticut Beer Page
Back to CT Breweries page