Pioneer Brewing Trailblazer IPA
2 16 oz cans, $8.58, 8% ABV
Purchased at Harvest Country Store, West Hartford
September 2016
You surely noticed the "Part 2" at the top of this page. You thought to yourself, "Hm, that's weird. That makes no sense, what's up?" You should go and read Part 1 if you haven't done so previously.
Also, I want to be clear here. It seems like readers are taking this page to be more accusatory than I originally intended. The biggest "issue" below, as some see it, is that Pioneer may have utilized Untappd to foment hype for a beer before it had become available. I do NOT know if this actually happened. I have anecdotal evidence and a lot of hearsay. Granted, that hearsay is from people within the industry, but it's still hearsay. Pioneer is capable of making good beer, and they have been in business for over a decade. And, if you read this whole thing, you'll find that I'm kind of impressed with how the infamous Trailblazer came to be what it is today – a fanboy fave, in spite of it's glaringly obvious flaws.
Anyway, thanks for reading.
Part 2 Introduction
Note: This page refers to Pioneer's Trailblazer. Pioneer ceased in 2017 and more or less became CT Valley Brewing.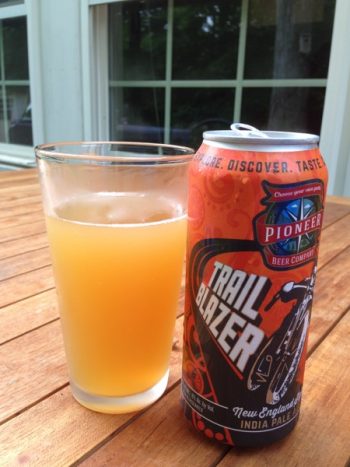 Where does one begin when one must review the greatest beer in the history of mankind? It's a daunting task to put it mildly. There has been so much written and said about the mighty Trailblazer, it is impossible to capture it all in a readable essay. Even a ridiculously long one.
As a result, as a service to you, I'm reviewing it as part of my series of long-form essays that attempt to give my overall thoughts on the state of Connecticut brewing. When discussing Pioneer Brewing's Trailblazer, it is impossible to ignore the role that "the scene" and its various outlets has played.
And so, my friends, that's what we'll focus on here. Because the beer is terrible and undrinkable. Except when it's delicious and nearly perfect. And "the scene" loves it, except when some of them hate it.
Sound like fun? You bet it does! By the way, the picture above is the only one on this page that is my own. That is MY hazy glass of Trailblazer – and I enjoyed it very much.
Who the Hell is Pioneer Brewing?
Good question. Pioneer's been around for 13 years, believe it or not. Pioneer is pretty much one dude named Todd who ran his own brewery in Fiskdale, MA from 2003-2013. (Pioneer also includes another gentleman named Steve, but he isn't the "face" of Pioneer… at least not as far as I can tell, so we're going to focus on Todd for reasons that will become abundantly clear.)
Todd got antsy and proceeded to trailblaze his way around to contract/gypsy brew at four different breweries in three years. To clarify, Pioneer was a brick and mortar brewery in Fiskdale. Then pioneering Todd sold it to Rapscallion but still brewed his beers out of the very brewery he just sold. Then, for whatever reason, he moved his operation to Olde Burnside in East Hartford, CT. Then he packed up and moved to Overshores Brewing in East Haven, CT. Before he could get settled, vroom, he zipped up to Shebeen Brewing in Wolcott, CT.
Not yet content, Pioneer Todd will be moving again to (the yet to be completed) Connecticut Valley Brewing in South Windsor, CT – probably in mid-2017 or so, to be a brand under the forthcoming Connecticut Valley imprint. And somehow, Pioneer-ConnecticutValley Todd has also become Pioneer-ConnecticutValley-GreaterGoodImperial Todd, as he has his hand in a new contract start-up with a female reproductive system logo that will slot into the vacated Pioneer space left at Shebeen, which fortunately has some space available for contract/gypsy brewing efforts.
Note: Greater Good dumped Todd and then left Shebeen, so forget about them.
Knowing all of this, I must wonder… what's up with all those moves? Like, why was he at Overshores for such a short period of time? And why did he blaze a trail of spent grains out of Olde Burnside so quickly? And why did he just happen to end up at Shebeen?
I have my guesses… okay, they're not guesses. I pretty much know the stories behind each of those moves, but they are in the past and may or may not involve folks who have a reason to be upset. I've never met Pioneer Todd and it's not like I'm 60 Minutes or anything. So I'll leave all of those stories alone. If you want them, you can get them from someone else. Perhaps even Master Brewer Pioneer Todd will explain.
And if it seems like the mysterious path of Todd is a bit crazy, you're right. Consider this: He brews a beer called Path of the Unknown. It was sold in bottles with the Fiskdale, MA origination on it. I had it at Olde Burnside one weekend afternoon in 2015 (and rather enjoyed it). RateBeer states that it was made in East Haven at Overshores. As of today, he's shipping out logs of it from Shebeen and in a few months, it'll be from South Windsor.
I do like how he seems to be cheekily laughing about this confusing business history with his beer names though. "Path of the Unknown" indeed.
Where the Hell Did Trailblazer Come From?
Trailblazer is just another overly-hopped beer. So why is it such a "thing?" (As far as "things" can go with very limited quantity and distribution in our little state anyway.) It is almost everything it set out to be, from its conception to its pricing to its ratings. The only thing missing in that equation, too often, is its execution. We'll get to that later.
And therein lies the theme of this essay; Something's Broken in the Scene, subtitled, No, It's Not Trailblazer's Fault.
I'm assuming a few things here, but I know enough to have a pretty good idea of how we got to where we are today.
Pioneer Todd lives somewhere in north central Connecticut or south central Massachusetts. In other words, Tree Housevillelandia. He loves Tree House. Who doesn't? Like many brewers, Master or Otherwise, he became enamored with the Tree House model. The huge lines that snake across their parking lot on Wednesdays and Thursdays, no matter the weather. He studied Untappd and saw that their IPA's were among the top-ranked beers in the Untappd world. He wanted to recreate that to the best of his abilities.
Cool. That's a noble pursuit.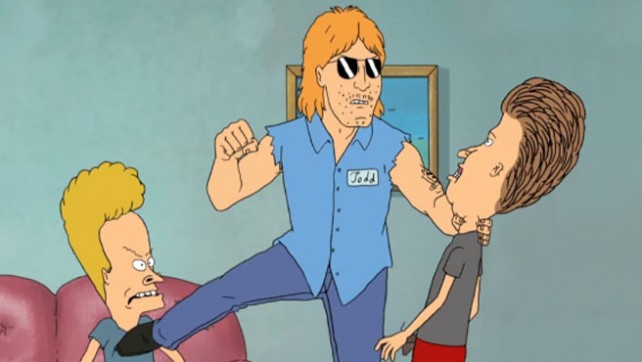 He plotted. He test-brewed. He knew the basic formula – all late-hop additions, of only the fruitiest of hops, and tons of them. He could do this. He had to do this.
So he set to work. Perhaps the kernel of the idea began with the (rather good) IPA's he brewed at Olde Burnside. Perhaps it happened at Overshores. Nah – it's safe to say the Trailblazing truly began at Shebeen.
He wondered, did Tree House use flour in the process as some rumors claimed? Nah, that's not the secret. Do they use orange juice in Julius on the down low? Nah, not Tree House. That would be against the TTB regulations anyway. But maybe… maybe actual orange juice would be the secret to Trailblazer's success. Nah, that wasn't the right way to go about things.
Brewing these "hazy" and "dank" so-called New England IPA's is, on the face of it, is pretty simple. Making them Tree House perfect is not. Pioneer Todd was close, but something was off.
Then it hit him; an epiphany: It didn't matter. It's wouldn't be the beer that was "blazing a new trail," it would be the methodology of bringing it to market.
For in 2016, he had Untappd and he had "the scene". If you rule Untappd, you can rule enough of the scene to succeed. And with Untappd, it's fairly easy to game the system from the get-go. Or so say the naysayers.
Note: If you want to quit reading now, just know that the rather expensive beer pictured above sells out every time it's released in mere hours. You should be curious as to why people get in line for potentially sludgy beer.
Once Trailblazer was conceived, it started appearing on facebook and Twitter. No one had drunk it yet, but hoo boy, this beer was the shizz. It was labeled a "New England IPA;" perhaps the first beer to do so right on the can. (Trailblazing!) And oddly, dozens, if not hundreds, of people were loving it.
What I mean is… Untappd reviews poured in… before it existed. Unfortunately, Untappd makes it impossible to go back through 2,700 reviews to those first few hundred, but I've been told over and over and over that this is what went down. Seed Untappd with a ton of 5-cap reviews and boom, success.
Or at least the beginning of success.
I watched, fascinated, from afar. Pioneer Todd literally created Trailblazer hype out of thin air through social media and rating apps. It was amazing and, in a sense, downright impressive. "The next Julius" was one infamous proclamation – which may not have ever actually happened. (Several of these sort of mythical things were deleted – if they ever really were written – after some backlash. This is one that people keep going back to, but I really have no idea if Pioneer Todd ever said such a thing. I should use Trumpster Talk with this stuff… "Some people say…")
Pioneer built buzz and excitement. Random people commented on posts about how they couldn't wait to get their hands on this new brew. Short videos and pictures of the hazy orange beer kept popping up. A release date and time was set! "Get there early to secure you spot in line to get your hands on the next great beer!" It was, to me, totally and completely bonkers.
Though Pioneer had been around for 13 years, it's not like they had set a precedent for a "line beer." Sure, their New Frontier "California Style" DIPA and their American pale ale were both good, but no one was standing on line anywhere for them. Todd the Pioneer didn't care. He figured it out: Say there's gonna be a line and maybe, just maybe, there would be a line.
At Shebeen, no less.
Perhaps, and I'm just making this up, get a bunch of your friends to plant seeds in the right online places: "Totally getting to the Trailblazer release at 9AM to be early in line!" "You gonna go to the Trailblazer release? I am! Early!"
Could this possibly work? Well, I remember wondering the same thing when Two Roads did something similar with their very first Igor's Dream RIS release. No one had had the beer, so who would wait in line to pay for a very expensive beer? Turns out… lots of people. But Two Roads had a more respected pedigree to a certain extent.
Did it work for Trailblazer? You bet it did.
In.
My.
Face.
There absolutely was a line. Sociology and human psychology are amazing things. Trailblazer had joined the Connecticut ranks of Fuzzy Baby Ducks, Igor's Dream, Imperial Stout Trooper, OEC Experimentalis, and … and… and yes, Tree House. Before anyone had tasted the beer! Amazing.
If anything, this episode was a lesson in marketing. Was it shady marketing? That's for you to decide. The bottom line is, it worked. Like a charm.
Okay, So What Do You Hate About This Stuff?
Hate is too strong a word. On the face of it, Pioneer Todd did exactly what he set out to do. And since that first release, there have been seven more to date. Each release is a "batch." There have been lines for most of those batches I believe – at midday on weekdays. Just like Tree House!
Actually, speaking of lines, let's get this bit of silliness out of the way now:
Yeah. Shebeen posted a picture of a Trailblazer line and thanked the people for coming out to Shebeen's brewery. That's… awesome. (Again, if you're new here, Pioneer is a contract brewery that uses Shebeen's equipment in Wolcott, but they are an entirely separate company from Shebeen and I'm pretty confident that Shebeen has nothing at all to do with brewing Pioneer beers brews Pioneer's beers under Pioneer's direction or something and I know that that line picture was from a Trailblazer release.)
Like I said, awesome.
But hey, I can't front on Shebeen too much. Just look! They give credit where credit is due: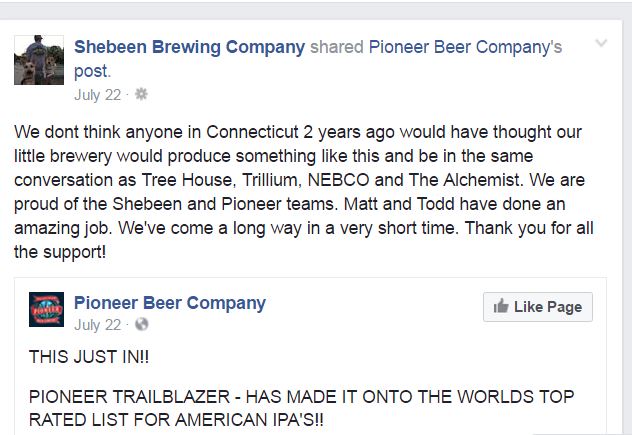 That's fantastic. The way Shebeen slides themselves into that conversation. That's art right there.
Imagine if Two Roads did the same regarding Sip of Sunshine? No, you can't, because that just wouldn't happen.
Where was I? Oh yeah.
Untappd
As you know, Untappd is a beer rating app. And it can be fun and useful. Personally, I don't use it, but I know plenty of wonderful people who do. For brewers, it can be anything from an annoyance to an obsession to the bane of their existence. (I've heard so many PROMISE me that they've sworn off even looking at it.)
Or, in some rare cases, it can be a valuable marketing tool as I've mentioned.
Untappd is a bit lacking in that it uses Bayesian Averages. Here's how the ratings are determined. I won't break it all down, but that formula doesn't make a lot of sense when it comes to rankings. I would prefer the credible interval/loss function approaches… but that's just me. It all evens out in the end I suppose.
A major piece that I don't think Untappd accounts for is "how many other beers has the ranker ranked." This opens it up to some of the tomfoolery Pioneer has been accused of. And surprisingly, this stuff matters. Bros are out there bro'ing it up based entirely on Untappd rankings.
Put it this way: we all agree that it is advantageous for a brewer to have a beer in the top ranks of similar beers on Untappd. But something few talk about is that it is also advantageous for fanboys to have "their" beer in the top ranks as well.
Highly-ranked beer is currency these days, as stupid as that sounds. Traders and black market resellers have much to gain if and when a beer they have access to attains such lofty heights. Go ahead, find a reseller's Untappd profile. I'll wait. Look at their list of beers they most often sell for 1000% profit. Now go look at how many times they've rated those same beers 5 caps on Untappd.
The correlation is strong.
To me, the saddest part of this whole Untappd thing is the sociology aspect of it. This whole weird little culture has sprouted wherein consumers post pictures of their refrigerators and countertops covered in highly rated beers. Why? I have no idea, but for some people, it seems like they almost need to do this. They need to go stand in a line to buy a particular beer to satisfy something within themselves by posting pictures of their "haul." Like I said, this saddens me.
At the same time, if it gives validation and self-worth to some people who have struggled with such things previously, I guess I see the value in that. I just wish it was achieved through something better than line beer.
Trailblazer represents a new, weird, beer life-cycle: Hype -> Rate -> Promote -> Release -> Encourage Hype -> Promote -> Fridge/Haul Pics -> Hype Again, etc. Once a few fridge/haul pics get out there of a 5-cap rated beer, other people must then post fridge/haul pictures of the same beer, and since it's a 5-capper, it must actually be a 5-capper, on and on.
Books will be written about this phenomenon someday. It's downright freaky, and no beer exemplifies this whole thing more than Trailblazer. (Articles HAVE been written about this phenomenon. Basically, paying a lot of money and making a big effort for a beer – wine serves as a nice corollary in this article – makes it "taste better."
Another thing with Untappd is the unwritten "rule" that brewers shouldn't rate their own beer. This really rubs some people the wrong way. I think it's gauche and corny. This is entirely different than rating your beers 5 caps and your direct/local competition's less. That's just lame… I know of two brewers/owners in Connecticut that used to make a habit of this.
He did go through this weird self-referential pop-art day of Untapping wherein he would take a photo of whatever beer he was rating next to his own can of Trailblazer. I may be the only person to even notice this, let alone the fact that it was on April Fool's Day, but I must admit, the joke's still lost on me.
People seem to have less of an issue with brewers negatively rating similar beers that aren't local for whatever reason. But this is all getting way too silly. One rating of a beer has no effect on its overall rating. And if a master brewer who has a vested interest in two different Connecticut breweries rates on Untappd, so be it.
In fairness, he isn't afraid to give props on occasion.

Okay, okay, you wanted to see a real example:

And also in fairness, although it seems like he doesn't quite understand why the hatters are mad, he stated in May 2016 that he would no longer be rating his own beers.

Cool. We all learn from our mistakes.
But circling back, remember 10 minutes ago when I mentioned that Todd has started up a new brewing venture called Greater Good Imperial Brewing Company? You know, for those times you're craving a 9% saison or an 11% porter? Greater Good is for you. And boy, Untappd has rated them (in July 2016) quite well!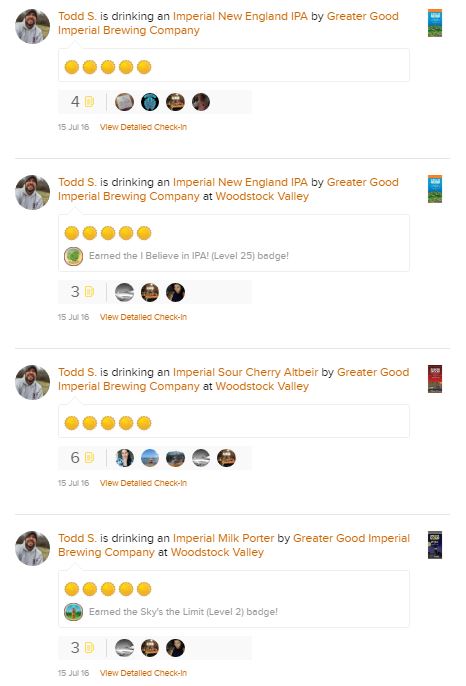 Oh.
Is he… Is he doing it again?
Of course, at this point you'd rightly ask, "Steve, dude. Really? Who cares? Do you really think Pioneer/Greater Good Todd cares THAT much about Untappd ratings? Like, he's running two businesses and has a family and has no time for that crap. Why do you think he's even remotely interested in this stuff?"
Fair questions. And I'd love for the answer to be, "I'm sure he's not." But then this happened.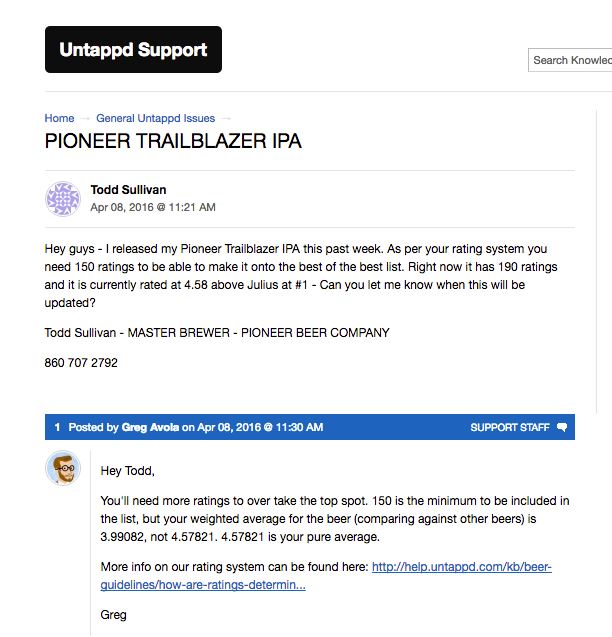 And that right there is pretty much everything. It ties together the Trailblazer story nicely, don't you think? While I've assumed some of what I've written above, I'm not the one jumping on Untappd mere days after my beer's initial release and asking why it's not rated above Julius.
I can't tell you how many people alerted me to this when it happened. People thought this was just insane.
Because it was.
Get to the Beer Already
Trailblazer IPA! As I said, I enjoyed two cans of this stuff. I enjoyed them quite a bit. MY particular cans were turbid, sure, but not milkshakey or green. MY particular two cans were loaded with citrus hoppiness and floral aromas. The beer was on the right end of the creamy equation. There was minimal particulate in them. My particular version of Trailblazer did not burn my throat, not did it force me to sit on the can multiple times the following day.
I got lucky. Unlike the fellow who posted this picture:
The Trailblazer is a crapshoot. One never knows what one is going to get with it. Posting icky pictures of this beer has become sport on certain forums. It turns out that adding boatloads of hops at the end of the brewing process and not cold crashing it properly can lead to a boatload of problems. You can find many explanations of how and why Trailblazer is so fickle elsewhere online. This page is long enough as it is.
Trailblazer problems, ranked:
10. Legality. Pioneer once allowed purchasers to purchase more than the legal limit. Several people in the business have sworn to me that he's still not properly licensed to sell from Shebeen, but I'm pretty sure he can. (And so many of our beer/liquor laws are so absurd, I like when they are exposed sometimes.)
And let me be clear: Nothing I've described on this page is illegal. I am not accusing Pioneer of doing anything illegal. Even if the whole "seeding Untappd with 5-cap reviews" thing is a real thing, you may be surprised to hear me say that I don't really have a big problem with that. Mavericks exploit loopholes and if Pioneer has done that, so be it. And exploiting fanboys and whalez hunters is merely funny to me.
9. Shebeen. I couldn't care less, but some people seem to hate Trailblazer beer based solely on the fact that it is brewed at a brewery they dislike. This is dumb.
8. Price. People pay a premium for this beer and too much of the time they receive an awful mess.
7. Carbonation. People report that they get flat 'Blazers.
6. Pooping. I can't find any validity to the claim that drinking chunks of dead yeast and hop particulate causes one to have multiple loose movements the next day, but too many people make this claim for me to ignore.
5. Color. It ranges from orange juice to used cooking oil to phlegm to pond water to kale juice, depending on the can. There is no way to know until you pour.
4. Sludge (aka Trub). Too often, drinkers have reported a thick loogie at the bottom of their TB cans. This should not be in any can of beer, ever.
3. Floating shit. This has become epidemic in the "New England IPA" world. It has spawned "Roll Your Cans" memes and endless arguments about whether or not "floaties" are a bad thing. Hoof Hearted, Other Half, Bissell Brothers… all have had issues with floating shit. Personally, in IPA's, I'm really not digging dead yeast and hop particulate in my beer. It doesn't need to be there (See: Tree House, Beer'd, NEBCO, etc.) and no one WANTS it there. It's gross, it burns, and it totally turns me off of whatever brewery is guilty. "Floating shit" is different from "haze," and please, don't pretend otherwise.

And, for the love of whatever god you care about, STOP PRETENDING THAT THIS IS JUST THE WAY IT IS NOW AND WE SHOULD ALL BE COOL WITH IT. It's lazy. It's what homebrewers learning how to brew do. I don't want to pay $100 for a case of IPA with shit floating around in it. And you shouldn't either.
2. Taste. Sometimes it burns. Sometimes it coats your tongue in a paste. Sometimes it's fruity. Sometimes it's not. Who knows.
1. Inconsistency. And this is everything. At the price Trailblazer commands, I sure should know what I'm going to get. I want a 5-cap beer every f'ing time, not whenever the butterfly in Peru flapped its wings at the right time to affect the whims of Pioneer's brewing process in Wolcott. I'm not cool with getting a can of green goo after a delicious can and right before an opaque tan liquid full of inactive yeast and whatever else.
Gah.
Conclusion
trail·blaz·er
noun
1. a person who makes a new track through wild country.
2. a pioneer; an innovator.
In a sense, this beer is a trailblazer. It is probably the first beer to call itself a "New England IPA" on its label. It may be one of the first beers to ascend to the ranks of the top 50 IPA's using purposeful tactics to get there.
But on the other hand, this beer has such a hard-on for Julius and wants to be Julius so badly that it is, in that sense, the complete opposite of a "trailblazer."
And that's kind of funny.
Anyway, to everyone: stop relying on Untappd so much, stop waiting in lines for beer because someone told you to wait in a line for beer, stop being a slave to a beer rating app, stop thinking opaque IPA's are the greatest thing in history, and stop making excuses for poorly made beer.
I've maintained for years that the most important quality a beer/brewery should have is consistency. Sure, we give some leeway to the mavericks out there who do a bunch of barreling and wilds and stuff, but generally, we consumers should expect to know what we're going to get from "batch" to "batch."
But these days, this seems to matter less and less to a growing number of consumers. If a beer attains "line" or "darling" status, it seems like it can be garbage from time to time and it simply doesn't matter. Meanwhile, if an established brewery continues to release stellar, consistent, delicious beer, they are deemed boring and are looked over.
I have a problem with this. How did this happen? How did "the scene" became so enamored with rated beers that the actual beer itself no longer seemed to matter? It has reached the point of absolute insanity. And, honestly, it's just become too much for me to deal with. The chasing, the lines, the ratings, the excuses for poorly made beers because of the chasing, the lines, and the ratings…
Think about this. If you like coffee and have your favorite go-to coffee shop that serves your favorite coffee just how you like it. But every third time you buy it – and it's not cheap! – your coffee has a bunch of grounds floating around it it. Sometimes, there's even a layer of spent ground slurry at the bottom. Sometimes, there are remnants of coffee beans in it. Would you keep getting that same coffee AND keep telling people it's great coffee, but just that the brewer is still "dialing it in?" Of course not. So WHY DO YOU DO THIS FOR BEER?
I love cherry pie. If I bought a slice of cherry pie that had pits or skins in it, I would deem that cherry pie terrible, unfinished, and amateur. I wouldn't suggest that the pastry chef is merely "dialing it in" still. WHY DO WE DO THIS WITH BEER?
Sigh.
I've never been a line guy or an Untappd user, but standing in lines for beer and Untapping are NOT "bad" things at all. Assuming you have the time and money to do so, rock on. I'm merely asking people to sort of step back from what is driving them to make certain purchases and to perhaps examine why they are giving up chunks of their lives to do so.
That is all.
Overall Rating: A… or F. Whichever.
Rating vs. Similar style: A… or F. Who knows.
Pioneer Brewing Company
CTMQ's reviews of Pioneer's Beers
CTMQ's page on CT Breweries and Brewpubs
CTMQ Reviews lots of CT Beer