Hooker Brewing's Passport Pilsner
2 12 oz. cans, $?, 5.1% ABV
Purchased at the brewery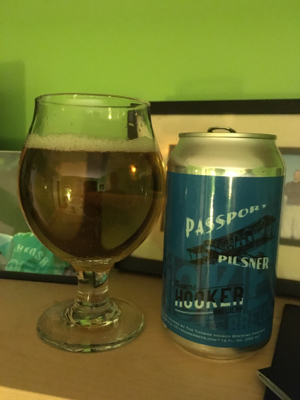 Are you aware of the metadata study that shows a strong correlation between holding a US Passport and education levels? Not only that, but (and this is easy to figure) the states with the highest median incomes also have the highest amount of passport holders.
It goes on. Basically, deep blue state residents hold passports far, far more than deep red states. You can read all about it here.
(In all honesty, I always sort of enjoy any study that reaffirms my sad disdain for Mississippi, Arkansas, Alabama, etc. Because, you know, I live in Connecticut. And I hold a passport. Hell, my six-year-old has a passport. Take that, Tennessee!)
See that picture down below? The one with the picture-in-shadow of me crossing my arms at some far-flung place? Yeah. That's from the French Alps on the Swiss border. Because that's how we Connecticut socialists roll.
Okay, I'll stop before you start wondering how much of what I'm saying is long-held belief vs. sardonic humor vs. trolling vs. tongue-in-cheek elitism.
Ahem.
I'll bet one could include appreciation for "craft pilsners" vs. love of macro lager/pilsners and their correlation with holding a US passport.
Maybe another time.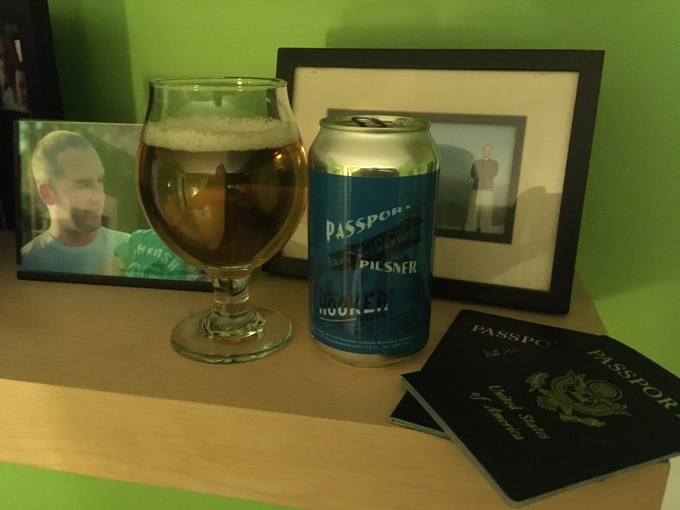 Hooker says:
Hopped with Czech, German, US hops for an intercontinental drinking experience.
In late 2016, a resurgence of quality Connecticut pilsners started hitting the scene. Why? I think it's a brewer backlash against the hop-heavy, unstable, hide-a-mistake hazy IPA avalanche.
Brewers love pilsners. They are proud of them when they brew a great one. They are transparent, take a lot longer to brew, and grandfathers like them. None of this makes sense… and yet it does.
I spoke with Jeff Pasquale (Hooker's head brewer) the week Passport was released… which was the same week his #NoFilter "NEIPA" was released. It was an interesting conversation. He was very proud of the Passport. Even if its quality magically fluctuates with the weather:

(I'm not saying he wasn't proud of #NoFilter, by the way. Just that the Passport was infinitely more fun to brew for him.)
As for me, I really enjoyed the Passport. I don't know which hops he used, but I'm sure the German and Czech ones were the classics. It is well carbed, crisp, and didn't leave that dry-mouth after feel that I sometimes get with pilsners.
From what little I know about these things, I'm finding that I much prefer the US "craft" pilsners to the more traditional German/Czech ones. Some of that is attributable to US brewers tossing in Mosaic or other darling varieties, but it also may be because I'm getting our stuff a few days after canning versus 3 months after green-bottling.
I don't know.
Dear Deep Southers: Going to Epcot for a day is not the same as going to other countries. I know you don't trust me or my opinion, but I'm telling you… it's true.
I swear on my Socialist Atheist Evolutionary Biology Book.
Overall Rating: A
Rating vs. Similar style: A+
Thomas Hooker Brewing Company
CTMQ's Reviews of Hooker beers
CTMQ's Connecticut Beer Page
CT Breweries page