Within Reach Peach Wheat (Originally Half Full Peach Wheat Ale)
1 12 oz can, $1.79, 5.5% ABV
Purchased at Harvest Fine Wine, West Hartford
2016 Update: See, here's the problem. Connecticut now has 30+ breweries with more to come. That translates to probably 1,500 beers when you include the brewpubs. While I do remember all I've had and reviewed, I apparently forget the format that I had to do the original reviews. Like here… I thought I reviewed the Within Reach/Peach Wheat from a tap line somewhere. Nope, I had a can.
But a different can with a newly rebranded name – discussed at bottom. So if you read to the bottom, you'll see the new can and 3 sentences about the new name. If that entices you to do so, you are weird.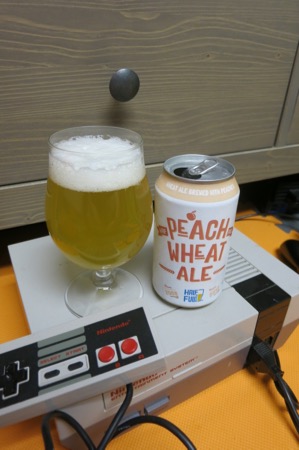 Let's say 100 people look at this page. (Generous, I know, but just go with me here.)
Of those 100, I'd guess that 85 are male.
Of those 85 males, I'd guess that 40 are over 35.
Of those 40 males over 35, I'd guess that 20 know what the beer is perched upon.
Of those 20 who know what the beer is perched upon, I'd guess 7 understand why.
So to the 7%, I ask… What's up with Bowser? I mean, why is he constantly kidnapping her? Is he just evil, or does he have a crush and doesn't know any other way to make his feelings known? (Actually, my only real question is why was she Princess Toadstool in the US for so long before the name change to what she always was in Japan?)
Okay, okay… enough with the painful allusions. Now I'll just brag…
That picture is of a fully functional Nintendo Entertainment System from the late 1980's, in all its 8-bit glory. Castlevania, Bionic Commando, Ninja Gaiden, Blades of Steel, Baseball Stars have all be rocked recently on it. And, of course, Super Mario Brothers 3, one of the best games of all time.
The eternally distressed damsel in all the Mario games, of which there have been approximately 75,000, is Princess Peach.
So obviously, Half Full's Peach Wheat sitting on top of a 30-year-old NES is a reference to Princess Peach, even though she was Princess Toadstool, in the Mario gaming franchise which really came to the fore in the 8-bit scrolling platform.
Duh.
Half Full Says:
SUMMERTIME
And the Livin' is peachy
IT'S THAT TIME OF YEAR, RIGHT?
Head back to the beach
TAKE OUT A BOAT,
GO FOR A BIKE, OR
PLAN ON A HIKE.
Half Full Peach Wheat
THE PERFECT EXPERIENCE
PAIRING FOR WHENEVER
YOU WANT TO
LOOK FORWARD
TO MORE… SUMMER
I hope you enjoyed that true-to-life Half Full label poetry. Gets me going every time.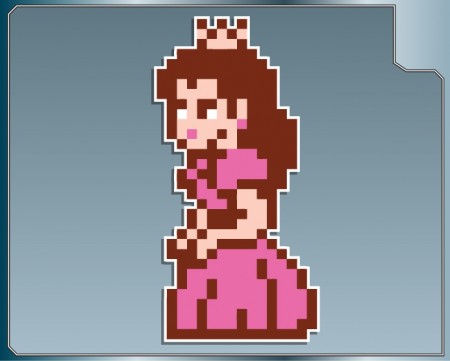 While I don't love this beer as much I love my NES (because, don't be ridiculous), I liked it far, far more than I'd anticipated. Half Full beers are decidedly average to me, so a fruit wheat beer almost sort of scared me. Especially one that uses peach extract or artificial peach or whatever. I actually love certain artificial fruit flavors – like banana for one. Banana Runts are so delicious. I like fake peach too.
And I liked this beer.
Peach is a difficult fruit to work well into a beer. I hate Dogfish Heads Festina Peche, but Kent Falls' Second Nature Peach sour was world class. Half Full's Peach Wheat was in the middle – and to be in the middle of those two breweries is to be in a good spot.
It's crazy and unexpected, but yeah, this is my favorite Half Full beer to date. And I'm not generally a summer ale or wheat ale or fruit beer fan.
Crazy from the heat, I guess.
Update!
Handsome can. And I enjoyed the beer again, perhaps a tad more than in the past as it was maybe a little less sweet. However, since I always point this stuff out, and because I live in #WeHa (ugh), I must post this picture too.
Anyway, the name change is interesting. Since we all know Beer Bros don't do wheat beers. I know, it's not like Half Full hides the wheat part, but still… "Within Reach" vs. "Peach Wheat" wasn't by accident. I don't think.
Overall Rating: B+
Rating vs. Similar style: B+
Half Full Brewery
Back to CTMQ's Reviews of Half Full's beers
Back to CTMQ's Connecticut Beer Page
Back to CT Breweries page