Two Roads Philsamic
750 ml bottle, $25, 6.5%
Gifted by a Steve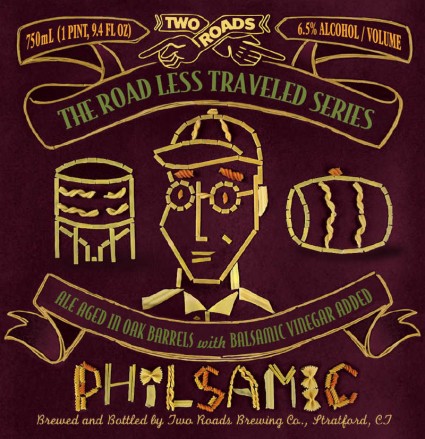 During a trip to Italy to factory test the bottling equipment for our brewery, our brewmaster discovered an exquisite, 11-year-old balsamic vinegar in Modena, a region renowned for the world's best balsamic vinegar. Immediately, a plan was hatched!
This Two Roads original is aged for twenty months in red wine barrels, undergoing a very complex fermentation process to create a moderately sour ale with a unique red fruit aroma and taste derived from added balsamic vinegar. In our celebration of brewmaster Phil Markowski's 25th year of craft brewing, this rare beer is dubbed "Philsamic."
So says the bottle's label. But who can believe beer labels these days? I was put on the case by a few friends: Get this $25 bottle of beer somehow, some way.
They wanted to see what the heck this beer was all about. One is a brewer. Another is in the industry. Yet another was like me, a simple beer fan.
I made some calls. I would be getting this beer.
My name is Steve. The gentleman procuring this unique brew for me was also named Steve. Another Steve features in this mystery.
Steve is a good name.
This Steve got the beer from that Steve. (Many thanks, that Steve.)
I enjoy this label very much. A pasta portrait of Two Roads' head brewer, Phil Markowski. And the name! What a wonderful play on words… which also reminds us that this beer has balsamic vinegar dumped into it on purpose. My brewer friend, Ed, and I marveled at the sheer ballsiness of its balsamicness.
Acetic acid (more or less vinegar) is an off-flavor in most beer. However, in a few specific styles, a touch of it is intended, expected, and accepted. Flanders Reds are one such style – but even so, I can't pretend that I've ever drunk a Flanders Red and said, "Mmm, I could put this on my salad."
Here's another mystery –
Two Roads says:
Earthy, sour beer made with 14-year-old balsamic vinegar from the Italian region of Modena. Made in honor of our Brewmaster Phil's 25 years of craft brewing.
But the label says 11-year-old balsamic! Or is it that Phil tasted the 11-year-old, but went with the 14-year-old when making the beer? THIS IS SO IMPORTANT.
Furthermore, during a special Two Roads dinner, Phil spoke to the crowd about the Philsamic process. During the brewery buildout they ordered bottler/corker/cager etc. machines and they are from Italy; near Modeno "next to the town associated with traditional balsamic producing."
NEXT TO THE TOWN?! The mystery deepens.
So he went to visit and found the vinegar people had barrels dating back to the 1860's. Naturally, Phil wanted to figure out how to get it in beer. He said, during this dinner, that he bought 12-year-old balsamic, and used it in the beer. NOW IT'S 12-YEAR-OLD?!
Phil began working on this crazy beer in December 2012 and it took almost 2 yrs. The sugar portion of the balsamic (traditional balsamic is sweet and thick) fermented out and left the beer with a vinegar flavor but no sweetness. (Again, he said that traditional balsamic has lots of complexity with berries and stuff.)
Every few months, he added small amounts of the balsamic into the barrels, tasted, and let sit. For 22 months he did this and once he found it ready, the Philsamic was bottled – and MORE balsamic was added to the bottles to use the sugar to recondition the beer.
And there's your $25 answer.
I brought the Philsamic with me to Steady Habit Brewing one Saturday. My curious friends would be there.
I like to share.
Exactly none of us had high hopes for this beer. A beer which cost $25.
The beer was opened and poured.
We looked at each other. Eyebrows raised. We drank some more.
Everyone was afraid to make the first statement about the beer. "Oh my god, what if these other guys hate it and I say I like it? My reputation would be destroyed."
We stood silently. Staring at walls.
The first noncommittal comment was made: "Hm."
Then came the parry: "Yeah."
Ed stepped to the fore: "The Bruins play the Flyers tonight."
We all sipped again.
Look, people like to bust on Two Roads for their own dumb reasons, but the fact is, they've only released a couple beers I actively disliked – and even those two weren't "bad" beers per se. Two Roads is fine and they've made some world class beers for small releases.
Was the Philsamic one?
Yes. Yes it was. Okay, maybe not "world class," but it was damn good. A more tart than usual Flanders Red, perhaps. More bite to the aroma than is typical, perhaps, and a teeny bit more acetic acid throughout. But that was the point, right?
The whole "Balsamic vinegar from the best balsamic vinegar region in the world" thing was kind of silly, but who cares. Beers need hooks and marketing and it's a cool story – and gave this beer its great name and the label its artwork.
I think I made the first move that day at Steady Habit. "I really like this," I offered. Everyone exhaled, "Yeah! Me too!"
Dudes and their beer… always stupid.
I forgot to take a picture of the beer. But, through my investigative work, I can piece together the proof that this story really happened.
My work is done here.
Overall Rating: A-
Rating vs. Similar style: A-
Two Roads Brewing Company
Back to CTMQ's Reviews of Two Roads beers
Back to CTMQ's Connecticut Beer Page
Back to CT Breweries page